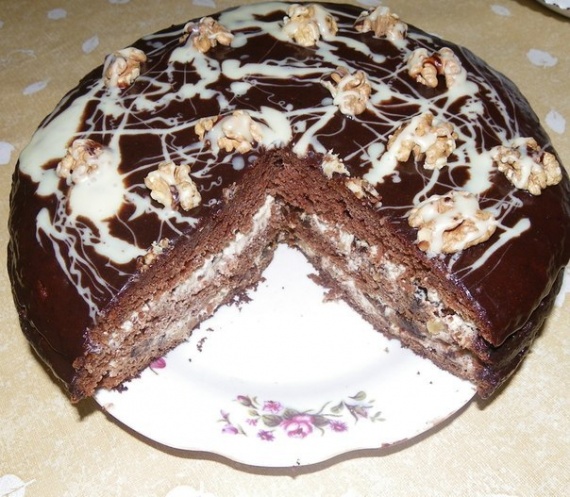 For the sponge cake:
Eggs-3pc.
Sugar 1stakan (thin tea).
Condensed milk, half of the banks.
Sour-200g.
Soda-1chaynaya spoon.
Cocoa 3stolovye spoon.
Flour-2stakana (no slides)
For the cream:
Smetana20% -500gr.
Powdered sugar, 200g.
Syrkovoy Curds-1pachka (180-200gr.)
For layers:
Walnut: 1, 5stakana
Prune-30shtuk.
For the glaze:
10 Art. l. with slide powdered sugar
2 tbsp. l. cocoa
4 tbsp. l. milk
80 g butter
1 pt. Of chocolate (100 g)
First bake the cake: Beat the eggs with the sugar until the foam, add the condensed milk and mix with a venchika.Dobavit sour cream, sour cream to pour soda and soda pour a teaspoon of lemon juice and mix well again using venchika.Muku mixed with kakao.Dobavit flour mixture gradually to the egg-cream and good peremeshat.Berem form (I have 22cm.), the bottom is lined with paper, greased with margarine, pour the batter and bake at 180 degrees 40-45minut (up to dry matches) .Poka baked biscuit prunes scalded with boiling water, to give stand 5i minutes drain the water.
For the cream: Whip the chilled cream to a light foam with sugar pudroy.Dobavlyaem syrkovoy weight to the cream with powdered sugar and whisk until smooth mix well sostoyaniya.Dobovlyaem chopped nuts (roasted lightly) and chernosliv.Ubiraem holodilnik.Biskvit cuts in three korzha.Sobiraem Cake. We put the bottom cake, coat with cream, then the second cake, spread the remainder krema.Sverhu third cake, which is filled with chocolate icing.
Prepare the glaze. Powdered sugar, cocoa and milk - bring to a boil, add the butter and the broken chocolate, all mix well to oil with melted chocolate