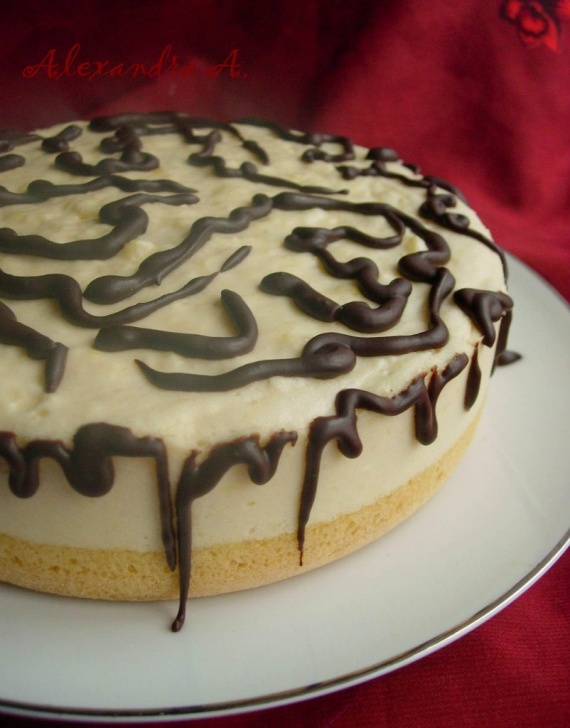 Biscuit:
egg - 2 pieces
sugar - half a cup
flour - half a cup
baking powder - 1 tsp
Filling:
egg - 5 pieces
powdered sugar - 140 g
Flour - 1 tbsp with a small slide (spoon ordinary, not-dimensional)
Milk - 250 ml
Butter - 150 g (room temperature)
Gelatin - 20 g
Glaze:
Chocolate - 50 g (dark or bitter)
Cream (10-20%) - 25 ml, and more
Cooking cake.
Beat eggs with sugar until white state.
Add the sifted flour with baking powder, mix gently. Should get a sticky dough consistency. Put the dough in the form laid by parchment paper, flatten. If the form of a non-stick coating, it does not grease. Bake in pre-heated 180 degree oven for 20-25 minutes. Focus on the reactivity of their oven. Baking time and temperature regime adjust ...
Ready cake cool for some time directly in the form, you can even upside down (sponge cake does not fall), then hold a knife to form a circle, take out and cool on a lattice.
(I normally bake the cake in Multivarki on mode "baking" for 30 minutes).
Cooking sufleynuyu stuffing.
Gelatin was soaked in cold milk (150 ml) and give swell (see instructions on the package gelatin). The swollen gelatin warm up a bit until completely dissolved (do not boil!). (Warms gelatin preferably before it is introduced into the oil-yolk blank grasped it instantly).
Divide the egg whites and yolks on.
Rub the yolks with the flour, add a little warm milk (100 ml) and all mix well to avoid lumps.
Milk-yolk mixture put in a water bath so that the container does not touch the water, and cook until thick, stirring constantly.
Make sure that there are no lumps! If, however, the mixture turned out not quite smooth, then rub it through a sieve, helping spoon. Custard mixture was cooled to room temperature.
Butter at room temperature, beat with powdered sugar.
Gently combine the yolk mixture to the oil, stirring until smooth.
Proteins room temperature, beat with a pinch of salt. As soon as a stable foam, add 2-3 tablespoons of powdered sugar (from the total number of fillings), continuing to whisk until dissolved powder. Prepared gelatin slowly introduced into the oil-yolk blank there too enter the beaten egg whites. Gently stir the mixture until smooth spoon downwards.
Assembling the cake:
Take the same form in which baked biscuit. Better, of course, was to form the split.
At the bottom of the mold put parchment paper, larger than the diameter of the mold and the clamping ring. Bottom of the form a little sealed paper. (I tortovoe detachable ring - very comfortable, I immediately crimped cake on a platter).
Put the cake in the bottom of the form. Pour in the cake souffle and put in refrigerator to freeze.
Souffle grasped quickly. But we need to be patient and wait for complete solidification to apply glaze.
Until souffle freezes, prepare glaze:
Cream, finely broken chocolate warm up in a water bath.
Good mix everything and if needed, add more cream - should get watery glaze, which you can pour the cake.
We took out the cake from the refrigerator and pour the glaze has cooled a bit frozen souffle.
Flatten glaze, turning form. Put in the refrigerator. I do not like this cake with chocolate icing, for me it is too scores taste soufflés, so I'm a little beauty she painted on the cake.
Cake recipe I found Valentina Peyppo, for which many thanks to her), and prepared on the recommendation of Snejana Petrova. Snezana, you're absolutely right, it is very tasty, tender cake and it is possible to prepare one souffle for dessert, do not even understand what you eat) amazingly delicious!)
I recommend to all girls, not Confundus cake and enjoy the taste and delight of the home are guaranteed!)