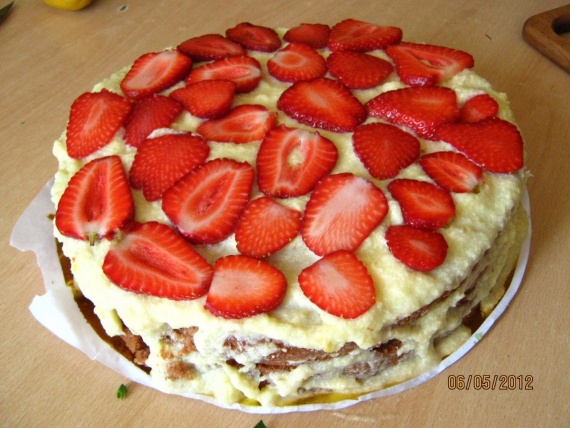 To test
130 g butter
1 cup sugar
3 eggs
1 tsp soda + vinegar
1 cup flour
3 tsp cocoa
Cream
300g butter
1.5 cups of sugar
3 tbsp. spoons of semolina
2 cups milk
1.5 - 2 lemons
For glaze
2 tablespoons cocoa
3 tbsp sugar
2 tablespoons sour cream
a piece of butter.
It's just Supertort, tastier in my life did not eat anything.
Dough:
Melt the butter, add the sugar and stir. Better to do it with a mixer. Then, in the same weight to drive the eggs one at a time, add soda, redemption vinegar (can be lemon juice). Gradually add flour, knead the dough. The dough will be watery. Divide it into two parts. In one of them, add cocoa. Bake two cakes in the form lubricated. The temperature in the oven for about 180 C. Each cake is cut into two parts, preferably while they are still warm, because then they become hard and crunchy. in the end, you get 4 cakes - 2 light and 2 dark.
Cream:
First, cook the semolina (semolina + all the milk), place cool. Mash the butter and sugar. Then rub on a small grater lemon with peel and add the chilled pudding. There also add pieces of butter and sugar. Whip cream and put in holodilnok 20 minutes. This cream layer 1.5-2 cm turn to grease all sides of the cake and cakes. Top too.
The top layer and sides of cake frosting grease: boil until thick cocoa, sugar and sour cream until it is the color of chocolate, add to the same piece of butter.