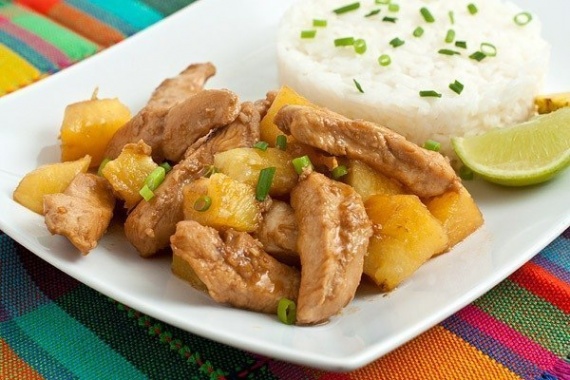 Ingredients:
Garlic cloves 3 pieces.
Chili pepper 1 pc.
Ginger powder 1 tsp
Salt ½ tsp
60ml vegetable oil
Chicken fillet 600g
½ pineapple pieces.
Dark brown sugar 60g
Limes 1 pc.
Preparation:
1. Garlic clean, finely chop, add the spices, salt and rub well in a mortar to obtain a paste-like consistency. Sneaky vegetable oil and stir to get the marinade.
2. Chicken fillet cut into strips across the grain thickness of 2 cm. Put in a bowl, add the marinade.
3. Mix the meat to be uniformly coated with the marinade, let it sit for an hour in a cool place.
4. In a heated pan, pour a tablespoon of oil, put the sugar and squeeze the lime juice. Crust also leave in the pan for 1-2 minutes, for flavor.
5. Heat over medium heat, stirring until sugar dissolves.
6. Put the meat in a pan with the marinade. Stir. Pineapple peel and cut into cubes. Should get about 300-350 grams of pulp.
7. Add the pineapple, stir and cook, covered over medium heat for 4-5 minutes, until the chicken is ready. Do not overdo the meat so that it does not become dry.
8. Serve hot, served with boiled rice is perfect.