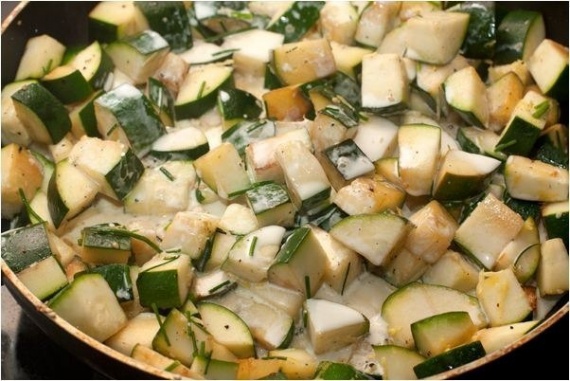 Ingredients:
Fillet of salmon (salmon, trout) - 450 g
Soy sauce - 30 ml
Sesame - 40 g
Vegetable oil - 15 ml
Zucchini - 600g
Green onion - 50 g
Grated lemon peel - 1 tsp
Lemon juice - 20 ml
Salt - ½ teaspoon
Ground black pepper - ¼ teaspoon
20-22% cream - 100 ml
Preparation time: 30 minutes
Servings: 4
Calories: 421 kcal per serving
We remove fish bone with a sharp knife to cut the skin. To do this, place the fish skin side down and cut the fillets, pressing the fish to the table with his fingers and holding the knife parallel to the table. Fillets without skin cut too small cubes and reload in a deep dish.
To fish, add 2 tablespoons of soy sauce, stir and sprinkle in sesame. Another toss to evenly he stuck to the fish.
Place the fish on a hot frying pan so that between the pieces remained free space.
Fry evenly on all sides until light golden brown, then set aside the fish aside.
Zucchini cut into cubes of 1 cm and cook, stirring, for 5-7 minutes. Then add the chopped green onions, finely grated lemon zest and lemon juice. Season with salt and pepper, stir and cook for 1-2 minutes.
Pour in the cream and hold on fire a couple of minutes.
To supply on a plate Put zucchini, top with fish.