No matter whether you're a beginner-rawfoodist looking for interesting recipes for the transitional phase, or vegan \ carnivore \ vegetarian who simply want to treat the home with something delicious and unusual. These summer recipes - for you
Salad with tomato and avocado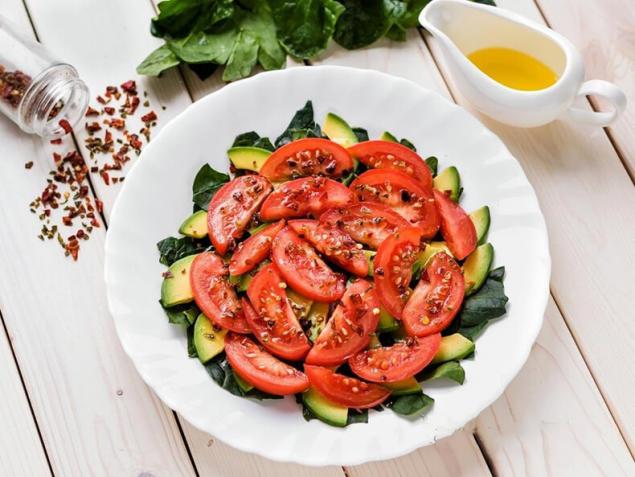 Ingredients:
1 tomato
1 avocado
Himalayan salt
Optional:
olive oil garlic powder
black pepper
Slice the tomatoes and avocado into thin slices or cubes. Spread avocado on top of the tomatoes. Sprinkle with salt and your favorite spices, add the optional ingredients as desired. Simple, but tasty!
"Cheese" tapas
Tapas refers to any appetizer, served in a bar in Spain. Often small tapas included in the price of the drink. We are preparing a nothing more than a syroedchesky tapas!
Ingredients:
alfalfa sprouts
1 \ 2 courgettes (zucchini)
a couple of small tomatoes
1 cup macadamia nuts
paprika
juice of 1 lemon
olive oil 1 \ 2 teaspoon
Himalayan salt To prepare the "cheese" is added to a blender or food processor last 5 ingredients until the desired consistency, as in the photo. Put aside.
Cut the zucchini and tomato rings of average thickness of about half a centimeter. In the ring we place the zucchini tomato rings. Above it is recommended to add a little alfalfa sprouts and a tablespoon of «cheese».
Serve as a true Spanish tapas - to drink. For example, vegetable juice.
Pasta zucchini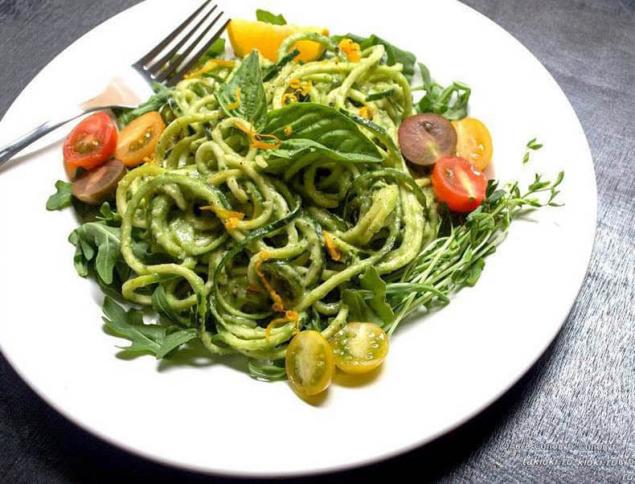 Ingredients:
1 zucchini
1 cup tomato
1 \ 2 cup sun-dried tomatoes
2 large tamarind (stoned)
Himalayan salt to taste
Cut the zucchini to pasta, using a vegetable cutter with sharp teeth or fixed spiral vegetable cutter.
Whisk the remaining ingredients in a blender, add the dish in a sauce. The Italians, raw foodists will remain crazy about this dish!
Cracker seed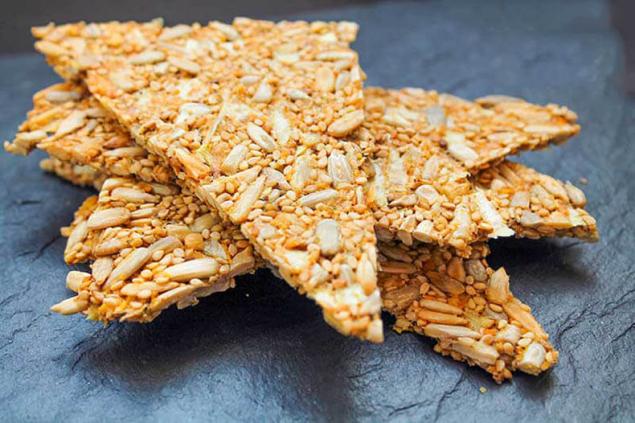 For the preparation you will not even need a dehydrator. The recipe is simple as ABC!
Ingredients:
1 cup sunflower seeds
1 \ 2 cup sesame seeds
1 chopped shallot
1 \ 3 cup of ground flax seeds
1 \ 2 teaspoon salt
1 \ 2 cup water
any grass optional
If desired grind sunflower seeds in a blender or leave in one piece.
Mix all ingredients in a large bowl.
Distribute the mixture on the baking sheet, keeping the desired thickness. Leave the baking in the sun for 3-4 hours. Serve with guacamole!