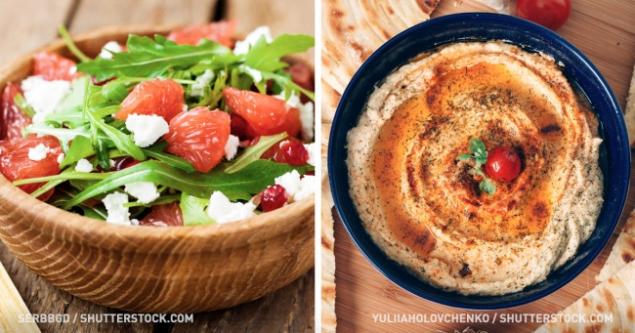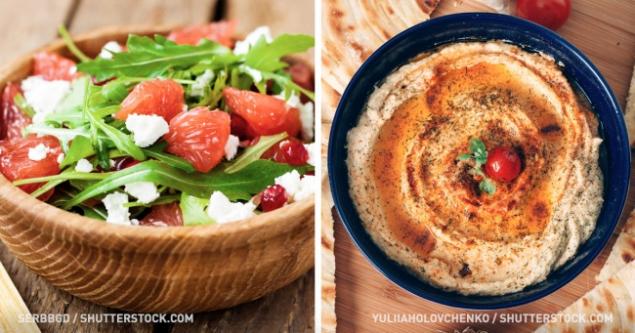 In the evening after a hard day you want to forget about the plate and make a light dinner without much culinary feats.
< Website decided a little lazy with you and gathered recipes for delicious dishes that do not require long cooking. Easy and hearty, unusual and easy, for hot evenings and romantic dinners under the rain - choose liking and cook quickly
Bruschetta with chickpeas and peas sprouts
!
Ingredients:

450 g canned chickpeas 1 tbsp. l. olive oil 1/2 Art. l. balsamic vinegar 1/2 hours. l. salt black pepper 6 slices of wholemeal bread 180 g of natural yoghurt 1 bunch of pea sprouts Preparation:

Open a can of chickpeas, drain the water and washed chickpeas. In a small bowl mix the chickpeas, olive oil, balsamic vinegar, salt and pepper. Grease slices of bread with yogurt, on top Put the resulting mixture on top and decorate with sprouts peas.





Fish hash with kiwi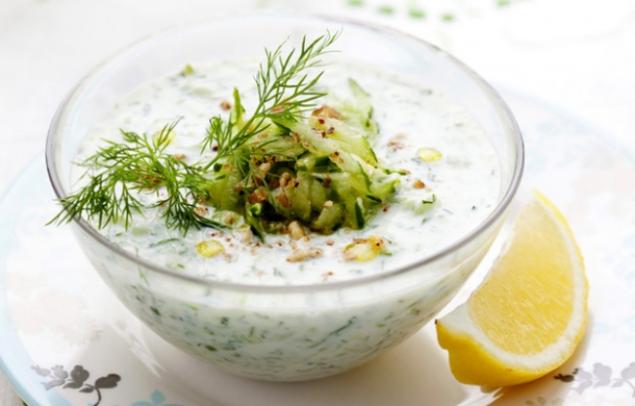 Ingredients:


500 ml yogurt 1/2 glasses of mineral water 1 cucumber 5 radishes 100 g boiled or smoked salmon 2 slices of lemon 1 kiwi 1 bunch green 1 hour. l. grated ginger salt - to taste Preparation:

Finely chop the cucumber, radishes, greens and kiwi. Half chopped greens mix with grated ginger and salt. In the yogurt add the remaining herbs and mineral water. Spread the vegetables on plates and fill with a mixture of kefir. In each serving add the salmon, kiwi slices and greens.





Cucumber salad with lemon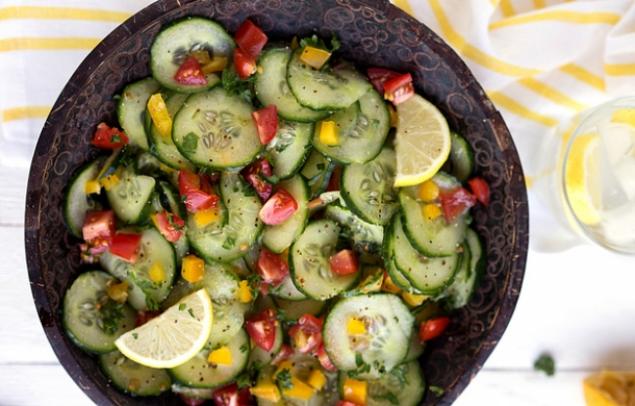 Ingredients:


2 cucumber 1 cup cherry tomatoes 1/2 yellow bell pepper 3 tbsp. l. chopped parsley 2, 5, Art. l. lemon juice 1, 5, Art. l. grated lemon peel 1 tbsp. l. olive oil 1, 5 hours. l. white wine vinegar salt to taste ground black pepper to taste Preparation:

Cucumber cut into thin slices, cherry tomatoes - in half. Cut bell peppers. Mix the vegetables in a bowl and add the chopped parsley. In a small bowl, mix together the lemon juice, lemon zest, olive oil, wine vinegar, salt and pepper. Pour salad dressing and serve.





salad with avocado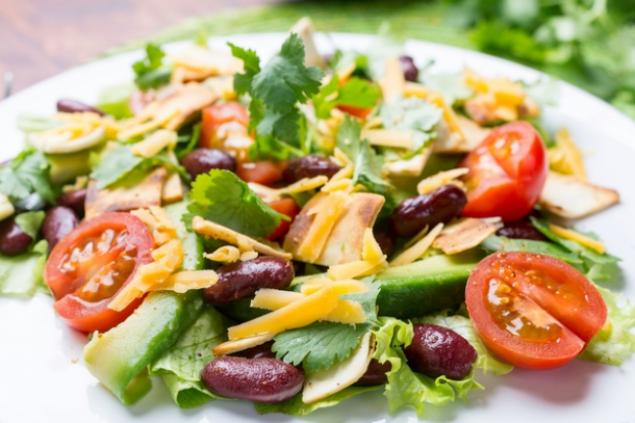 Ingredients: < br>

1 ripe avocado 1 tomato 1 handful of salad Romano 2-3 sprigs of parsley 30 g of hard cheese salt and pepper - to taste balsamic vinegar - to taste a couple drops of lemon juice ul > Preparation:

Mix salad with balsamic vinegar and lemon juice. Season with salt and pepper, then decompose the salad on a plate. Cut the avocado into thin strips and lay on top of salad. Tomato cut into 4-6 pieces and also put on a salad. Top rub the cheese and decorate with parsley and serve.





dip sauce from red beans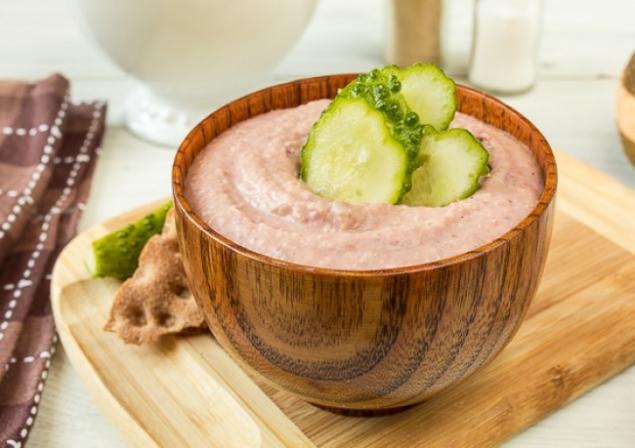 Ingredients: strong >


300 g boiled or canned red beans 2 tbsp. l. sour cream 2-3 cloves of garlic 1 tbsp. l. chopped pickled jalapeno peppers juice of 1/2 lemon salt to taste Preparation:

Put all ingredients in a bowl except the salt and lemon juice. Blender to grind to a paste. Seasoned to taste with salt and lemon juice. Serve with loaves, pita bread, fresh vegetables.





Tuna salad on apple slices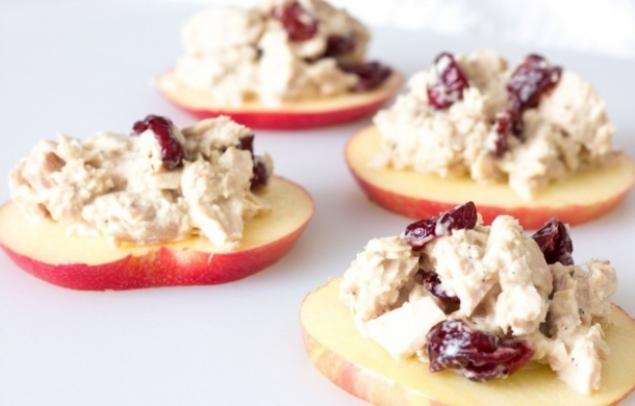 Ingredients:


1 tbsp. l. fat-free mayonnaise or Greek yogurt 140 g tuna, canned in their own juice 2 tbsp. l. dried cranberries 1 hour. l. apple cider vinegar 1/8 hours. l. salt 1/8 hours. l. black pepper 1 medium-sized sweet apple Preparation:

In medium-sized bowl, mix the mayonnaise, vinegar, salt and pepper. Mix until smooth. Discard the liquid from cans of tuna, mash it with a fork. Add the tuna and cranberries in a bowl for the rest of the ingredients. Thoroughly mix. Cut apple on layers to 0, 5 cm thick slices and spread on a salad.





Balls of feta and walnuts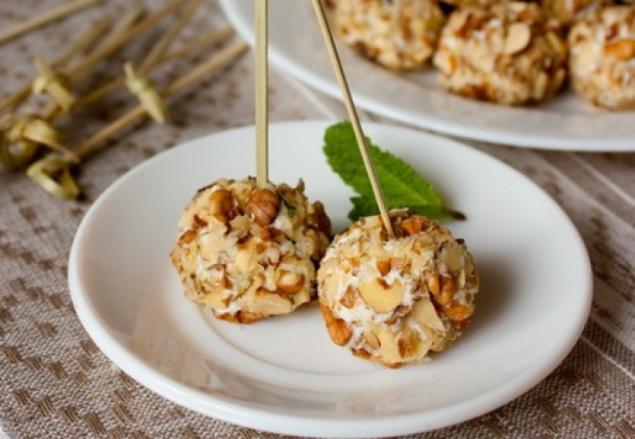 Ingredients:


100 g feta ​​li> 100 g of cottage cheese a handful of basil leaves green 200 g walnuts < / Preparation:

Fet, cheese and basil in the bowl of a blender put. Grind until uniform. Nuts finely chop with a knife. From cheese curd with wet hands forming balls and crumble them in chopped nuts. We put in the refrigerator and cool for 30 minutes.





salad with chickpeas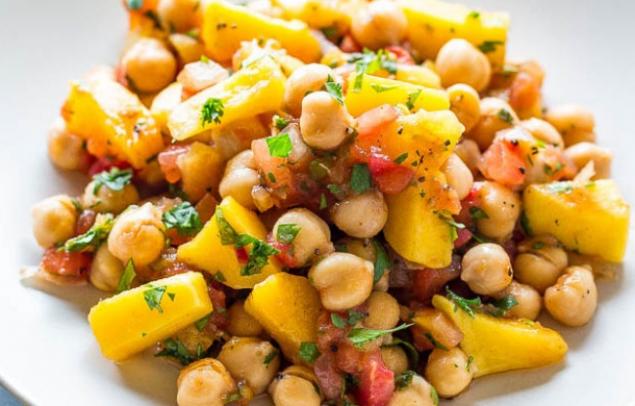 Ingredients: < br>

450 g canned chickpeas 3/4 cup mango 3/4 cup pineapple 1/4 cup cilantro 1 tbsp. l. lemon juice salt, black pepper and ground cayenne pepper to taste nachos to feed Preparation:

Chickpea shift the loss of liquid from the jar into a bowl. Fruits cut into pieces, add to Nute. There also put the chopped cilantro. Season with salt and pepper, add the ground cayenne pepper. Pour the lemon juice, stir and serve with the nachos.





Caprese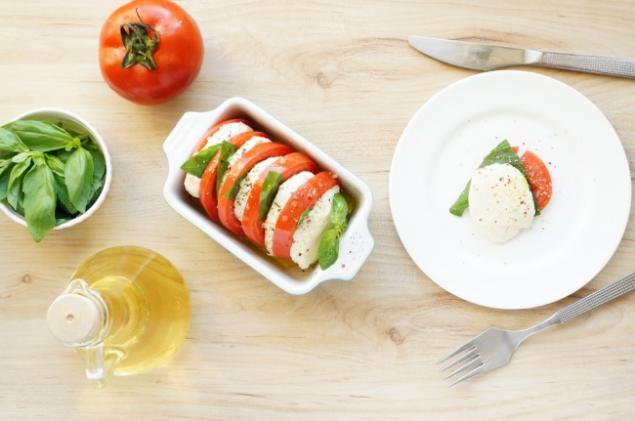 Ingredients:


2 large tomatoes 2 balls of mozzarella 1 bunch basil 30 g olive oil ul > Preparation:

Tear basil leaves, cut into slices 1 cm thick cheese and tomatoes. All the ingredients are in turn decompose. Decorate with basil and sprinkled with olive oil.





Riyet (pate), smoked salmon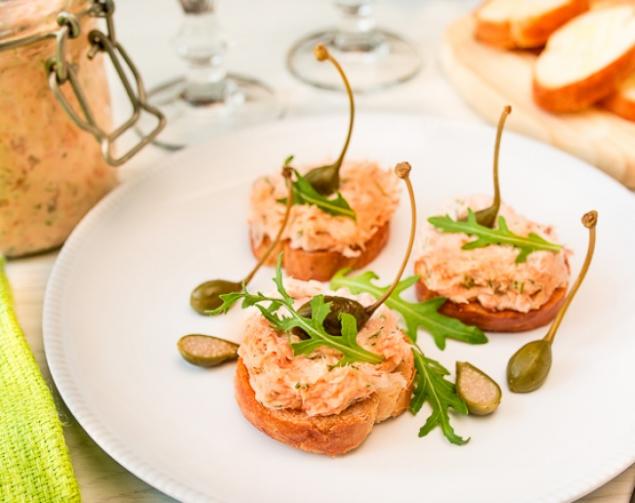 Ingredients: < /


150 g cream cheese (cottage cheese, but not fused, mascarpone is not suitable) 150 g salmon smoked (without skin and bone weight) < / 4-5 sprigs of dill and a few feathers chives lemon juice - to taste salt and pepper - to taste Preparation:

Finely chop the dill, mix with cream cheese, season with salt, pepper and lemon juice. Add the salmon flesh, disassembled into small pieces with a fork. Mix. If necessary, add more lemon juice. Serve on toast or crackers.





Salad of red beans with bacon and cucumber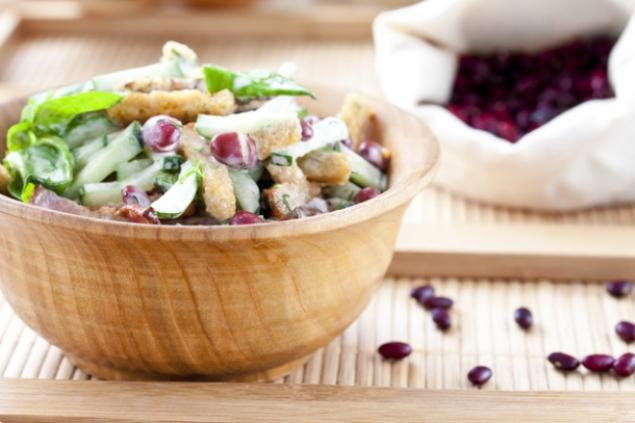 Ingredients:


200 g red canned beans 150 g bacon a small bunch of cilantro 1 small red onion 1 medium cucumber mayonnaise to taste salt and pepper - to taste Method:

Beans throws in a colander. Bacon, onion and cucumber cut into slices. Cilantro finely chop. Mix all ingredients in a salad bowl, salt, pepper and mayonnaise. If desired, add lettuce and / or croutons.





Hummus Thai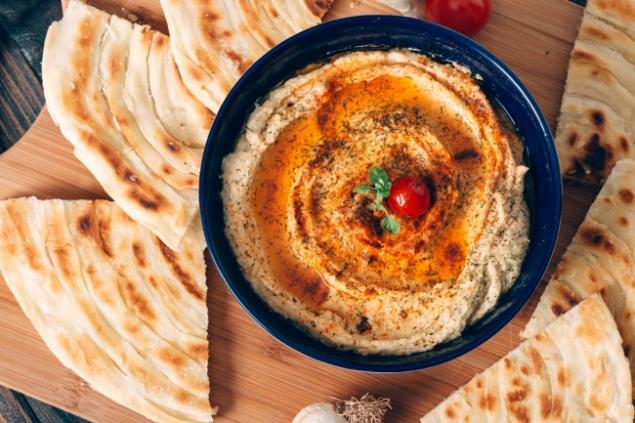 Ingredients:


400 g canned chickpeas 75 ml coconut milk 3 tbsp. l. lime juice 1 clove garlic 1 tbsp. l. Curry 1 tbsp. l. olive oil 2 tbsp. l. sesame paste cilantro Preparation:

Put all the ingredients (except the cilantro) in a blender and grind to a state of homogeneous purée. When serving decorate with sprigs of cilantro. It is best to serve hummus with pita bread and fresh vegetables.





Gazpacho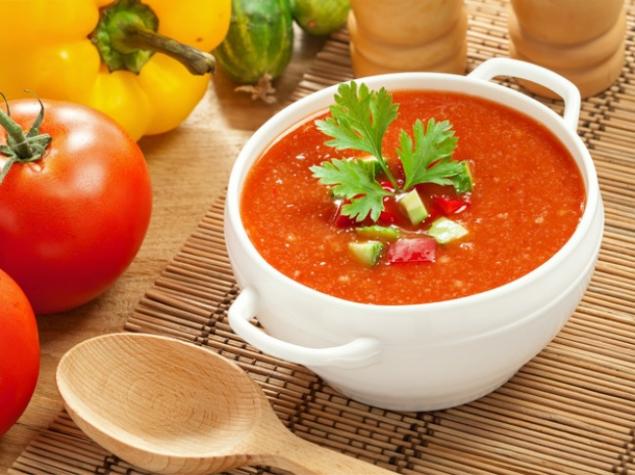 Ingredients:


5 ripe tomatoes 2 sweet peppers 2 cloves garlic 2 cups of tomato juice 2 tbsp. l. red wine vinegar 2 tbsp. l. olive oil 1/2 peeled cucumber 1 onion parsley - to taste salt and pepper - to taste li > 3 drops of Tabasco croutons Preparation:

All the vegetables are well washed. 3 scalded tomato, remove them from the peel and the seeds we clean. All ingredients were cut and mix with a blender. 2 tomatoes three on a grater and add to the mixture, stir with a spoon. You can add small when applying ice cubes and sprinkle with croutons.





Quick salted cucumbers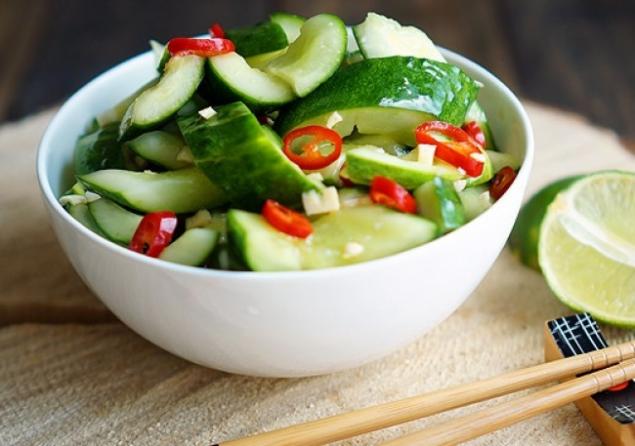 Ingredients: < br>

500 g cucumber 20 g rice vinegar salt 1 hot pepper 3-4 cloves of garlic 1 tbsp. l. sesame oil 20 g of soy sauce Preparation:

Cucumbers cut in half lengthwise and remove the seeds with a spoon. Then turn over half and crush with a knife (you can with a rolling pin) so that they crackled. Crush and cut into strips 1 cm diagonally. Fold cucumbers in a bowl, pour the rice vinegar and sprinkle liberally with salt. Do not be afraid: go away excess salt in the juice at the bottom of the cup. Mix well and set aside aside for 10-20 minutes. Sometimes the cup was shaken to mix the cucumbers. Push-ups and cucumbers we shift into another bowl (which will apply). Finely cut the peppers and garlic. Mix all with cucumbers, pour soy sauce and sesame oil (it quite a bit). All we mix again and serve.





Cold soup of cucumber and zucchini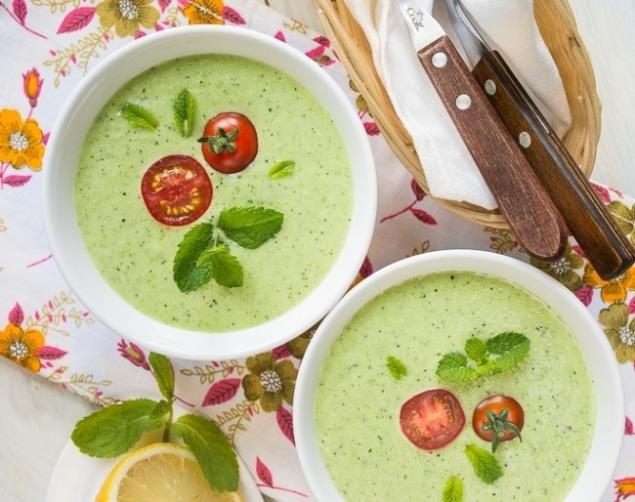 Ingredients:


250 g cucumber 250 g of young zucchini 150 g sour cream 300 ml of cold water < / 2 tbsp. l. lemon juice onion salt to taste Preparation:

Do cucumbers and zucchini cut the tails and noses. Roughly cut and put in a blender. There also pour water and lemon juice, put sour cream and green onions. Grinds the maximum fine. Add salt to taste and serve. If necessary, add to the soup when applying ice.





salad with grapefruit, feta and walnuts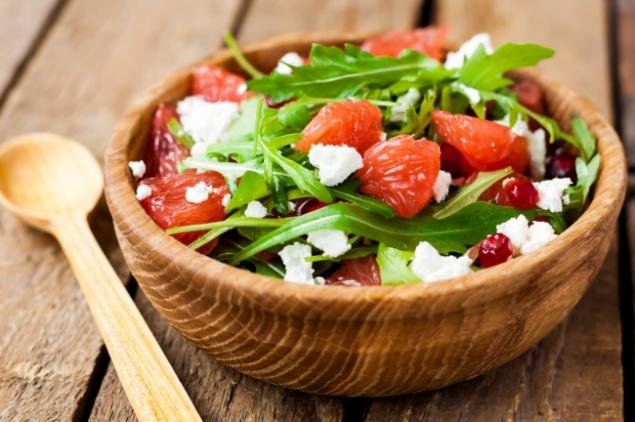 Ingredients:


1 grapefruit 4 cups greens 1/2 red onion 2 tbsp. l. olive oil 1/2 hours. l. sugar salt to taste ground black pepper to taste 4 tbsp. l. feta cheese 4 tbsp. l. walnuts
Preparation:

Grapefruit purify and cut into slices. Red onion cut into half rings. Greens lay in a bowl. Add the onions and grapefruit. Olive oil mixed with sugar, salt and pertsem.Zapravlyaem salad and stir gently. Fet crumble and add to the salad. Before serving, sprinkle with chopped walnuts.





Verriny salmon, cream cheese and avocado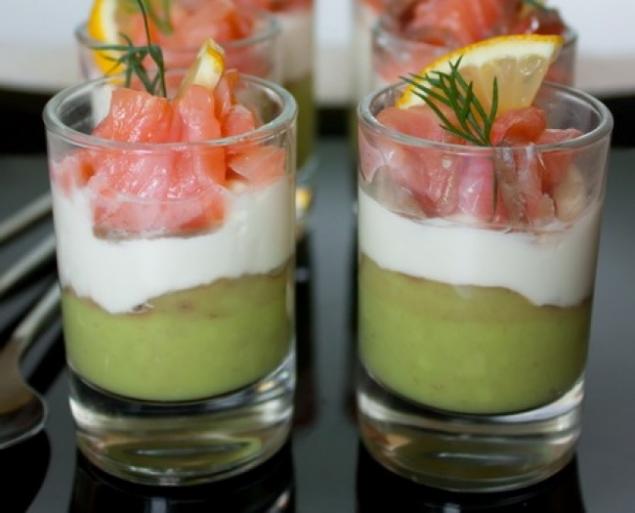 Ingredients:


2 medium sized avocado 180 g cream cheese 50 ml heavy cream or sour cream 1 lemon 150 grams of salted salmon dill sprigs for decoration salt - to taste Preparation: < /

Avocado cut in half, remove seeds and peel purify. The pulp is put into a blender, add the juice of 1/2 lemon. To grind into a puree and decompose in portions for cups. Cream cheese mix with cream until smooth. Season with salt to taste. Put in the cups on top of the cream of avocado. The fish and the remaining half a lemon cut into thin slices and place in cups. Decorate verriny greens and serve immediately.





zucchini salad with feta cheese and pine nuts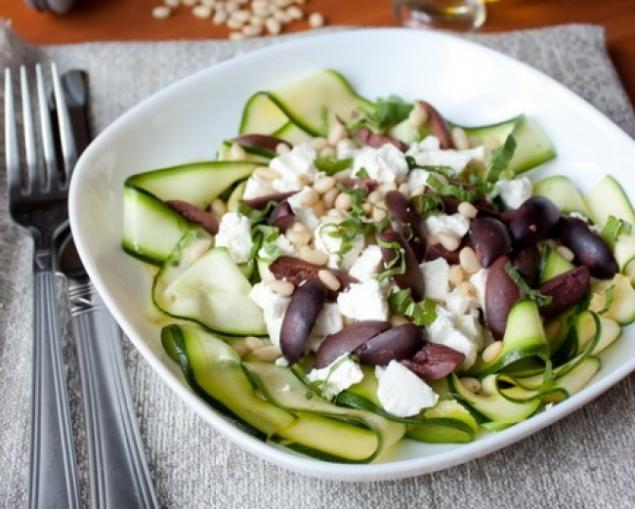 Ingredients:


2 small zucchini 100 g feta cheese 10-12 olives parsley 1/8 hours. l. cayenne pepper 3 tbsp. l. olive oil 2 tbsp. l. lemon juice salt and pepper - to taste 2 tbsp. l. pine nuts Preparation:

Courgettes cut into ribbons using a vegetable peelers. In a bowl, mix the olive oil and lemon juice. Season with salt and pepper. Put zucchini and leave for 10 minutes. While marinated zucchini, coarsely crumble feta, cut olives. Put in a dish marinated zucchini. On top lay out the cheese and olives. Pour filling remains, sprinkle with nuts and chopped parsley.





avocado with tuna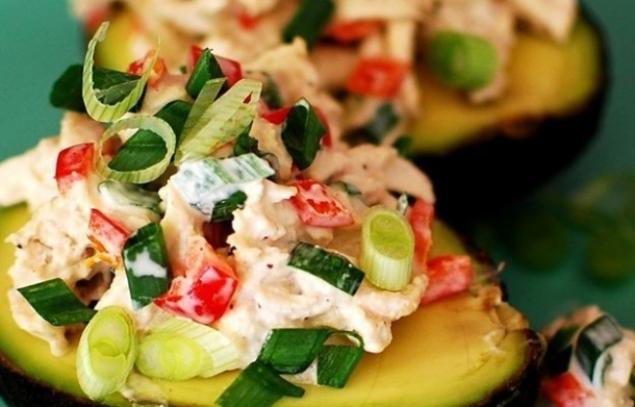 Ingredients: < br>

2 avocado 340 g canned tuna 1 tbsp. l. mayonnaise onion 1/2 red bell pepper 1 tbsp. l. balsamic vinegar salt and pepper - to taste Preparation:

Mix tuna, mayonnaise, finely chopped green onions, diced red pepper and balsamic vinegar. Seasoned with pepper and salt. Avocado cut in half, remove seeds and fill with stuffing. Sprinkle with black pepper.





appetizer bell peppers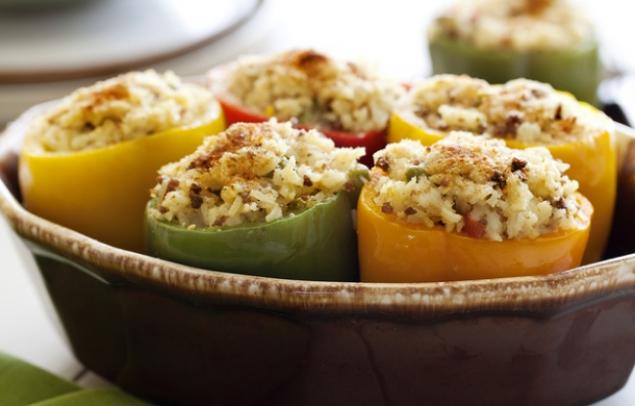 Ingredients:


4 peppers 200 g of cheese 2 carrots 4 crushed garlic cloves < 1 bunch dill 3 tbsp. l. mayonnaise salt - to taste Preparation:

Cheese and three carrots on a grater. Mix carrots, cheese, garlic and chopped dill. Add the mayonnaise, salt and stir. Peppers my, remove the stalk and seeds without breaking form. Farshiruem resulting peppers stuffed. Cooled and fed.

Picture on preview: YuliiaHolovchenko / shutterstock.com /
SerbBgd / shutterstock.com





via kitchenmag.ru/recipes/8515-brusketta-s-nutom-i-rostkami-goroha