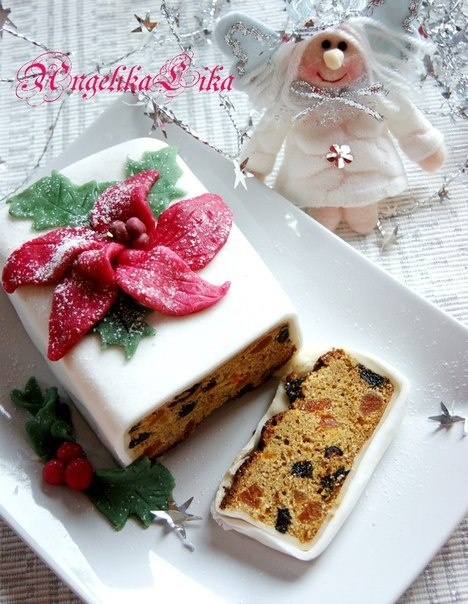 250g butter
100g sugar
100 ml dark syrup (molasses)
3 tbsp honey
4 eggs
280 gr flour
1 teaspoon baking powder
1 tsp cinnamon and ground ginger
1/2 tsp ground nutmeg, cardamom, cloves
100 ml of raisins, dried apricots, prunes, dried cranberries (soak for one day in brandy)
zest of 1 orange
Marzipan - 500g
Fondant - 500g
Melt the butter, whisk the eggs with the sugar, add the honey and syrup (brown syrup tastes like burnt caramel muffins and gives a distinctive flavor, can be replaced with fragrant honey), mix the flour with the baking powder, put all the spices, raisins, apricots, cranberries, prunes. And mix together the butter, egg mixture, flour and spices and zest.
Shift the batter into the pan covered with baking paper and bake the cake in a preheated to 165 degrees oven for about 50 minutes.
Let cool for a cupcake on a lattice.
Roll out the marzipan with a thin layer in the layer is bigger than a cupcake, cupcake covered by it, flatten. Roll out into a thin layer of fondant, put on top of the marzipan, level. Decorate the cake on request))