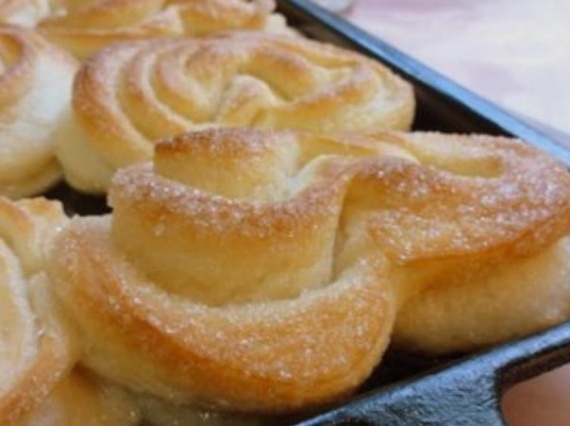 Ingredients:
Wheat flour 350g;
Milk 220 ml;
1.5 tsp dry yeast;
Eggs 2 pcs;
Butter 100g;
Sugar 100g;
Vegetable oil 50 ml;
0.5 tsp salt;
In the warm milk dissolve the sugar (1 tsp) and dry yeast. Leave on for 10-15 minutes until the foam.
In coming up with melted add the yeast (but not hot) butter and beaten egg. Mix well. Pour the sifted flour and salt. Knead a soft sticky dough. Add vegetable oil (1 tablespoon).
The dough is covered with a clean towel in a warm place for an increase in the amount of 2 times.
Coming up the dough obmyat, put on the table, sprinkled with flour. Roll out into a rectangle. The dough is greased with vegetable oil, sprinkle with sugar (100g). Starting with the broad side of a roll to roll. Then cut into pieces 3 cm wide.
Each piece notched in the middle, but not entirely. Bun deployed on two sides.
Buns on a greased baking tray shift. Lubricate the egg and bake 20-25 minutes at 180 degrees until golden brown.