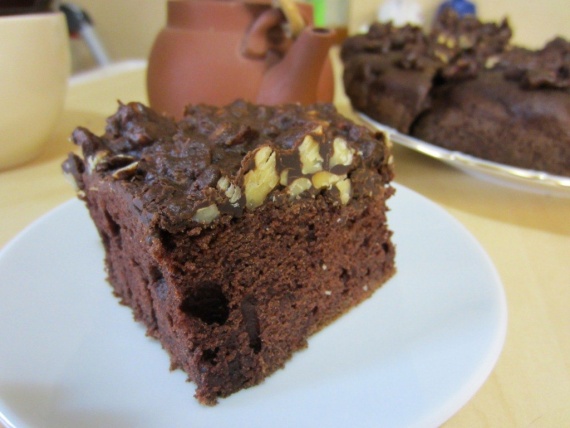 2 eggs (lightly beaten)
2 tbsp. flour
1 tbsp sugar
180 grams of butter.
1/2 tsp salt
1 tbsp. boiling water
4 tablespoons cocoa
1/2 Art. yogurt
1 tsp soda
Preparation:
In a saucepan, melt the butter, prepare hot water and melted butter add cocoa, stirring whisk. Add boiling water and boil for 30 interfering -40 seconds. Remove from heat, cool slightly to the side.
Separately, mix the flour with sugar and salt. There to add the warm butter and mix well.
In the lightly beaten eggs and add the yogurt soda, stir and add to the chocolate mass. All mix well. The dough should be watery
Pour on protiven lined with paper and bake 170-180 degrees - 20 minutes.
 - While cares to make frosting:
1/2 cup walnuts - fry and Mince
Tiles of dark chocolate
1 tbsp cocoa
3-4 tablespoons milk or cream
Rastapit chocolate in a water bath. Add cocoa and milk or cream. Stir until smooth. Mix with nuts
How cake is ready, warm coat it right into the pan and allow to cool glaze
PS 1. better to take for frostinga two chocolates. I had spread to cover the entire whole.
2. In the original, the dough should be put 2 cups of sugar. I do not like cloyingly sweet, so put 1 cup. It turned out just to my taste.