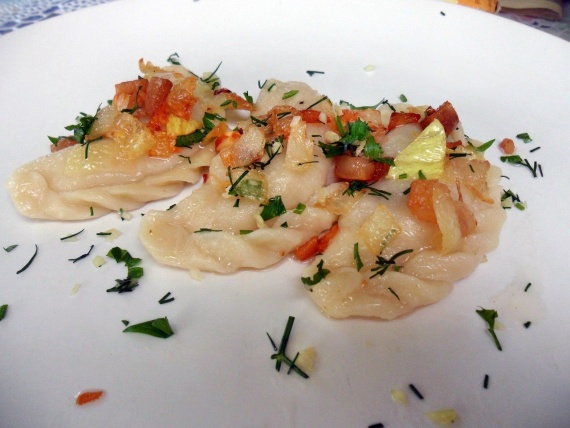 Dumplings, stuffed with potatoes and cabbage.
For the filling, boil the potatoes, fry and simmer, covered cabbage, potato mash further into a puree, add the cabbage, salt, pepper. Dough: flour do funnel, salt, water and lёm Knead the dough, put on a plate, cover with a towel, and give a rest for 30 minutes. Further roll out its formation in 1 mm thick. Shape cut out circles, take the one hand, it kradёm filling and closing (who knows how). Boil in salted water for 7 minutes in advance to prepare fried onions and bacon. Dumplings lay in a deep container, cover with onion and bacon, mix, put a portion of dumplings on a plate and sprinkle with chopped garlic and herbs. Bon appetit!
Ingredients for 4 servings:
Flour - 300 g
Water - 100 g
Salt - to taste.
Potatoes - 2-3 pcs.
Cabbage - 1, 5 cups chopped.