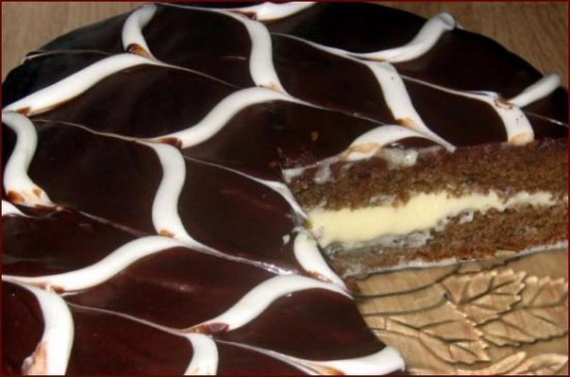 Preparation:
To test margarine softened, I do it in the microwave at full power for 15 seconds. Beat eggs with sugar, rub with margarine, flour mixed with baking soda and knead the dough sparsely pouring. Lubricate the form of butter, sprinkle with semolina and pour batter. Bake 35-40 minutes at 190C. I check the readiness of a wooden stick. Take out and cool on a lattice. Cut lengthwise into two cakes.
For the cream: Boil the milk and semolina porridge sparse, cool, rub the butter with condensed milk, add the porridge, whisk. In my case it was 3.2 cans of condensed milk and cream has turned watery.
For the glaze: Mix all and warm until the sugar dissolves, instead of milk I use sour cream and it gives shine and sour glaze.
Supplement: diameter baking dish 21 cm. Porridge cream to do thicker. Oh, and for flatness glaze - on top the cake can be spread with apricot jam, and then glaze.
Bon Appetite!