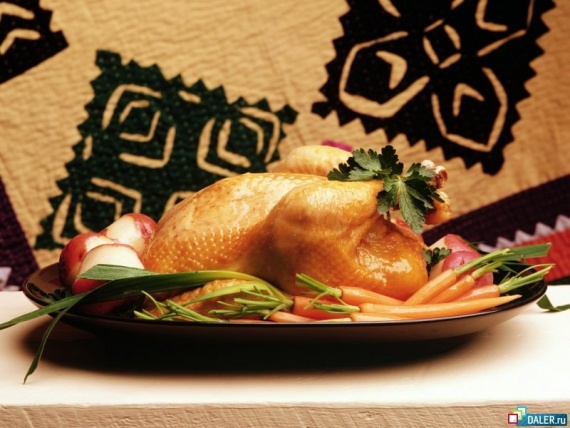 Ingredients:
chicken - 1kg
white bread - 100-200g
chicken giblets - 100g
Egg - 2 pcs.
sour cream - to taste
salt - to taste
pepper - to taste.
How to:
Chicken carcass clean, wash, salt and set aside.
Cut loaf of white bread or diced and drain it in a pan or in the oven.
Boil chicken giblets in salted water with spices and finely chop them.
Finely chop the hard-boiled egg. Connect with croutons, giblets, and egg type in here a raw egg, pepper and mix.
Stuff that happened, chicken, sew it, obmazhte sour cream and place in a well-heated oven for 180-200S on greased baking sheet and bake until done (it will appear beautiful golden crust, as if to pierce the meat with a fork, the juice is light, not red) .
Recommend periodically watered chicken broth or sauce stand out from the giblets.