Twenty seven million three hundred forty six thousand thirteen
Every nation has its culinary traditions. They are similar in one: on new year or Christmas table, each dish is endowed with special meaning and value.
Us in
the Site
became insanely interested in what is prepared on this day, people around the world, if you're at the table.
Denmark
The Danes on the table, traditionally served with roast goose stuffed with dried fruit, or baked pork with potatoes and red cabbage. For dessert, grutze — rice porridge with a thick sweet berry jelly and roasted almonds. Gleg and drink beer.
Nepal
In Nepal, where Hinduism and the New year is celebrated in mid-April. This is called the feast of Bisket Jatra. Note it is not so much meal, how many entertaining theatrical performances with the noise of musical instruments. Eating on this day the Nepalese traditional dishes of Indian and Tibetan cuisines. Most popular — gave bath, made from lentils, tomatoes, onions, ginger, rice and spices.
Italy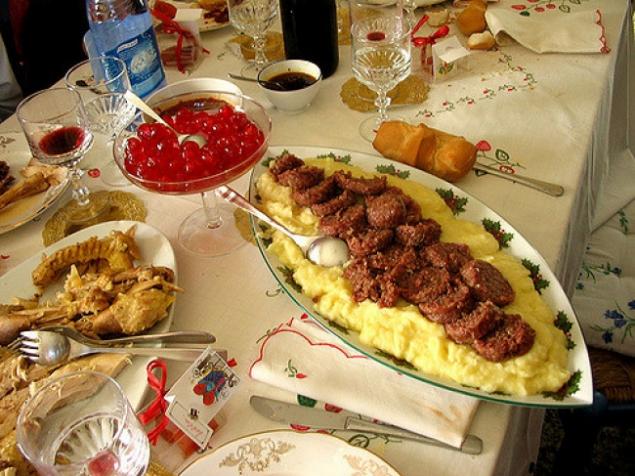 In many European countries, family, and mealtime is the Catholic Christmas and the New year is celebrated on a noisy street festivals. Therefore, the same dishes are common to both of these holidays. In Italy pork sausage, cotechino definitely cooked myself. It is served usually with lentils — a symbol of longevity, health and well-being.
Mexico
Mexicans love spicy and tangy dishes for the feast are served romeritos (basic ingredients — shrimp and potatoes), stuffed Turkey, corn, beans and sweet pastries. From drinks prefer a light wine, punch and tequila.
England
Traditional food on the tables of the English: stuffed Turkey with vegetable side dish and pudding for dessert. It is made of bread crumbs, flour, bacon, raisins, eggs and various spices. Before serving dessert pour the rum, set on fire and burning put on the table.
Vietnam
In Vietnam the new year festival is called Tet and is celebrated according to the lunar calendar. He annually moved between the twentieth of January and February. Holiday meals traditionally prepared from rice and meat. For example, pork in coconut milk cake or Banh Chung (bamboo leaves wrapping a mixture of rice and pork and fried).
France
What is a French meal without the traditional oysters, sandwiches with foie Gras, cheeses and of course French wine!
Japan
The Japanese believe that the chestnuts bring success in business. Therefore, they are added to various dishes and side dishes, and desserts. For example, in Moti cakes of boiled rice. Also on the Christmas table there are sea cabbage, peas, beans and herring caviar.
Germany
In Germany, on the table is usually served with apples and nuts. The first are the fruits of the knowledge of good and evil, the second to symbolize the mysteries and difficulties of life. Apples with nuts, or roasted and added to desserts, or stuffed with their meat and poultry.
USA
In the States, as in many Western countries, the traditional dish of the holiday table is considered to be the stuffed Turkey. But prepare it in a special way here. Stuff everything you find in the fridge: bread, cheese, prunes, garlic, beans, mushrooms, apples, cabbage.
Czech Republic
Compulsory new year's table decoration and pride of the host — delicate puff pastry roulade with Apple — strudel. It is served with ice cream, whipped cream or jam. In the rest of the Czech Christmas table simple but hearty: soup, fish, barley porridge.
Portugal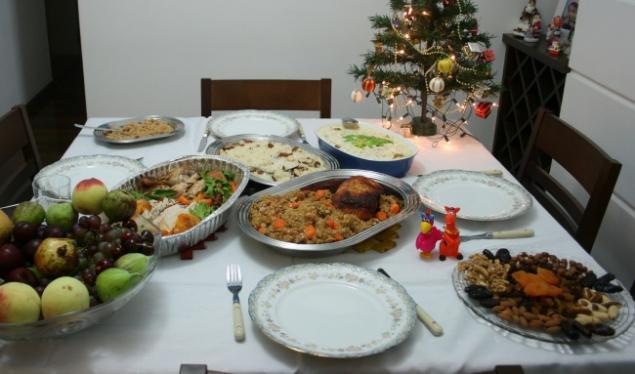 The grapes have to be on the table. The Portuguese consider it a symbol of abundance and a happy home. Therefore, with the striking of the clock at midnight they eat twelve grapes, each of which make a wish.
Poland
The Polish tradition is that on new year's table must be exactly 12 different dishes. And no meat. Soups, cereals, potatoes, dumplings, cakes. And at the head of the table — fish in aspic, baked, fried. Here it is considered a symbol of family well-being.
Netherlands
The main Christmas meal for the Dutch — doughnuts, deep-fried and dusted with powdered sugar. Main dishes in this feast added salt beans — another Dutch national food.
Photos on the preview depositphotos
According to the materials breadsalt, povarenok,
legkogotovit
See also
15 photos of the most delicious street food in the world
Here as a lunch of office workers in different countries
via www.adme.ru/svoboda-puteshestviya/vot-kak-obedayut-ofisnye-rabotniki-v-raznyh-stranah-1408165/