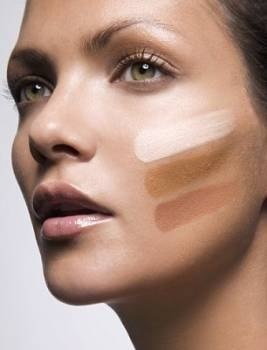 1 step. The skin on the face should be cleaned with a tonic or gel.
Step 2. The facial skin should be well moisturize and give the cream soak.
Step 3. After 10-15 minutes, you can apply foundation. Makeup artists recommend to apply the cream with a special sponge. When using the hands or fingers, foundation often falls unevenly or lumps.
Step 4. Tone cream should be applied to several parts of the face in small dots. At the same time, the point should not be too scarce, otherwise it will dry up quickly.
Step 5. Neat movements concealer shade should be across the face with a thin uniform layer.
Step 6. If necessary, a small amount of foundation should be applied to exposed areas of the neck and décolleté.
7 step. After 5-10 minutes after applying the foundation, you can proceed to the next stage makeup.