Name blond beauties Jessica Simpson long ago was considered synonymous dream come true, because Jessica was almost everything - a loving husband, a brilliant career, dazzling looks and great prospects ahead. But divorce Simpson caught by surprise and it is completely changed, but her style neighbor girls still excites most of the male population of the Earth.
She is friendly, optimistic and romantic, so sincerely believes in true love.
In terms of appearance Simpson is not so self-critical, as he considers himself very, very attractive person. "I want the men to fall in love with my voice, and not in my appearance." And the fact that at social events, Jessica tries to be the number 1 and selects as a role model beauty Angelina Jolie proves that the singer and actress totally disingenuous. Her clothes, hair and, of course, make-up, examples of which you will see below, always chosen with great care and taste.
I note that recently passed the position Simpson, but now is not about positions, but the makeup Jessica Simpson.
1. What is a luxurious chest! I do not know silicone or not, but it looks superb. Makeup is probably the last thing you will notice, but he is very reserved and laconic, in fact, as the style of dress for Jessica. All goes well with each other.
2. The expression, of course, is not impressive, because Jess and so not very smart, so when decimated by a fool, and even more so ... Make-up, by the way, her favorite - pink glitter and the conclusions drawn by eye.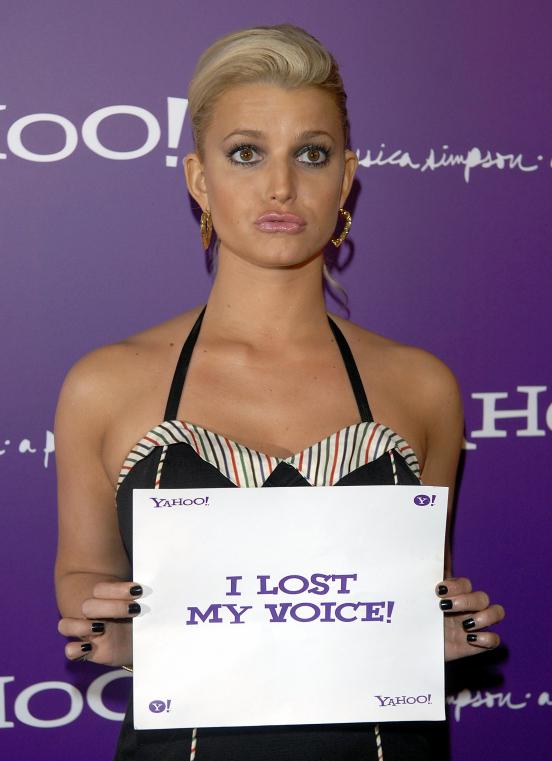 3. memorable images make it beautiful at the expense of great hair and a beautiful dress (can only see the top judge and outfit it). But who has advised not tweeze eyebrows Jessica in those days? I do not understand this defect immediately catches the eye.
4. I hope that fur unnatural, on how to object carrying a dead animal on the body of men and women. In general, all quite nice makeup in earthy semitones suitable Jessica.
5. A dazzling smile and sparkling eyes good - it's probably the only thing that can replace the presence of makeup on the girl's face. I like her hairstyle and makeup, in principle, unremarkable.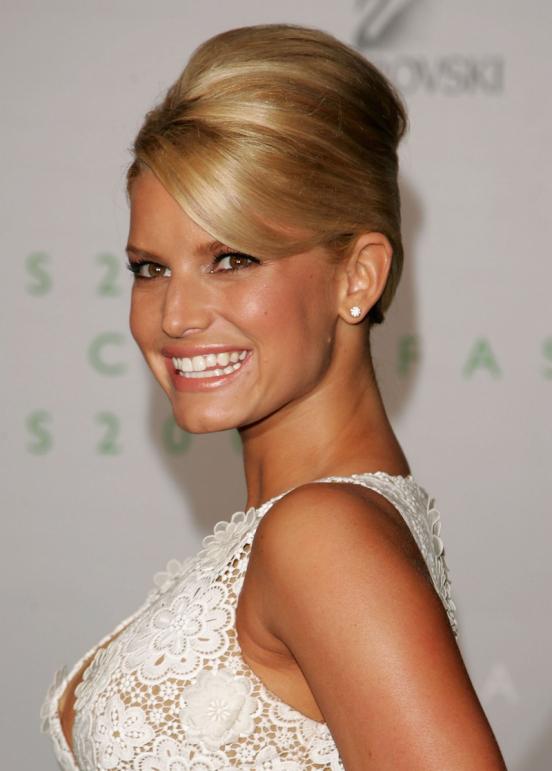 6. Red !? Jessica was red !? I've never seen her in such a wily temptress amlua with golden hair. I can say on my own - I do not like this image. Even look promising not save the situation. Everything merged: the hair color and the color of the dress and makeup.
7. Jessica is very nice and pretty girl. She is now an urgent need to lose weight, but in the photo below is a slim, beautiful and happy (again, judging by his face, as if it is some excess weight change). Nice to see such Simpson, even if it opted commonplace Meiko.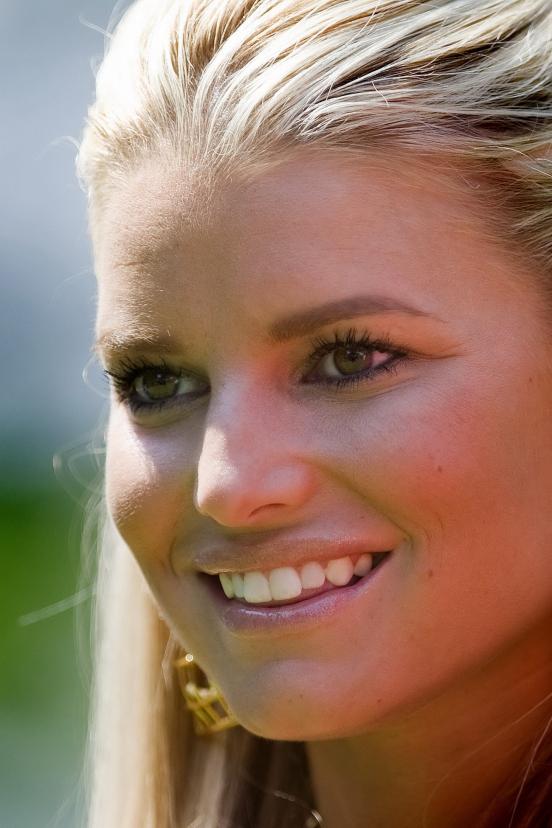 8. "Smoky ice and you're a goddess," but not with such a straight face.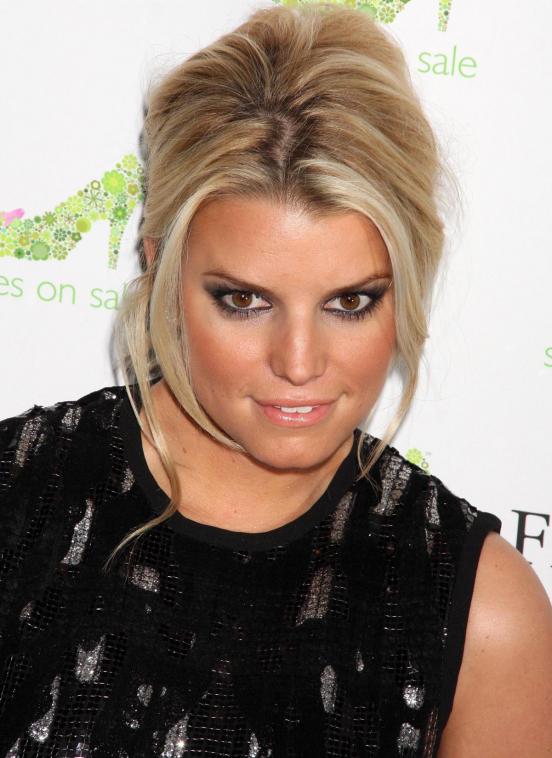 9. The image of Marilyn Monroe is quoted so far. Jessica on the set proves it again and again, reincarnating the legendary diva. It is necessary to evaluate its efforts, as she does this, not without success. It seems to me that such a make-up Jessica to face.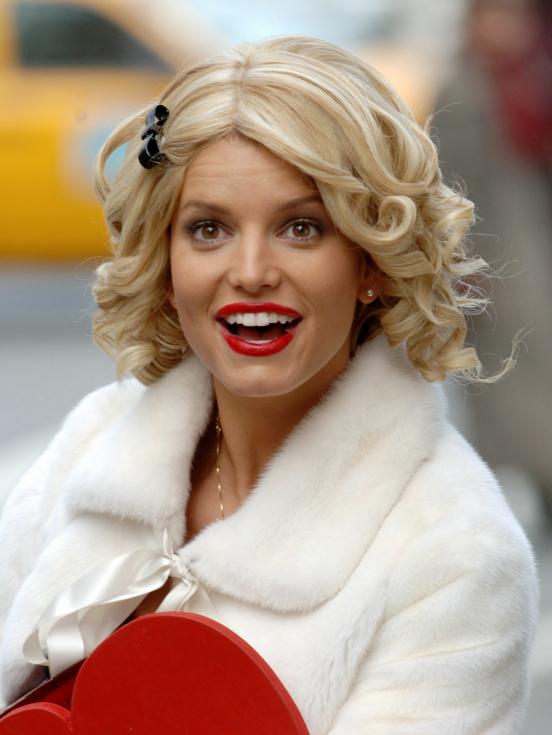 10. All is good, but too obvious that Jessica did not get enough sleep. Sleepy, like flies, is the main enemy of the good makeup.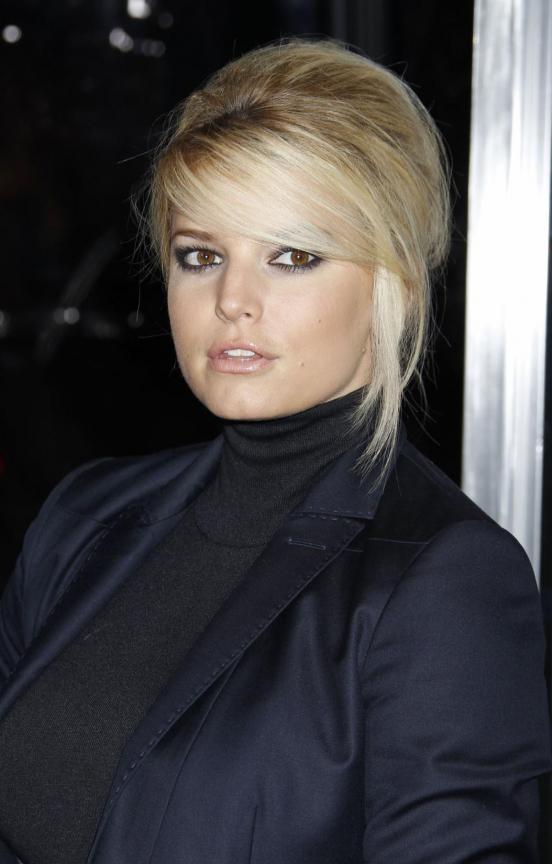 11. A young «Rock Star» Jessica and her ridiculous makeup. This shade of lipstick is not for everyone, in this respect, is no exception and Jessica.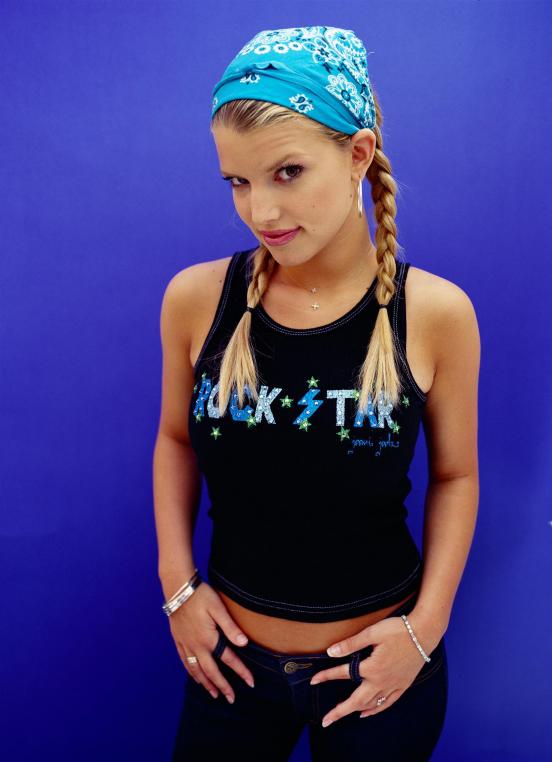 12. Surprisingly, the Simpson inclined to corpulence and it literally "blown" after divorce. Explicit swelling does not fit Jessica's absolutely like The illustration below make-up, and the image as a whole.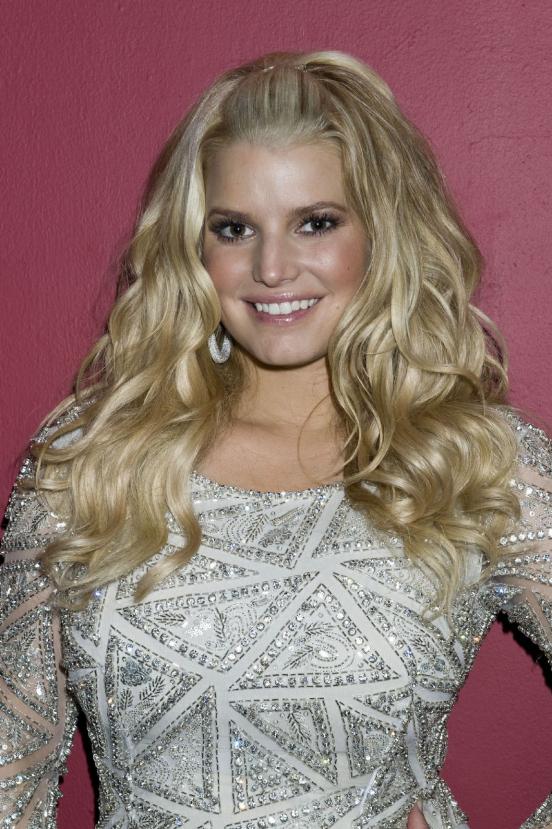 13. identical manner (see. №12), only one difference - a quiet and soft shade of gloss, I think it suits Jessica more than light pink gloss. And why all blondes are so fond of pink ???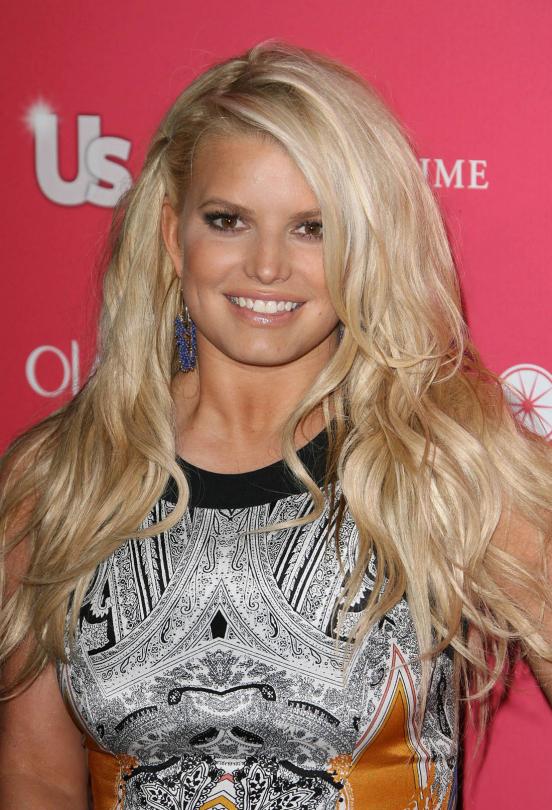 14. What? Very nice hair color. In my opinion, Jessica vain dyes his hair blond shades (as far as I understood the nature of the Simpson brunette), as hair color, shown in the photo below, just gorgeous! And the standard makeup, to which Jessica is so indifferent, played in such a manner with new colors.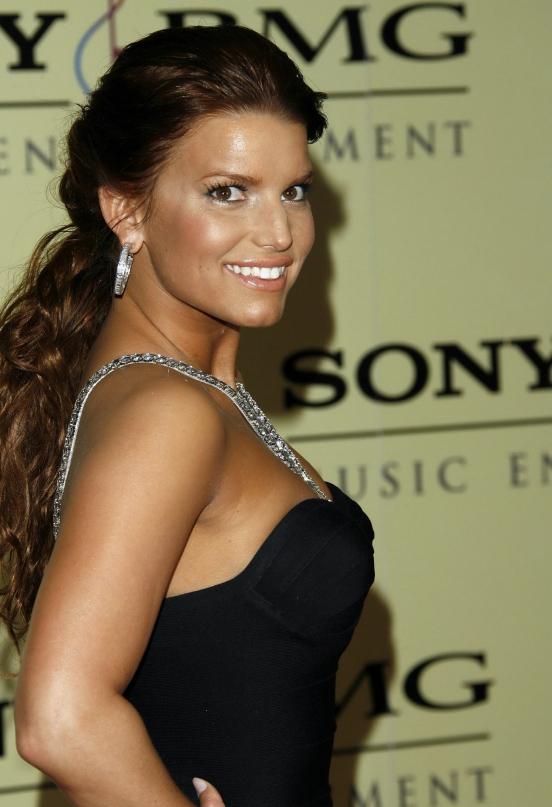 15. I hate when the cilia are located here so badly as if they nibbled mole. Perhaps this is strange, but the make-up (with the exception of the cilia) I really like it, not in vain Jessica loves it and uses constantly.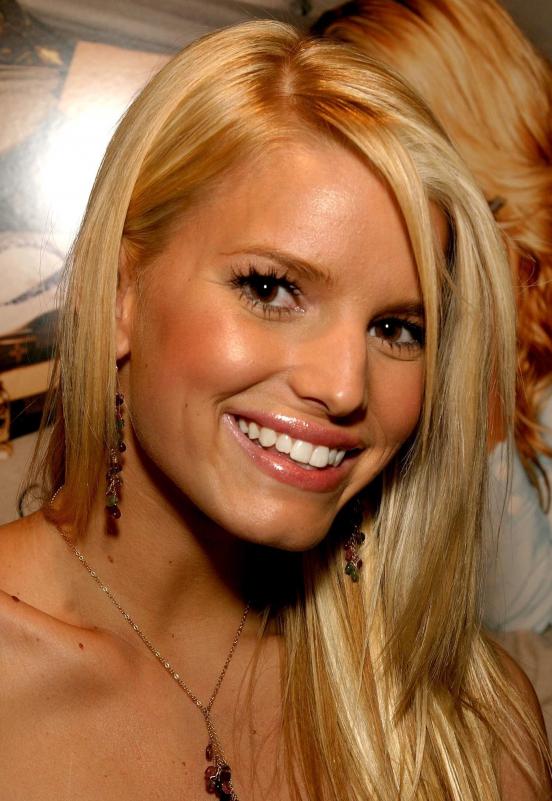 16. "Crown antics" Jessica (see. Photo №2). Is not talking to Jessica's face, anyway, but, guess what happened to him she had kinship. Makeup frankly bad, and on lichiku Jess is clear, it seems he is also not particularly like ...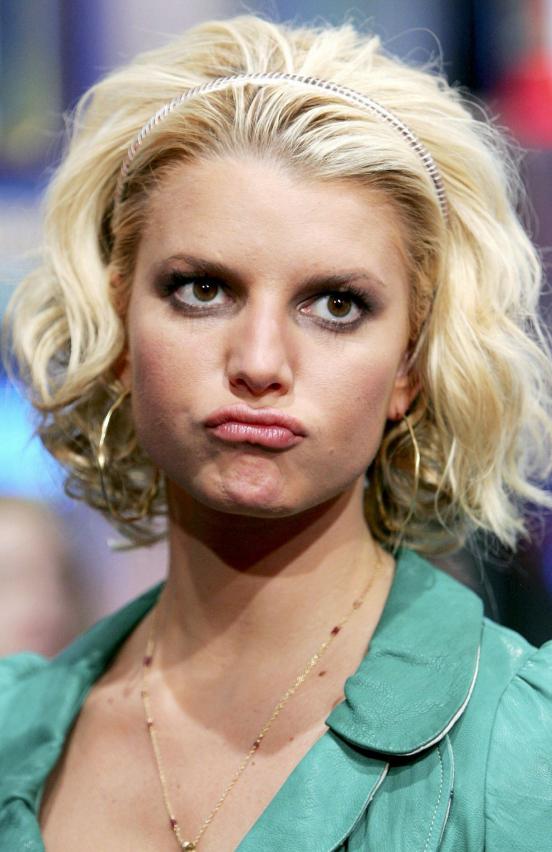 17. The make-up is great! Everything else is not for young Jessica.
18. A simple and a little gray, what else can I say? We in the streets every second it gets a makeover.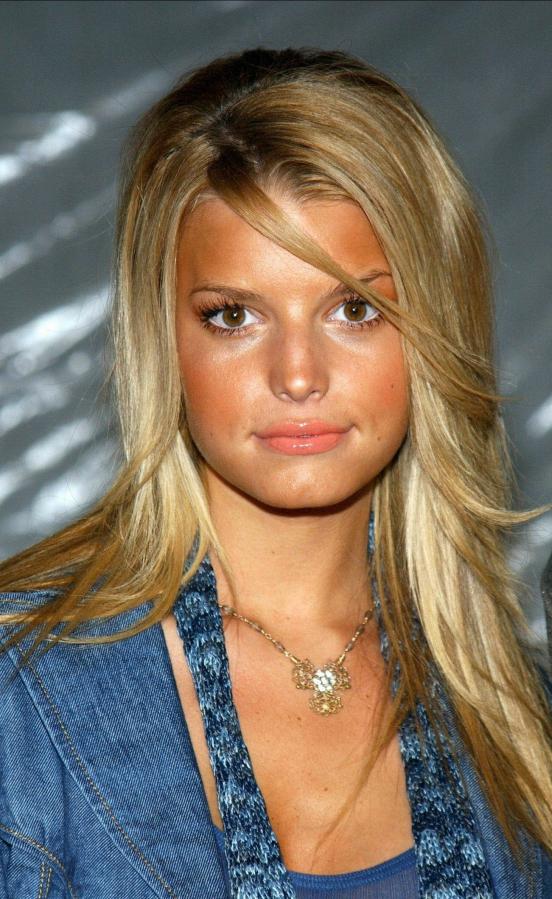 19. Beautiful teeth. That's all.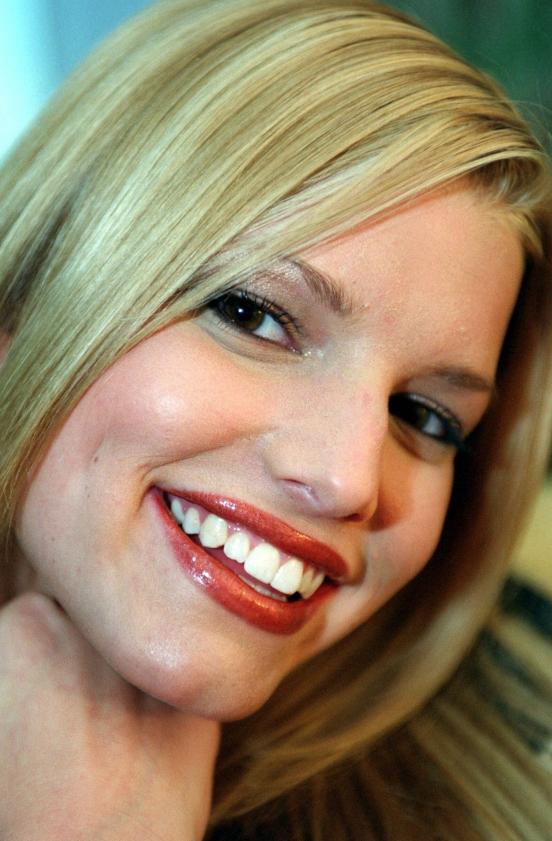 20. True bleached blonde ... If we are pink and white, in large quantities. Makeup too "sweet».
21. Inspired by memories of a young Britney Spears. Maybe because the make-up look like? To be honest, the fashion of the shadow of deep blue and turquoise colors I would never understand. For those times, makeup, certainly, was perfect. Today it's different.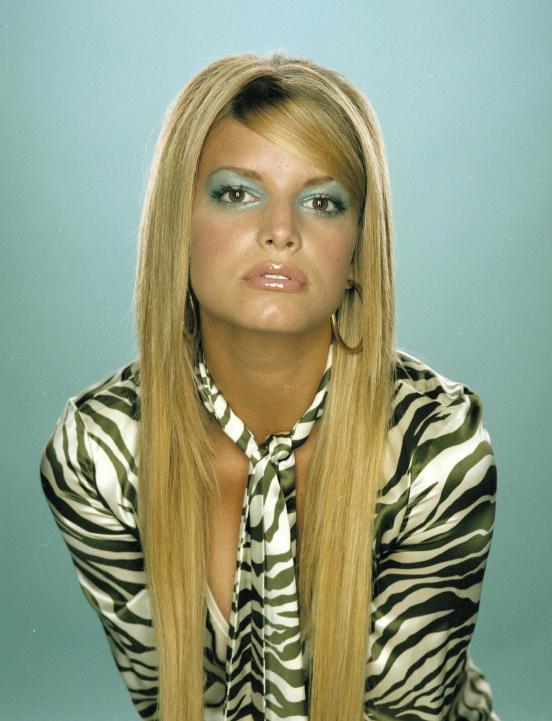 22. Photo liked, despite the fact that Jessica is too bulky and powerful. Shade of lip gloss - good accent.
23. The poor quality pictures, but certainly not bad and I would even say "sickly" Jess "cilia» ...
24. In practice, natural Jessica. Without makeup she is not so ugly, it was said, but it is still better.
25. The difference from the previous photo is enormous. Here she femininity and beauty. Make-up in her spirit, I like.
26. The ideal solution to light. Naryadik be modest and it would just incredibly beautiful. Makeup perfectly matched, certainly, stylists in one day got more of their usual salary.