Sport and feminine - a combination not often found among the Hollywood beauties, but Jessica Biel, which now 29 years old, can be different. At events she shines in luxurious dresses, but in everyday life often tries to visit a gym. Jessica was born and raised in a small American town of Ely (Minnesota) in an ordinary family, where no one had nothing to do with the movie, but thanks to its bright appearance, she was able to break through and become a model. True, she was a model for long, because already after a while Beal made its debut in the TV series "Seventh Heaven", and at 24, seized upon a great movie - the movie "The Illusionist", where her partner was actor Edward Norton. In 2012, the planned output of the painting "Total Recall", in which Jessica went to one of the main roles. Well take a look at her in this movie ... In his personal life, Jessica also everything is fine, because it has recently re-converged with her lover Justin Timberlake and while it satisfied that Justin is in no hurry to make her an offer.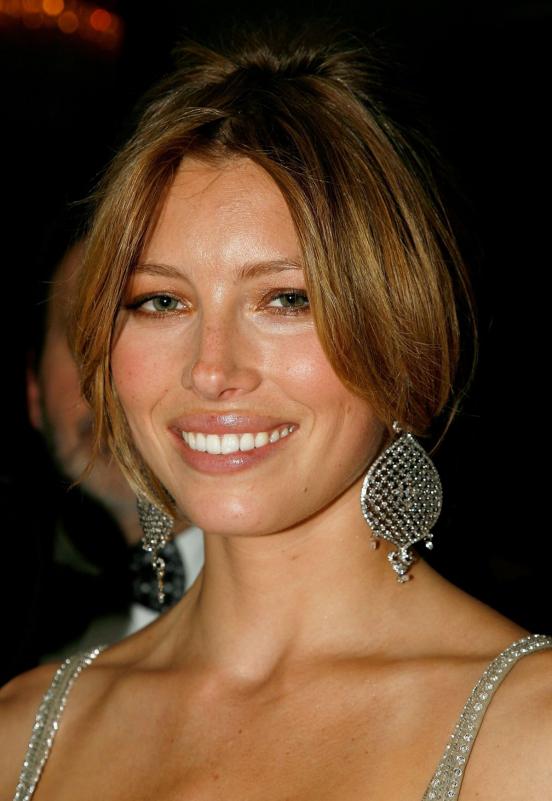 Anyway, today is not about Justin and his darling about makeup.
1. It is said that there are no ugly women, and I partly agree with this, well, in the case of Jessica accurately. No matter how big her mouth was, and no matter how small her eyes were, she still charming. Something unseen beauty in it still there and somehow I think (do not think that I need to be baptized), that she had an excellent character. I do not understand that there is still need to Justin, but to marry such a woman would not mind more than half of the male population. Jessica prefers discreet makeup, natural colors and simple haircut, but she looks at everything at the same time just gorgeous. Make-up below and make-up that is difficult to call, because the makeup on your face at least. Tone lipstick like, but could highlight the eyes and eyebrows, as they also play an important role in a woman's face. But again, it is a choice of Jessica.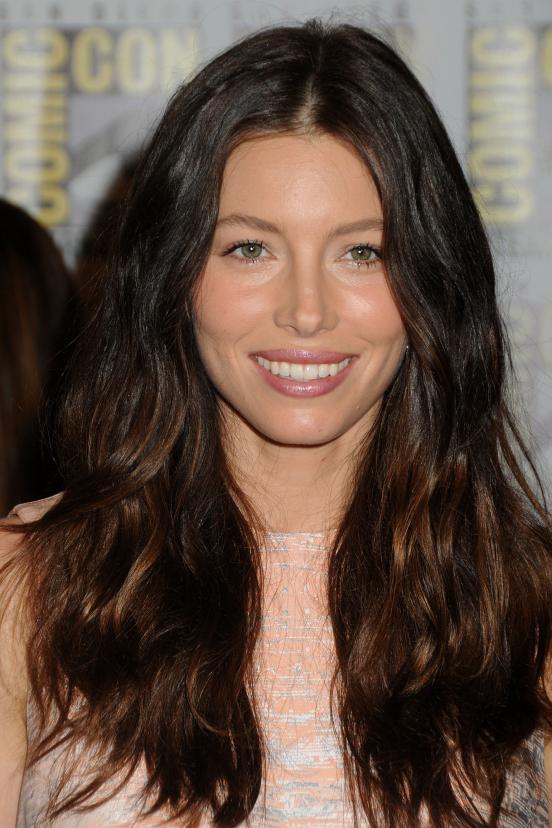 2. With dark hair color Beale better (IMHO). Make-up by 80 per cent identical to the first embodiment, the only difference - the lipstick is glossy and matte. It seems to have less solemn option.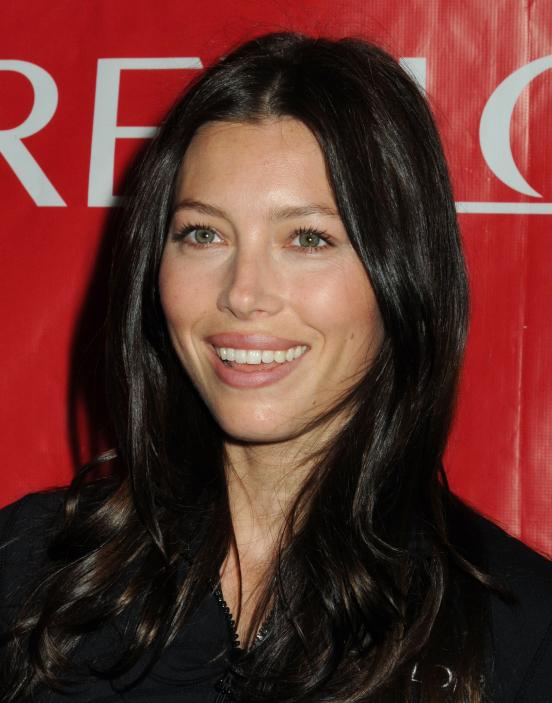 3. I love golden shades and shadows on the green-eyed brown-eyed girls, but here too much. And lipstick and shadow, and blush, and even hair color - all "under the gold." It is not necessary here so confused all in one heap.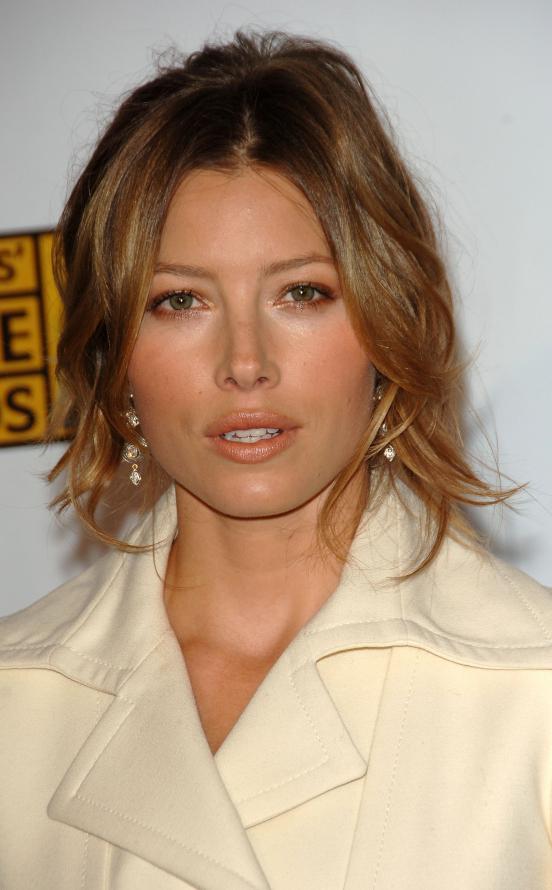 4. Hairstyle unsuccessful, makeup almost unchanged. I do not know that Jessica's mind, but it is not often allocates eyes, focusing on the lips. Well her lips delicious, but the eye-is also not terrible. Natural for Bill - the basic rule of makeup.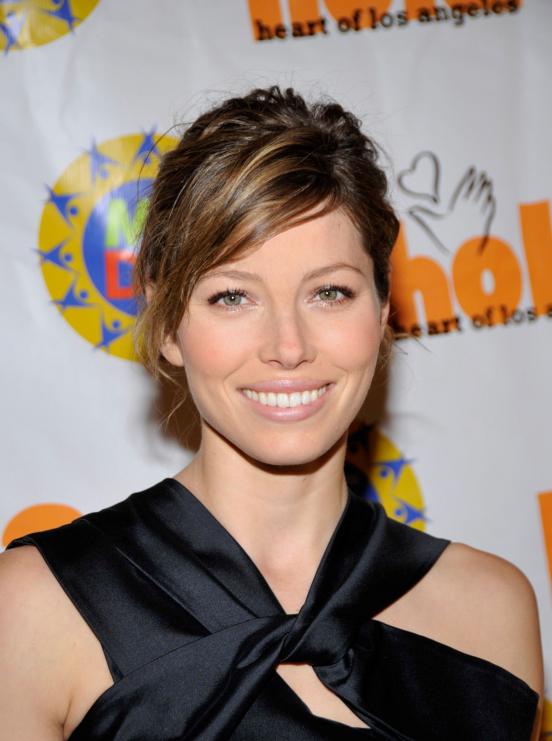 5. In general, if someone had told me that Jessica does makeup itself, but still awake, I would have believed it. Well, I do not like that the cilia can not be seen, though something must "frame" such beautiful green eyes ... lips, as always made up, but paid little attention to the eyes. Shadow of a terrible color, honest pioneer.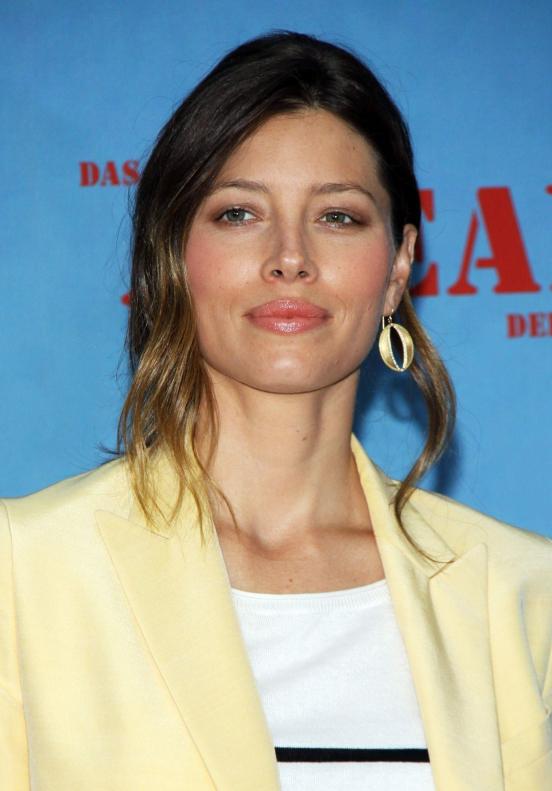 6. The red color to the face Jessica. Makeup is better (moving right way, ladies and gentlemen). Lipstick pink shades - a favorite of Bill, so it uses and it almost always. Eyes a little bit, but identified with the help of eyeliner. It's not like the hair lie, but that's a separate issue.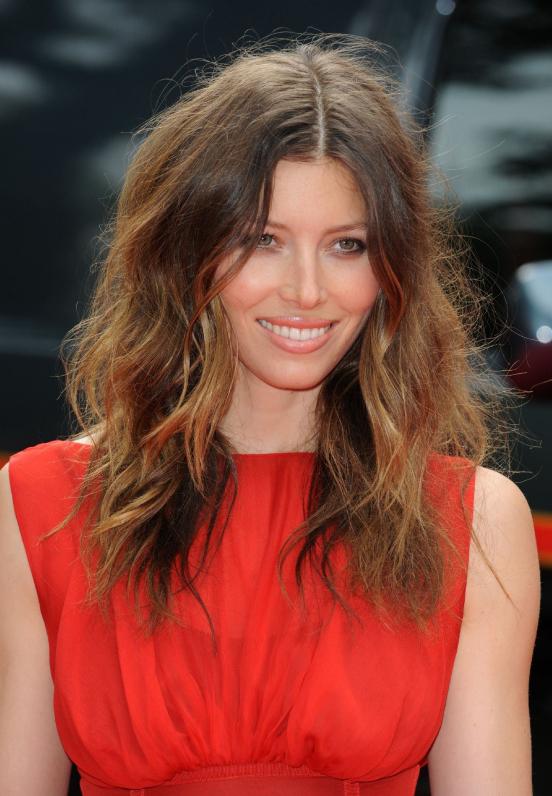 7. Yet, as has been said before, Jess for natural beauty. No you naroshchennyh cilia and other garbage, although sometimes this "garbage" a very nice look. In this case, the lashes would not hurt. Do not like the skin so blyamstit, and eyebrows are completely different (and could pencil work), but the mouth is fine. Teeth, lips on the top five. By the way, say that first of all men pay attention on the lips (if you look at the person and not the figure) and not on the eyes. Maybe that's why Jessica focuses precisely their plump and sensual lips, mmm?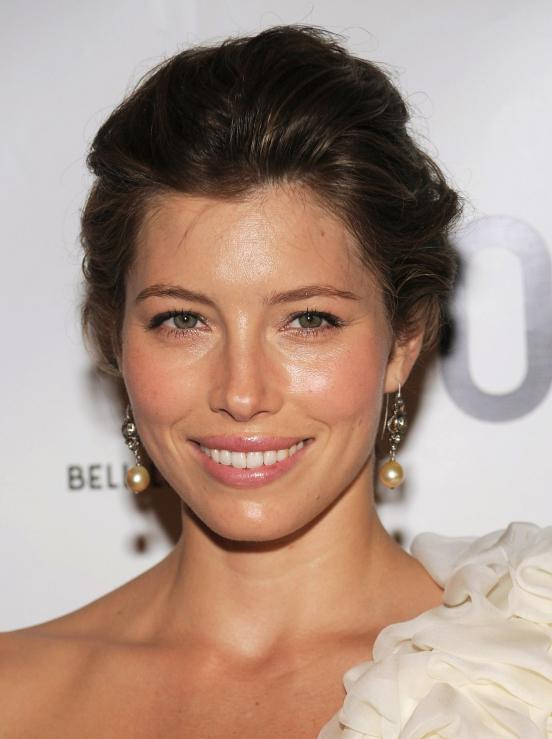 8. Very good photo. Jessica seemed to glow from within. Whatever you say, but sincere and beautiful smile woman outshine everything around. Laying excellent and judging by the photos, make-up, too, Bill.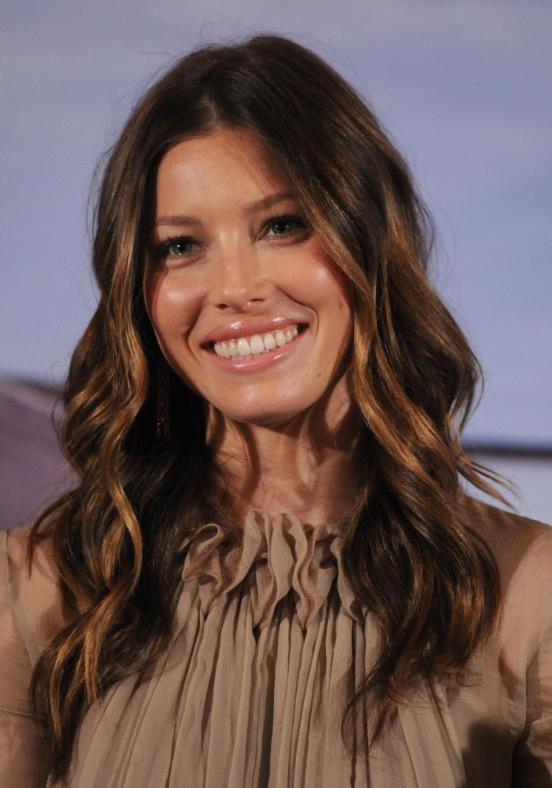 9. Ta-da-da-there ... Here I must begin to weigh compliments Jessica and sing praises, but somehow not really want to. Jess can be one of those women who are talking the very natural? Just like that - in full uniform - actress looks artificial doll with massive lower part of the face. Excellent styling, and makeup can be the same, but he does not go to Jessica. Not sad, but rather well.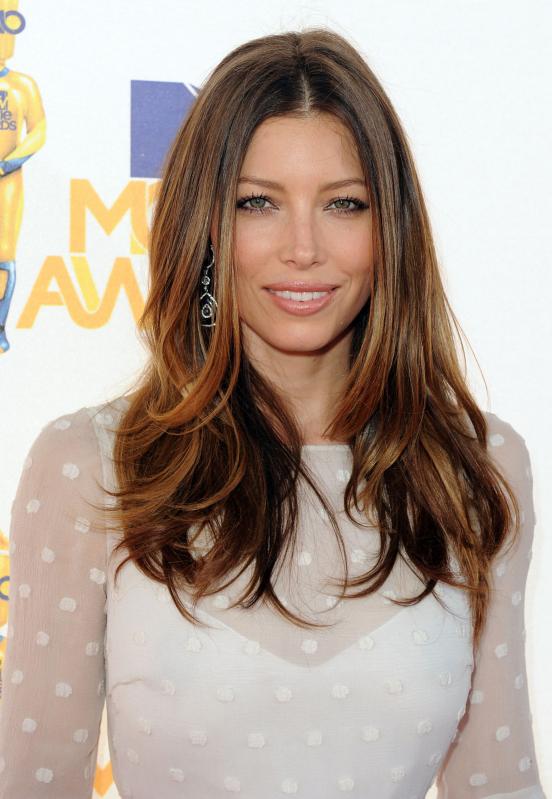 10. Everything is good, but these stupid shadows that the actress looked around, kill me. Really it was impossible to use black eyeliner and eye circle it, and not the shadows? It would be better applied to the shadow of the upper eyelids and eyes emphasized dark eyeliner. Lips again better eye.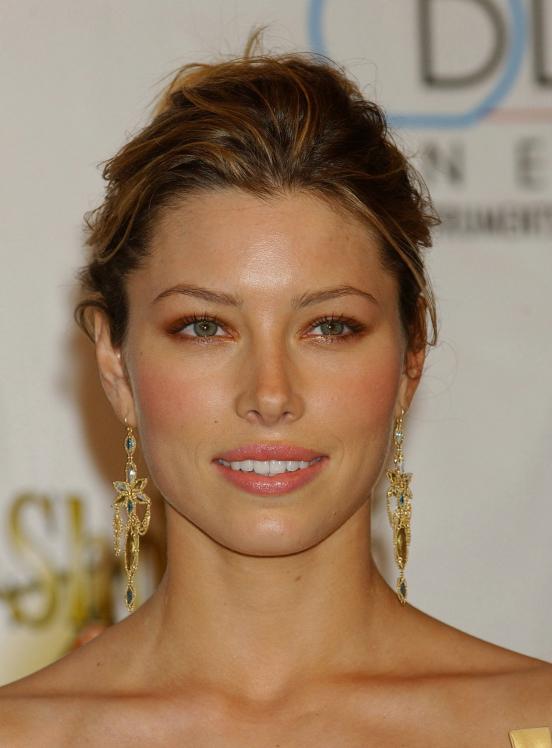 11. Hair color I do not like, but that's a good makeup. With soft white dress, he is well matched. Jessica finally identified his eyes, hallelujah!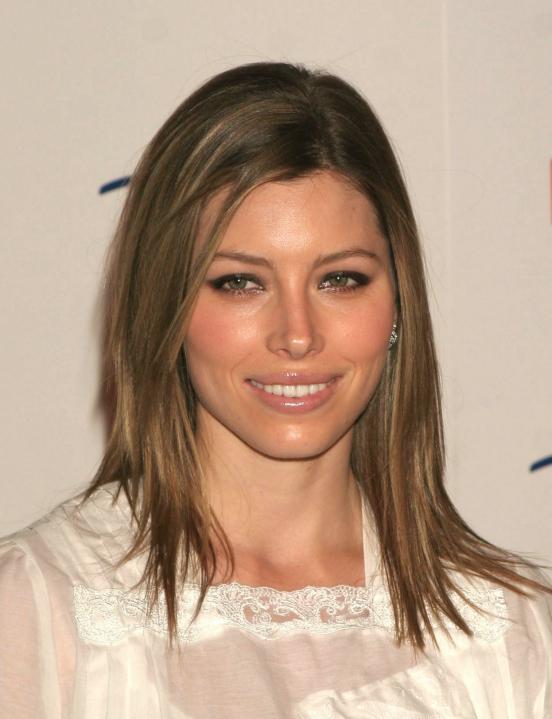 12. Pink roses, ooouu ... lipstick shade that blends perfectly with the color of the dress (in this case, it's good), but eye makeup again disappoint. Well really bad at Beale makeup artists so that they can not normally make up her eyes? Protest - not protest still get ...
13. Refrain from commenting because Photo is extremely unfortunate and Jessica on it similar to Donatella Versace. Makeup itself is still on it and there is no trace, only cosmetics nalyapana and kind of make-up, I do not think.
14. Hairstyle titled ... I do not know the name of, in general haircut "on one side," Jessica is very suitable. Again, natural makeup, which is more suitable Beale than a ton of makeup on her face.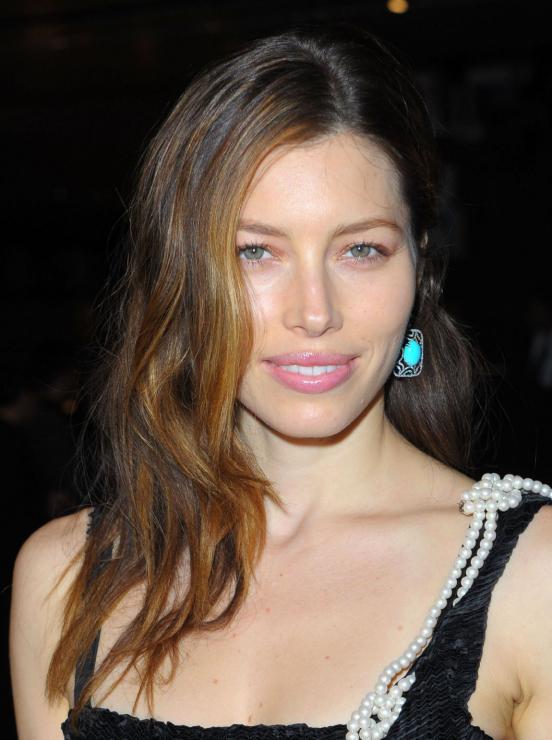 15. Immediately went association with the 50-60-ies. White dress with polka dots, bright pink lipstick ... here is I love. On any theme party in the spirit of "mods" such an image would be approached with an absolute guarantee.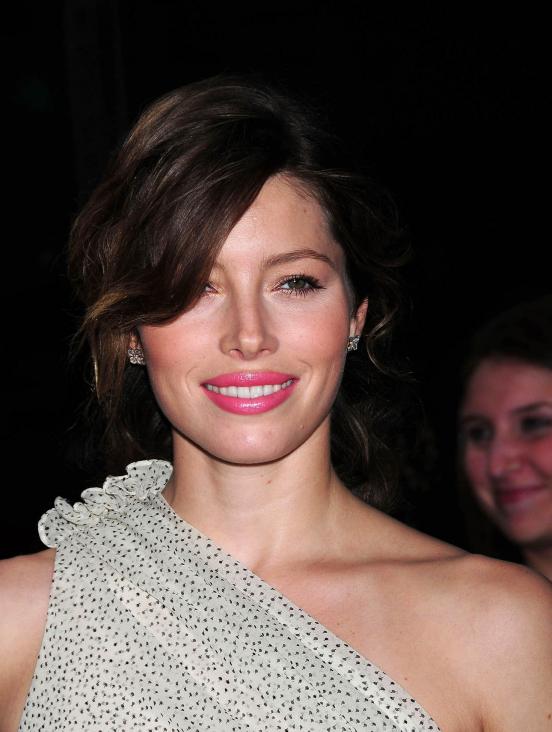 16. Beautifully. One of those rare occasions when the lips are not made up of Jessica pink lipstick or gloss.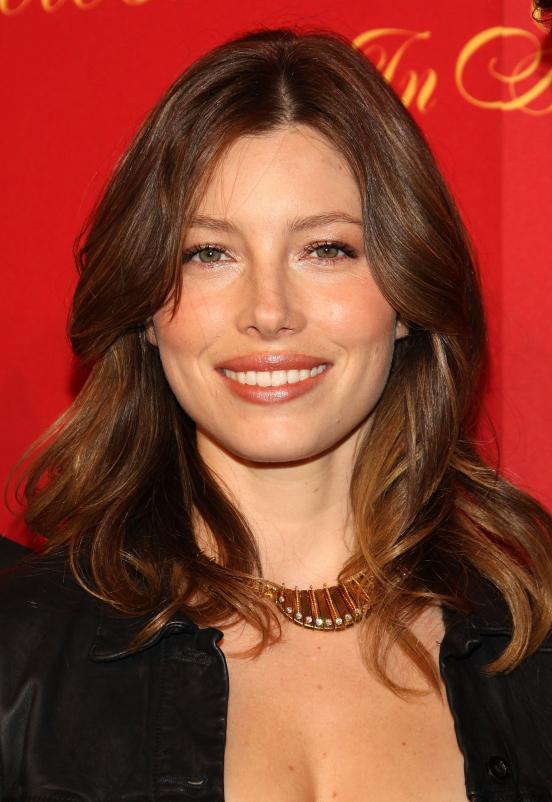 17. Blonde? O_o Catastrophe! Just awful with her hair color. It is understood and immediately went to wash, and then the painting in a new habitual for themselves chestnut color. Makeup faded as actually all of it on this photo.
18. Again bust with golden tones (and even freckles +), but here it looks more harmonious than in previous versions of make-up in the same direction. Maybe its contribution made silver earrings and silver dress the same? Game of colors so to speak?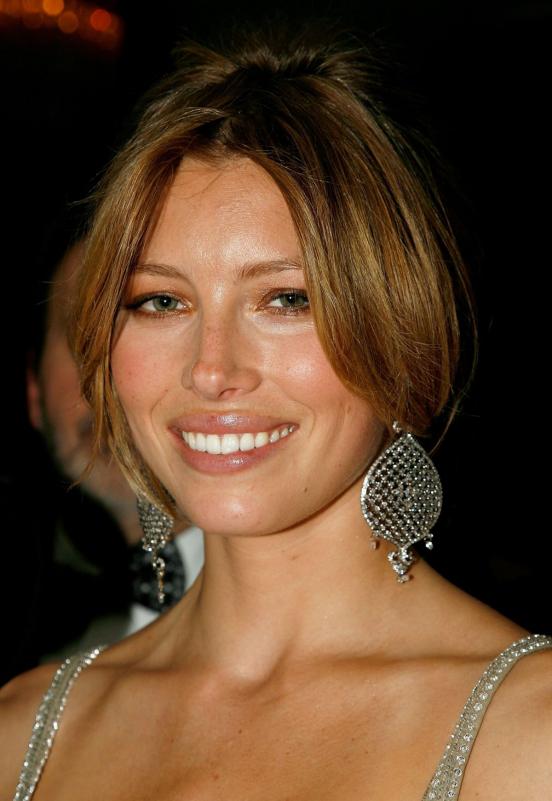 19. The first thought that inadvertently put a photo of another girl, but it's Jessica. I was surprised, but here it is just like the other person, in principle, as in the following screenshot. Maybe because-what's her somewhere in '22? By the way, while makeup artists she had better, though do not forget about the eyes.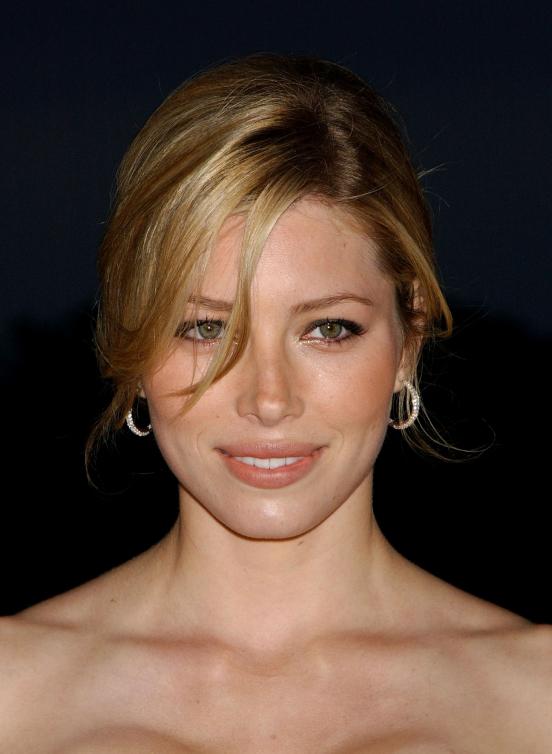 20. It is a pity that the photo overexposed, but also so we can conclude that the light color hair Bil not to face, and blue shadows just spoil it.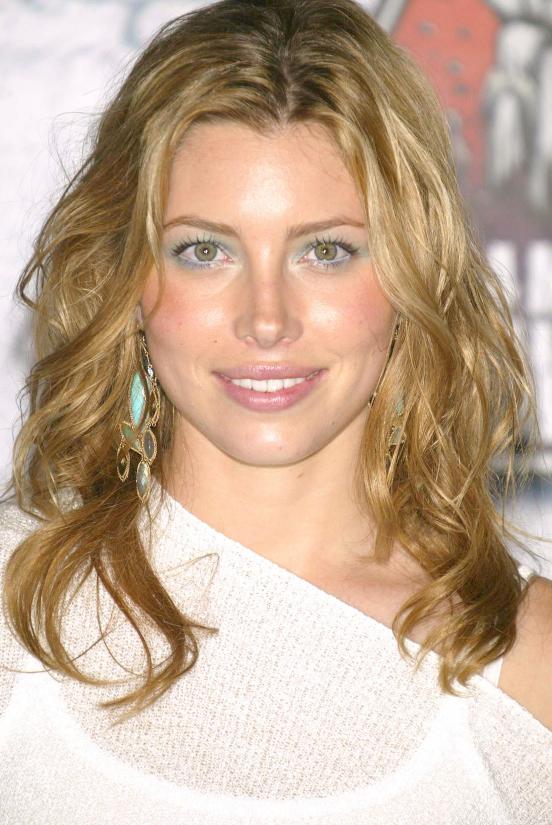 21. Apparently this is the model life of actress Jessica Biel. So that's why she is so fond of natural mejk! She just zadolbali with these catwalk STYLE, I wanted to be myself. Hmm, get to the truth is called ...)