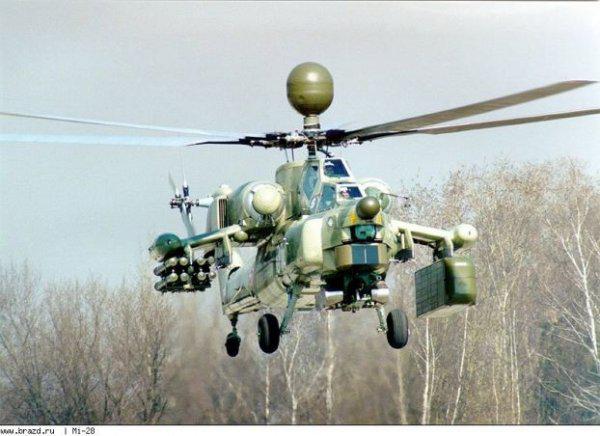 Mi-28N
Attack helicopters "Apache" and "Night Stalker" (NATO designation - «Havoc») - car single-rotor design with fixed landing gear and tail wheel, 2 engines in nacelles on the sides of the fuselage, tandem arrangement of the crew, the X-shaped tail rotor. "Hunter" almost 3 tons heavier than American, but it more powerful engines (2 of 2200 to 2 hp to 1930 hp); power-to-take-off weight at it's best that uniquely characterizes a higher structural perfection of the aircraft and its flight characteristics. Yes, and the maximum combat load the "Apache" - 771 kg, while the "Mi" - 2300 kg.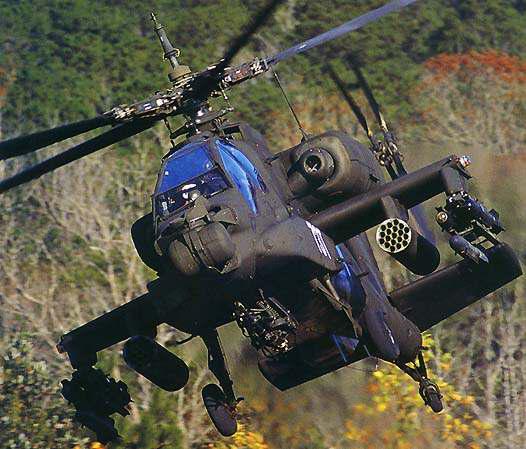 AH-64A Apache
View from the cockpit at the "Apache" is limited to forward-and-down and back; the "Mi" review of better and closer to the faces of the crew glazing panels. Square glazing over from the Americans, it has a convex panel and the "Mi" are flat, that can create glare in the cockpit unidirectional beam ("searchlight effect") that prevent reading devices. Overall, the review is about the same in both.
Above the rotor hub "Hunter" - a radar station in a spherical fairing, the "Apache" it into a thick "cake." In fact, the two helicopters are very similar in appearance, distance from a certain point of view they can be even confused. Funny patriotic opinions of others, such as "Best detection system and allowed the Americans to remove the sighting of a helicopter over the armor and increment skorostenku».
So "skorostenka": the "Apache" maximum - 365 km / h, at the Mi-28N - 324 km / h, that is, the difference is small, but they have the same cruising - 260 km / h.