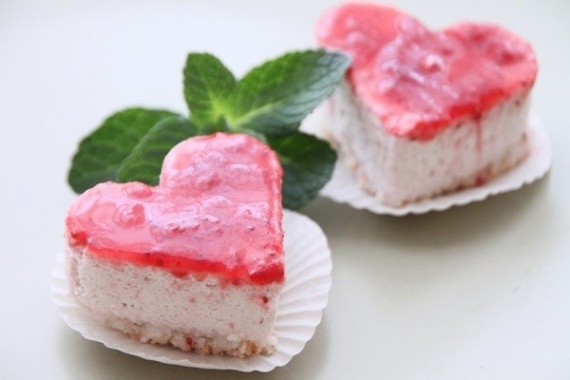 Ingredients:
300g strawberries
100g coconut
2 pcs. egg whites
190g sugar
60g flour
15g gelatin
15g vanilla sugar
500ml cream 30-33%  
Put the strawberries in a bowl defrosted.
Coconut finely grind.
Proteins whisk sugar (140g), first to separate the proteins stable white foam. Then gradually add the sugar and continue whisking for 5-7 minutes more. Mix on low speed proteins with coconut flour and two tablespoons of wheat flour.
Baking tray lined paper for baking and gently smoothed her coconut dough. Put it in the oven at a temperature a little dry for an hour.
Meanwhile soaked gelatine in half a cup of boiled water.
Strawberry puree and ground into a save half a bowl, add vanilla sugar and gelatin swollen. Heated mixture over low heat until dissolved zhelatina.Ubiraem in the refrigerator.
Pour them into the high pot. In a saucepan pour plenty of cold water. In a saucepan with water to swim put our pot with cream and beat on low speed for about a minute. Then increase the speed and continue to the state of sour cream.
Strawberry jelly, but not fully thickened (you need to catch the moment of transition) is mixed with the cream on low speed. Souffle will not have a very sweet, so better sense of taste of strawberries and cream.
Now spread the cream soufflé cake with coconut. By the way, if he gets too hard, turn it up a solid crust and grease boiled water. During the night he was well treated and cut it will be very easy.
To the remaining half of the strawberry puree add a couple of tablespoons of sugar and cook from it a thick jam. Let cool and spread on the souffle.
It remains to wait until morning and cut into cakes using molds.