Dnieper, Dnipro hydroelectric power plant - the fifth, the oldest, the stage of the cascade hydropower stations on the Dnieper River. The power plant is located in the city of Zaporozhye.
& quot; ... Dnepr 100 kilometer stretch from Dnepropetrovsk to Zaporozhye crosses the rocky ridge. Over the centuries, the great river rushing here between sheer cliffs, forming a terrible Dnieper rapids, and only in the 20th century, people have managed to conquer the river. In the years 1927-1932 over the island Khortytsya Dnieper dam was built - the first hydroelectric power plant in our country of such magnitude. Dnipro rapids, over the centuries delivshie Dnepr into two unconnected parts disappeared forever.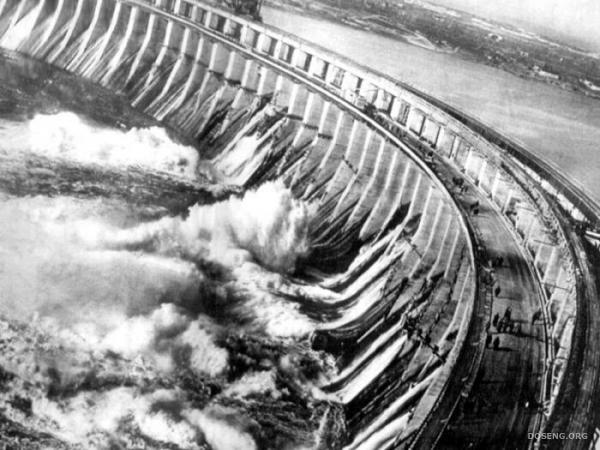 Before the river is flowing between steep banks, so, despite the fact that after the construction of the dam water level rose by 39 meters, the spill has occurred. But the latent power of the river when the boat approaches the top DnieproGES felt: the depth is reached at times 50 m ... & quot ;.
Construction of hydroelectric power station started in 1927, the first unit was launched in 1932 and in 1939 reached the design capacity of 560 MW. At that time it was the largest hydroelectric power plant of the USSR.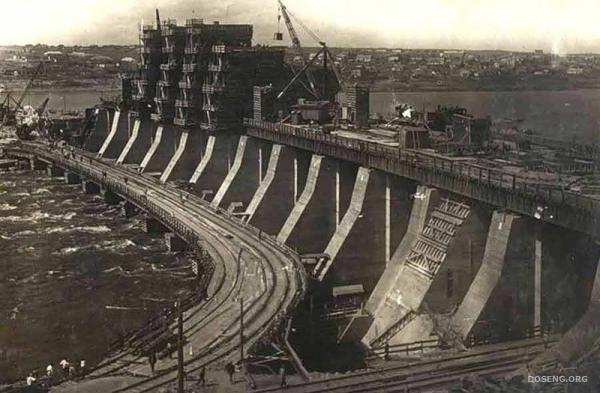 During the Great Patriotic War Dniproges dam was destroyed, and destroyed the computer room equipment.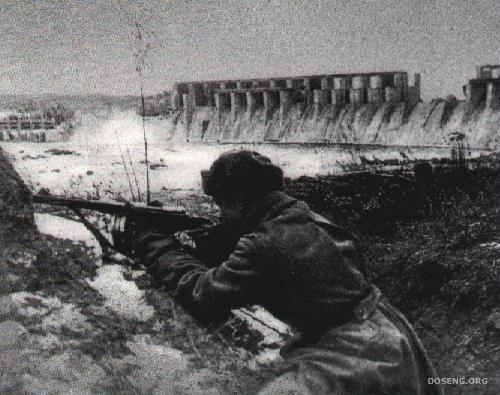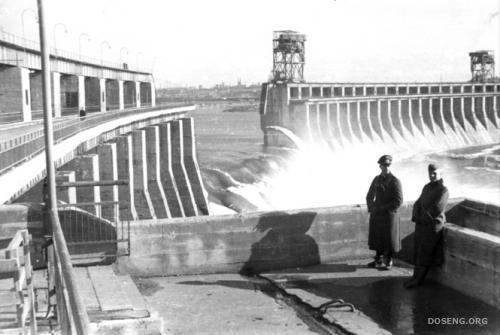 & quot; ... in August 1941. German troops occupied the right bank of the Dnieper and the island Khortytsya, eager to Zaporozhye, which at that time was the evacuation of factories. To prevent the enemy to the city, the Soviet command decided August 18 to blow up the roadway near the right bank of the dam and the bridge across the New Dnieper. A huge wave carried the German crossing. Unfortunately, in the flooded area of ​​the island Khortitsa was a significant number of Soviet soldiers who did not have time to cross to the left bank, they were also demolished water .... & quot ;.