Someone could take the view that in order to travel, especially long-distance necessarily need the money. But there are people who own example proved the opposite.
Once, in 2005, Kiev filmmaker Leonid Kanter sad talked "for life" with friends, sitting in the kitchen. And I decided: "I close my office, throw everything and leaving to the ocean." And then looked at the stool and said: "That's right from this stool and go!" After three expeditions stools are in the Atlantic, Indian and Arctic Oceans. There was only a quiet, and it will go to him in the spring of 2010 five teams from different countries: Russia, Ukraine, Finland, Belarus, as well as a joint team Schengen countries - Poland, France and Lithuania.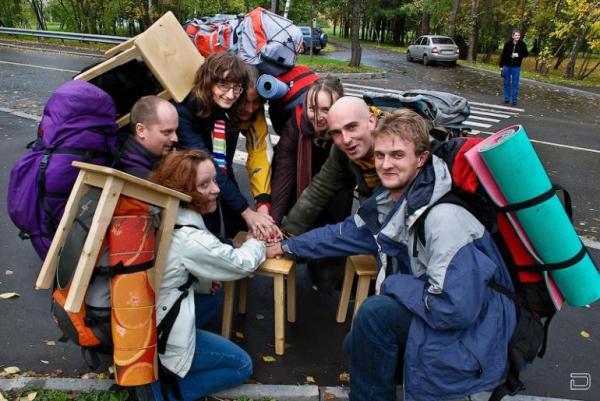 1) Now this is a project of international scale "from the stool across continents" with one purpose - acquaintance with the world and people of different nationalities. Without money, hitchhiking, earning a food street performances, they will go to Cape Horn through Russia from the West to the East, North and South America, will visit Kazakhstan, Altai, Kamchatka, Chukotka, Japan, Alaska, Canada, USA, Mexico, Cuba, Jamaica, Guatemala, Honduras, Nicaragua, Costa Rica, Panama, Colombia, Ecuador, Peru, Brazil, Bolivia, Paraguay, Argentina, Chile, Patagonia and Tierra del Fuego.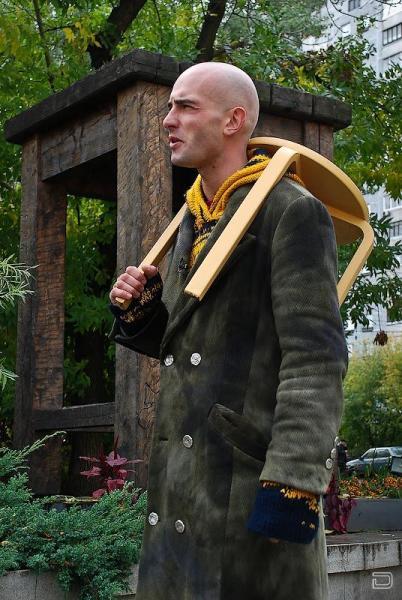 2) October 2 in preparation for the Fourth Expedition, launched "The first international race on a stool." At the same time from Moscow, Kiev and Nantes team hitchhikers with stools will get to the art festival in Gomel. Russian stage race started from the monument to the first stool of the Russian Land, which is in the Museum at the Taganka street furniture.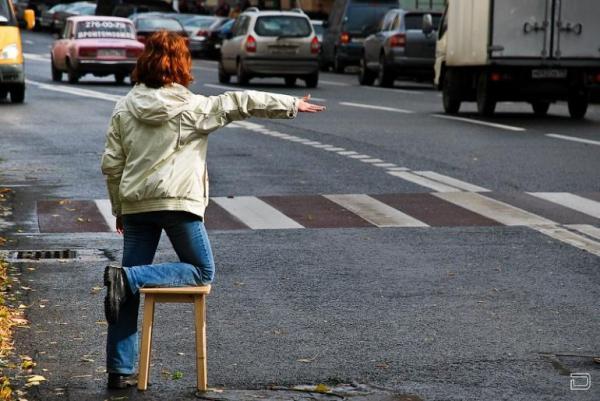 3) Each team for 2 people and one stool, marked with different colors. If it is white, then it can only vote sitting. If the green, only holding it in his hands. Blue - standing on it. Red - standing on it together. On a stool without a marker can vote however you want. Stool can not hide, like paying money for travel - it is the principle of all races hitchhiking. When two or more teams, and it happens often - all go the same route, they must exchange stools.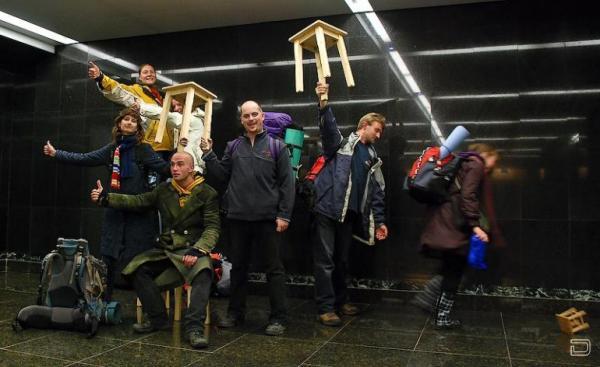 4) After the official part of the interview, photographing, filming and drawing stools, the team went on the subway to the start - Kutuzov Avenue. TV channels and reporters have already withdrawn their stories, and together with the participants went just me. In the picture - "Slavic Boulevard". Hitch Show all voting options: sitting, standing, holding a.