These photos were taken in in / h 5402 NWD MVD of Russia, St. Petersburg.
And there were these photos in the album on vkontakte one "grandfather».
Tin, hazing in the most direct manifestation of the watch is not all.
Now it becomes clear some feats of Internal Affairs, they have the same brains stool repulsed!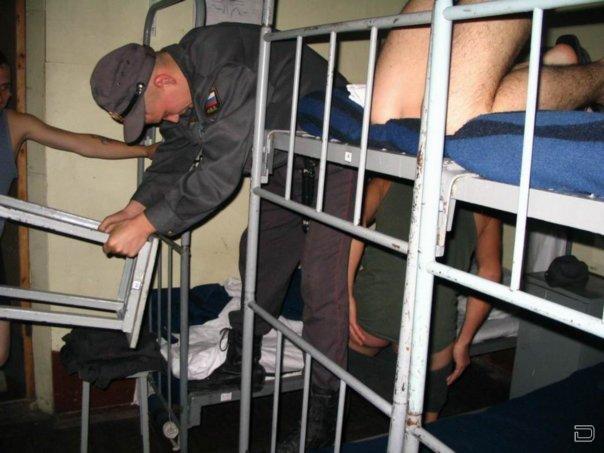 Branch 5402 of the Interior Ministry is not the first time come to the attention of law enforcement. At the end of September 2006 in one of the newscasts, "NTV-Petersburg" was videotaped abuse of 20-year-old soldier, which occurred on the roof of the N5402 Izmaylovskom Avenue, 2. The video filmed for his senior soldiers "dembelskogo album." On the same day prosecutors asked the channel LenVO film to address those violations, which are fixed on it and started checking into the beating of older soldiers Gennady Zubiyana. Criminal proceedings were instituted. In February 2007, the military garrison court of Petersburg was convicted protagonists' album dembelskogo "- two soldiers of internal troops of the 5402 Yevgeny Yegorov and Alexander Vinikaynenu. Young people were sentenced to 3, 5 and 5 years' imprisonment respectively in a penal colony. The court found the former fighters (today they are civilians) guilty that they have long scoffed at colleagues: try to "young" electric, forced to do push-ups to a complete loss of power, and then beaten. Others, they were beaten and forced to represent elements of pantomime. Third - beaten and forced to sing and dance.