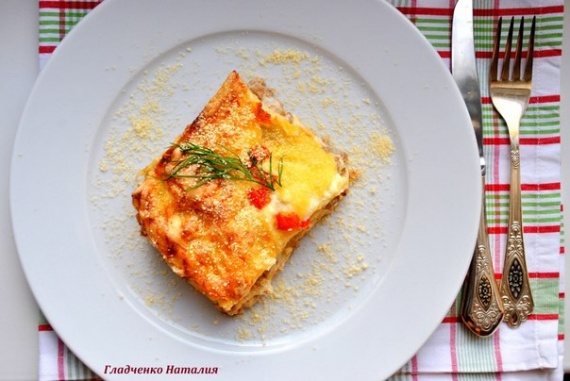 Ingredients: 1 kg -farsh-.
-pomidory- 2 -3 pieces.
-lukovitsa- 1 pc.
lazani--list for 12- 15 pcs.
-The raw material of solid sortov- 300 gr.
-olivkovoe or vegetable oil (for frying minced)
-hydrochloric
For the sauce "bechamel": -moloko- 1 liter
-slivochnoe oil- 100g.
-muka- 100 gr.
-hydrochloric
-schepotka nutmeg
* Ingredients are designed around a baking dish size 30x40, 5 cm.
Preparation: C peel tomatoes (for this purpose in the base of the tomato on the skin to make a shallow cut crosswise and place in boiling water for 15-20 seconds, then immerse the tomatoes under cold running water and peel). The pulp of tomatoes in a blender grind
-Farsh Fry with chopped onion until tender (about 20 minutes), then add the tomato pulp and cook for 5 minutes.
Prepare the sauce: the flour fry until light golden color; add butter; rub the butter with the flour; gradually, in small portions add milk, stirring constantly.
-Dovesti Sauce to a boil and cook over moderate heat for 5-7 minutes, stirring constantly, in the end, add a pinch of nutmeg and salt.
-form Baking grease with butter, put the first layer of lasagna sheets (I prefer their pre-boil in salted water for 1 minute, the sheets are not stuck together need to add 2-3 st.l.rastitelnogo oil).
-Then Put a layer of meat, a layer of sauce "Béchamel", a layer of grated cheese. In that order to put the remaining ingredients. Send in a preheated 180 degree oven and bake for 40-45 minutes.
-Lazanya Turns out very tender and juicy. Bon Appetite!