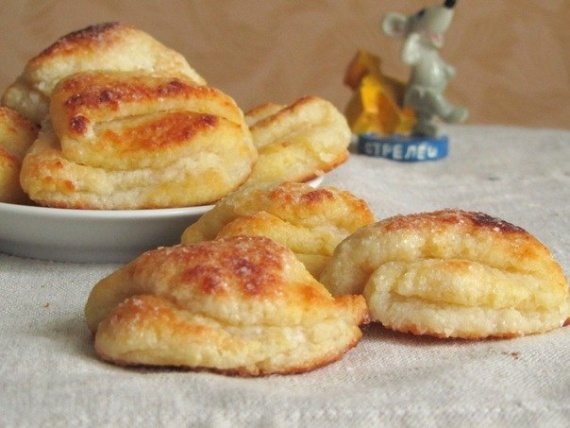 To quote the author's recipe:
This is one of my favorite cookie recipes. Cook it for a long time and every time with the same success. And what in the apartment should smell when it is baked! If you happen to know this recipe, then I strongly advise to try to bake! I really hope that you and a cottage cheese biscuits will be enjoyed.
In this recipe includes cottage cheese biscuits. It is important that it was a good quality and adequate fat. I usually buy cheese in packs fat 9 - 18%. Tried several times to make biscuits sold by weight of cheese, but each time unsuccessfully. I got the impression that weighed curd add something else besides the cheese and it's something in the finished cookies very much felt. But perhaps you do this better luck than me and your cheese will be weighed excellent quality. Experiment
Curd COOKIE
COMPOSITION:
 - Cheese - 400 g
 - Margarine - 200 g
 - Flour - about 2 cups
 - Soda - use to repay the acid curd. If you use a completely sour curd, add a very small amount of soda (literally on the tip of a knife), and if your sour curd, then take more.
 - Baking powder dough - 0.5 teaspoon
 - Sugar
PREPARATION:
 - Spread cottage cheese, add to it the melted margarine, baking soda and stir everything very well.
 - Mix the baking powder with a portion of the flour and add the cottage cheese. Stir well. Add the remaining flour portions. Each time a well-kneaded dough. Amount of flour is very dependent on the structure of the original cheese. Usually I can safely add 2 cups, kneaded, and then, if the dough is very liquid, add some more quantity. It is important to catch the golden mean, when the dough is no longer liquid, but still not a lot. Of course, if you put more flour, you do not mess up your cookies completely, but the taste is not already one. They are due to be too strict with flour instead of cottage cheese taste. But on the other hand, if you put a little flour, the baking of cookies may simply raspolztis.
 - Preparation of the test set in the refrigerator for 1 - 1.5 hours (can be longer). You will immediately notice how to change the structure of the test after cooling. It is of little watery become a plastic and soft.
 - Pour the sugar in a bowl. Tear off a small piece of dough, roll it into a ball, knead into a pancake and dip it in sugar on one side.
Put the cake in half and then push one side in the sugar, then fold again and again dip. As a result, you'll have a triangular biscuits, sprinkle with sugar.
 - Put the biscuits on a baking tray, the laid paper baking.
Bake in preheated 200 degree oven until golden brown (about 20 - 25 minutes).