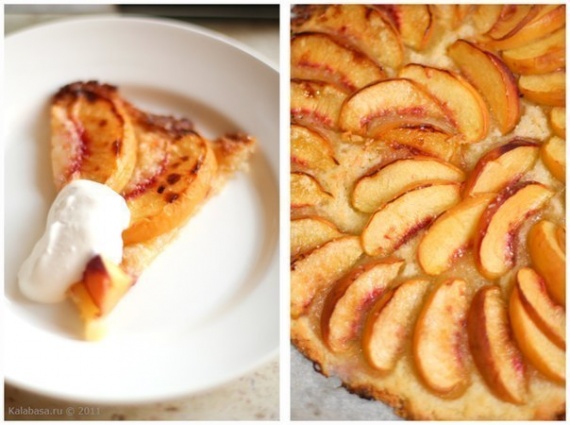 Ingredients:
 - 120 g butter
 - 200 g flour
 - 2 tbsp. spoons of sugar + 2 tbsp. spoon - sprinkle
 - A pinch of salt (1/4 tsp.)
 - 400 g peaches (2 pieces)
 - 3 tbsp. tablespoons cold water  
Preparation time: 30 minutes.
Preheat the oven to 200C.
Remove from the refrigerator oil, albeit lie down and become soft.
Peaches, remove pit and chop the fruit slices.
Put the butter in a bowl, add to it the flour, sugar and salt. Mash the butter with a fork or with your fingers, mix it with the flour until large crumbs.
Add 3 tbsp. tablespoons of cold water and stirring very quickly, knead the dough. Thick, like sand, the dough will not. It will not "flow" with a spoon, but also into a ball it does not collect.
Cover the baking tray with baking paper. With Spoon dough on paper, even in layer thickness of about 5 mm. For the dough, starting from the center, lay slices of peaches. Sprinkle the fruit with sugar and bake in a preheated 200C oven for 20 minutes. With such a high temperature thin dough quickly zapechetsya and fruits, remained slightly firm inside the top covered with a thin caramel crust.
Will eat pie hot or cold - it does not matter. It is beautiful in both cases. If you want to somehow complement the dessert, feeding spoon, add to it the most usual sour cream.