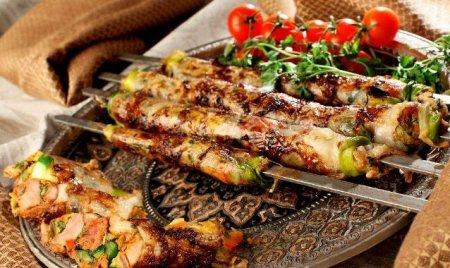 There are a lot of varieties of liquors and to each of them separately recommended to pick up a snack. When used, especially the strong types, you need to always think what to eat tincture. Due to the fact that all kinds of liquors have their own special flavor to each of them, we'll pick up something different.
The list starts with the most common tinctures – sweet and bitter on the basis of berries. They decided to eat before meat feasts, often as an aperitif (aperitif is served before a meal intended to improve digestion, induce appetite). Accordingly, the hot meat dishes are best combined with these types of drinks. It could be kebabs of any type of meat, chops, roasts. Cold meat and cold meats, on the contrary, are better suited for tart herbal tinctures.
If the infusion has a fresh taste, but a little bitter, as insisted on ginger, lemon or nuts, fatty poultry or fowl perfectly complements the taste of alcohol. Preferably, bake, simmer or fry the meat then the snack will not only conceal the disadvantages of products, but also will help you to decorate to their taste values.

Fish dishes will always go well with spices, so of brandy with a taste feature, it's nice to eat fish.
At the sight of sugary drinks is rarely the question arises, what to eat tincture of this type. Most often they are served together with the dessert in the late evening, after a main course. Liqueur melon, cherries, raspberries or strawberries go perfectly with fruit, sweet pastries, cakes or sweet cakes. However, sweet liqueurs should not be much strong, otherwise the entire digestive will be spoiled by the excessive intoxication of the guests.
Liqueurs can be consumed with tea or coffee. Sweet and mild fruity berry drinks are the perfect complement to the taste of coffee or tea neschastnogo. In this case, is allowed to pour the infusion right into a Cup and serve separately, giving guests the opportunity to taste all the drinks separately.
Overall, the relevance of a particular snack more depends on the taste preferences of a particular person, than the type of drink. When selecting appetizers, it is desirable to follow the principle of "the Most bitter and strong at the beginning." Bitters are combined with hot food, whereas herbal – cold. Sweet – hot drinks or desserts. It is also preferable not to overeat and not get carried away fatty foods, then harm to the body will be less.