Ignorant guests, being in the kitchen, took her grandma's vintage trunk. However, it was enough to open the four doors with the front outside "trunk" opening of a truly wonderful picture: on one shelf, roasts a juicy fish, another baked flavored thin pizza, the third shaking of the turret meringue. And here, in separate "apartments" — deep pans for baking and a grill for barbecue. Unusual oven is just one of the features of my multifunction plate.
These grocery stores know: one dish perfectly cooked on a gas stove, the other stew is better electric or heated iron circle.
But what if most of us at home prescribed one stove — electric or gas? And how to have time to simultaneously prepare a delicate pudding, crispy cookies and baked with meat vegetables?
To solve these challenging tasks enable multifunction of the plate. By the way, now they can be found not only in restaurant kitchens. Moreover, the miracle stove is not always characterized by large dimensions.
Of course, it will take a bit more space than a conventional stove, but it will bring new opportunities home cooking. Moreover, the multifunctional oven is original design and handmade, no less important than modern technical developments.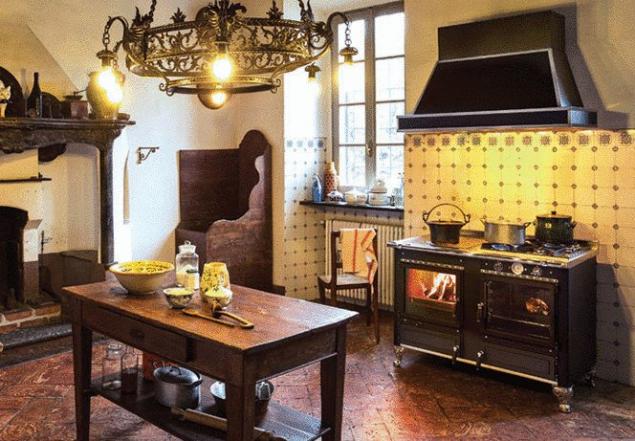 Italian masters of J. Corradi are offering customers to gather cooking surface from different modules, getting a small oven or a whole kitchen island...
Besides gas or electric basis someone will need a surface for cooking French sauces. Someone will stop your choice on the grill and "territory" for the BBQ. Others will impress multifunction oven, stone tray for baking pizza and bread or utaplivanie rotary switches with circular illumination.
As for the decoration of plates, successors Giuseppe Corradi pay extra attention to it. They are guided by the wishes of the customer, that is, in the end, it all depends on your imagination. From J. Corradi selects materials brass, stainless steel, marble and precious woods. One of the models from J. Corradi — A. R. CO, will no doubt interest those who equip the kitchen in a country house.
In addition to the gas and electricity it has wood heating, and thus, a delicious lunch or dinner you will be cooking in a warm house. There are also versions of the plates, working exclusively with wood.
Plate Aga are more discreet design — in full accordance with Swedish tradition. This brand also made a bet on various modifications, however, the protagonist appears oven. It is recommended to cook, and for cooking, only to heat or defrost food.
Gas 4-third Aga you can not only cook dinner, but also heat plates
. Each oven is designed for a specific purpose — frying, baking, stewing...Thanks to these features the taste of food becomes almost perfect. Take, for example, the basis for soups. For a start, as recommended in the manufacturers of the Aga, on the hob you need to bring to a boil the broth with root vegetables. Then heat it, some hold the ring, and then send it to stew in the oven.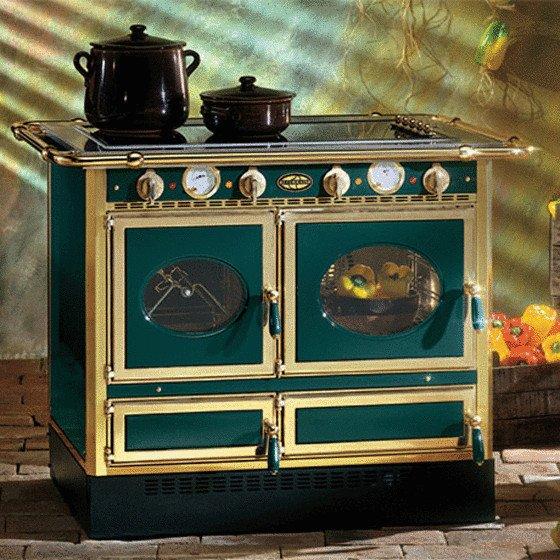 Cast iron parts and special insulating material is maintained in the Aga ovens, constant heat. And third, the fans do not give the cooking aromas spread throughout the apartment. So without the timer not to manage — you just won't notice that hen, some time ago put in the oven, started to burn.
By the way, the concern AGA, producing these plates, recently put on the Russian market one more brand — Rangemaster multifunction plate. Quality, tradition, style — is the philosophy of the brand. For Rangemaster used for cooking as the oven and hob. As for the grill — not only oven with a skewer, but open non-stick coating. Frying pan Wok comfortable on the large intended just for her burner, and a pot or the roaster on a specially built shelf in the oven.
Rangemaster allows you to experiment: gas combined with electricity, to order miniature plate or play with style, choosing classic or High Tech.
Kitchen ArsenalNow that the French propose. Unique plates La Cornue began in Paris in 1908. Buy ready-made model is unrealistic: they are all made exclusively to order, with a year — no more than a hundred copies. And each plate is attached a brass plate, on which is engraved the name of its future owner.
On the technical side, everything here is very serious. The pride of La Cornue -plates of brass with a thermal cutoff. Power and ease of management they are not equal. Well thought out and the design of the grates on the cooking surface — they are made so that they could put even the smallest pots. Gas or electric burners may be supplemented by cast iron circles, glass-ceramic, an outdoor grill on the volcanic rocks.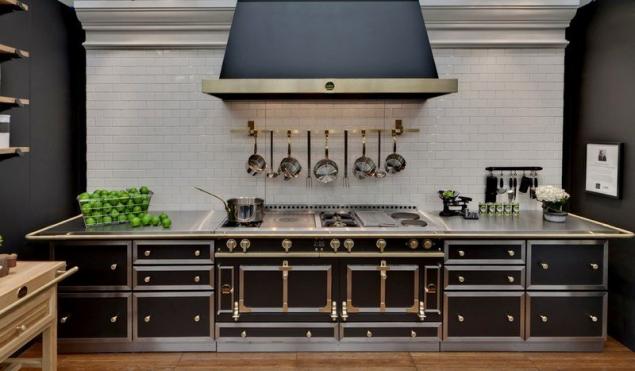 One of the features La Cornue is designed specifically for lovers of Oriental cuisine. If the earlier Chinese dishes cooked on teppan-yaki, you could try only in restaurants, but now you have the opportunity to make their homes.
At the request of the client, La Cornue can be equipped with a special module teppan-yaki. By the way, roasting it chicken, fish or vegetables do not need a single drop of oil.
Special mention deserve the doors of ovens from La Cornue
. Some of them swing open at the side, which considerably facilitate the work of the chef. They can seem quite heavy — this is not surprising because they are made from metal. Many people are surprised that in the absence of traditional gaskets the doors are always tightly closed. They are vents to protect them from overheating.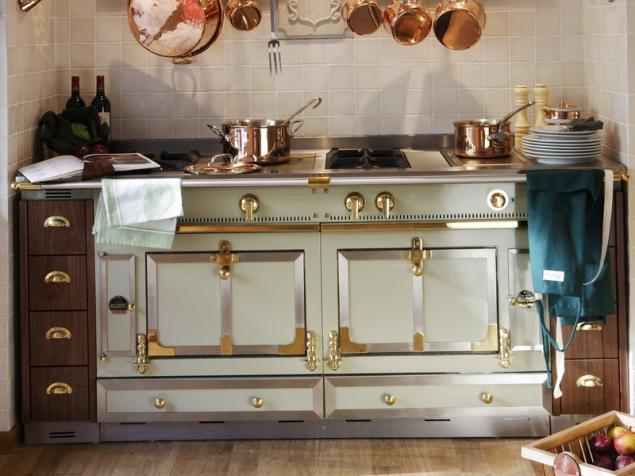 It is also interesting that, unlike many other boards, in particular the Rangemaster or J. Corradi, in the doors La Cornue no glass, allowing you to monitor cooking.
And this is no accident. French chefs traditionally use a proprietary plate, do not recognize any glasses.
They argue that meals should be "alone" and the dark, and the oven door when it is in any case can not open or the meat or fish is not juicy.But how then to understand that they can be removed?
We used several times to get the baking trays with baking, pierce the cakes with a match, highlighting the different assumptions. The authors of the concept La Cornue offer by the host to calculate the optimum time and temperature on the basis of recipes and quantities of food. Maybe not immediately, but gradually, you will be able to find "common ground" with this not quite normal, but very functional stove.
Almost all equipment which we have told you, has digital display with plain text display and infrared sensors. However, their absence does not affect the taste and quality of food that you will prepare. No wonder J. Corradi cookers, La Cornue, Aga is used by many famous chefs. But if you're used to an electronic Board, you can always choose other "smart" appliances — Bosch, Siemens or Miele.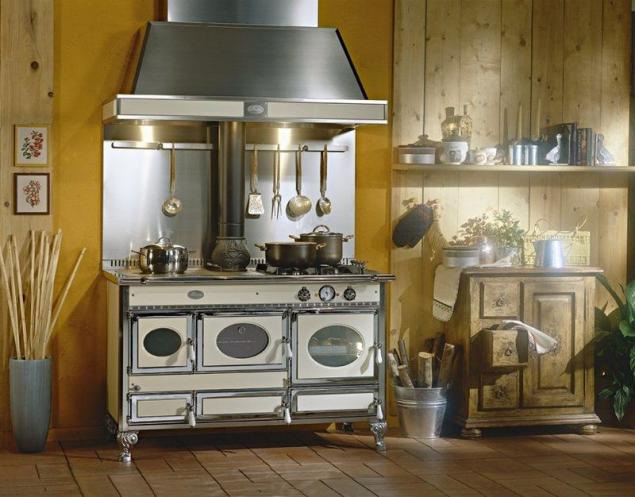 Multifunctional cooking surface is a feature of the plates of the German company Siemens.
At the request of the customer the classic glass-ceramic combined with built-in gas "territory". Electric burners operate in the dual heating. Lunch for two is you can prepare for the first "round". But if you put on the stove a large pan or pot, automatically turns on a second more powerful. There is also a built in professional deep fryer, surface grill, which is fried without a drop of oil and the preheating zone.
Kuppersbusch offers an original design. For example, one of the most unique cooktops is made up of plates, arranged in honeycomb. In what order depends on the buyer.
You can use as a complete set of "cells" and each "cell" individually, depending on the size of the cookware. Presents three options for the edges of the cooking surface with rounded corners, rectangular with perfectly polished edges. All surfaces are cleaned well.
For a small kitchen suitable plate Kaiser.
Many have appreciated one of the combined models of this German brand — with four gas burners. Multi-function electric oven has eight programs, including the top or bottom heating, grill, cold air stream to defrost food, thermocirculation, allowing you to cook simultaneously several dishes on the pans and at different temperatures... Many bought plates mixed hob (gas plus electricity) or gas burners mounted on ceramic glass. Electric "circles", like whirlpool, are two - and three-circuit heating.
Outside the city, where sometimes there are gas shortages, will be fitting the model of Kaiser HGE 5301 — with a specially provided compartment for a gas tank.
To understand the peculiarities of the use of this plate, which at first glance seems simple, will help the electronic programmer is a kind of mini-computer with a large display and indication of the temperature inside preparing meals.
The most modest of multifunction ovens, you can call Italian production company Smeg, which has traditionally specializiruetsya on the development of cookers.
Made of stainless steel, Smeg CX92VM takes up little space and features a simple design without any bright colors and graphic patterns.
Nothing unnecessary — everything is well thought out and rational: two ovens with thermoventilation and five operating modes, hob with four gas burners and two electric sites, modern control panel with many different functions... also Provides high-speed warm-up, gas-control of burners and electric ignition. published
Author: Anastasia Savchenko
P. S. And remember, only by changing their consumption — together we change the world! ©
Source: /users/1077