Neat beans, bursting on the teeth, as big green egg, in Central Asia called the pea mash in the rest of Asia — mung, and in Europe they are sold under the name green soybean. With soy mash is constantly associated. In particular, the so-called soybean sprouts is sprouts of the same Masha.
Ingredients (8 servings):
onion — 100 g


tomatoes — 300 g


carrots — 200 g


mash the peas — 300 g


vegetable oil — 50 ml


parsley — 50 g


garlic — 6 cloves


fresh mint 50 g


salt to taste


ferny ground pepper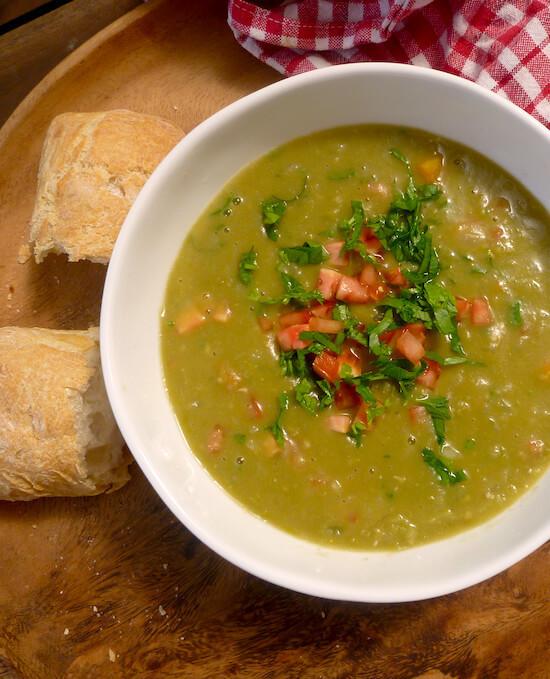 How to prepare: 1.
In vegetable oil fry onions and carrots, pre-chopped them finely.
2.
Purified from the skin of the tomatoes (the easiest way to clean the skin by making cross-cuts and leaving for a couple of minutes in boiling water; the skin practically peels itself) finely chop and fry two minutes together with the onion and carrot in the pan and the pan in which you cook the soup. If bottom she's not, while the sides are not too high and not complicate the process of stirring.s
3.
Pour into pan with sautéed vegetables three liters of water, bring to boil and cover, two cups of pea mash. Cook for 30 minutes.  
Amazing filling with lemon: the 7 best recipes forDelicious buckwheat pancakes gluten free
4. Season with salt and pepper, to try. To make sure that everything is in order and remove from heat.
5.
Then add finely chopped garlic and parsley. Pouring the plates, add to each plate a pinch of finely chopped mint.
Cook with love!  
Author: Alexey Zimin  
P. S. And remember, only by changing their consumption — together we change the world! ©
Source: eda.ru/recepty/supy/pohlebka-iz-goroha-mash-s-mjatoj-17423