Soups with peas, mung are incredibly aromatic, intense and rich in flavour.
Mushroom soup with waving
Ingredients:
mash the peas — 1 Cup
onion — 1 piece
garlic — 3 cloves
carrots — 1 piece
fresh mushrooms — 200 g
olive oil — 2 tablespoons
salt — to taste
ground black pepper — to taste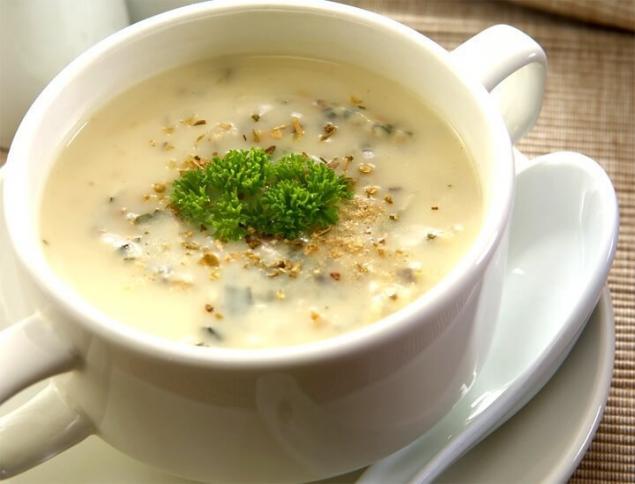 Preparation:
1. Cook mash.
2. To extinguish vegetables.
3. Mix everything in a blender, add salt, pepper, parsley.  
Soup of Masha and tomatoes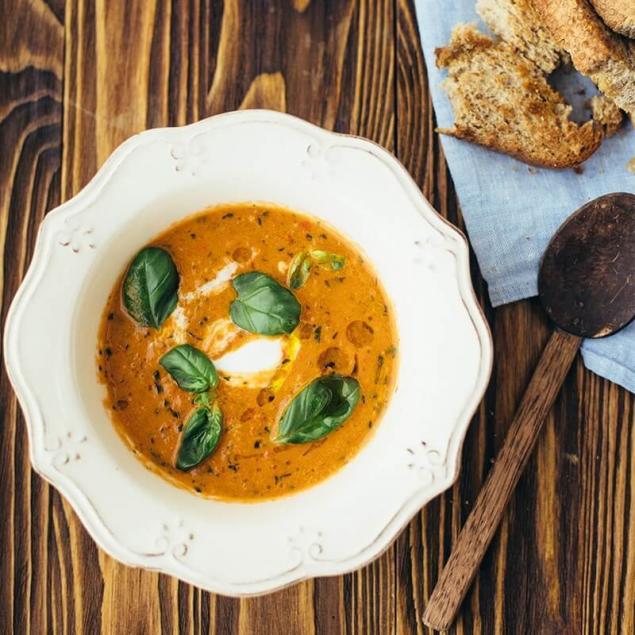 Ingredients:
mash the peas — 1 Cup
tomatoes — 4 pieces
potatoes — 2 pieces
red pepper flakes — ½ teaspoon
Basil — 1 teaspoon
thyme — 1 teaspoon
garlic — 3 cloves
celery — 1 teaspoon
Preparation:
1. Mash rinse and iterate. Send boil in salted water with the Bay leaf and dried celery.
2. After 20 minutes add sliced into cubes potatoes.
3. Tomatoes peel, cut into large cubes. Heat the oil in a frying pan, fry the tomatoes with pepper, Basil and thyme, add the garlic.
4. When the potatoes are almost ready and mash (mash is cooked for about 40 minutes), add the tomato dressing. Let the soup to boil, remove from heat and let stand 20 minutes.  
Indian spicy soup "Gave"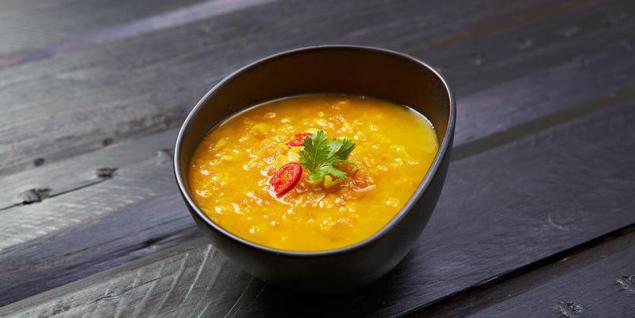 Ingredients:
mash the peas — 250 g
onion — 1 piece
tomatoes — 1 piece
sweet pepper — 1 piece
garlic — 1 head
butter — 1 tablespoon
garam masala — 1 teaspoon
ginger root — 1 teaspoon
ground black pepper — to taste
turmeric — ½ teaspoon
salt — to taste
Preparation:
1. In a small saucepan, pour the peas mash and fill it with 2 cups of water. On medium heat allow to boil, then close the pan with lid, diminish the heat to low and cook 30 minutes, stirring occasionally. Next, we need another 1-1. 5 cups of water, but the water boiling, so boil the required amount.
2. While preparing the peas, cut into small cubes onion, tomato and pepper. RUB on a small grater, ginger root and garlic.
3. In a pan melt the butter, put the onion and heated it to a translucent condition. Next to it add diced tomato and pepper, and grated ginger and garlic. Season with salt and pepper and salt to taste. Stew on low heat under a lid for 15 minutes and switch off.
4. After soft after boiling the mash, you need to add 1-1. 5 cups water depending on desired thickness. As a rule, the thicker, the richer and tastier. Add dressing and stir. If you want to needs more salt – salt. A little blend and cook another 10 minutes, then turn off and give the soup a little brew before serving. If you want you can add warm cream, the taste becomes more mild.  
Cook with love!  
P. S. And remember, only by changing their consumption — together we change the world! ©
Source: eda.ru/recepty/supy/gribnoj-sup-pjure-s-mashem-42699