Nothing foreshadowed. Flipping through my seven-year-old girlfriend a book about Pinocchio. That old, from childhood, with drawings by Leonid Vladimirsky. And the question had occurred to her suddenly:
• IR and
"fake hearth"
is like? After all he then and not the focus... Just not real.
Unexpectedly.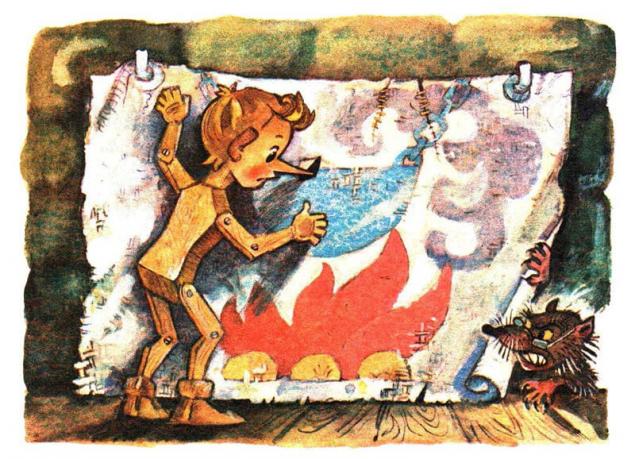 • Well, Yes — I say — not the focus. Just a picture. The canvas print.
• Enters, then they had no hearth. It turns out that they were wrong, so what?
Look, it's like.
Here is a twist in the plot.
I like these our new children: with some different speed of assimilation of information, whatever their angle of perception, with such "equal" communication with adults. They told me so many stories presented, so many metaphors – only manage to catch! Here and now – not "real home" — well this is just a gift!
A few days later I heard again about "home" when serious, "between us girls" conversation is one of my adult companion, tried to find justification for his melancholy, which she fashionably called
"depression"
:
• I was trying to be patient and put up with a lot, because I just wanted to keep our home.
As soon as I heard it, the picture of a hearth immediately drawn before my eyes.
• You book Pinocchio read? – logical keep the conversation going I.
To say that she was surprised by the question, is to say nothing.
• And what's Pinocchio? — She even tone of voice changed from "pained" to "Director", — Pinocchio have to do with anything?
• He himself is innocent. Here Papa Carlo...
I imagine that she at this moment think of me. No, not really. Although she trained were my flash stories, but then....
I ventured to continue:
• Papa Carlo, handsome, of course... Painted on canvas hearth. Beautiful! Correct. Straight here from the present does not distinguish. Hung on the wall and called it "home". His submission and Pinocchio believed that "home" is "like Papa Carlo in the closet". And lived:
one knew that the picture is not the focus but simply a picture, and the second – in the belief that "seat" looks like
.
• Well, Yes, it is.
And I thought it was "so-so-and-there" to some of her own thoughts turned, not my story.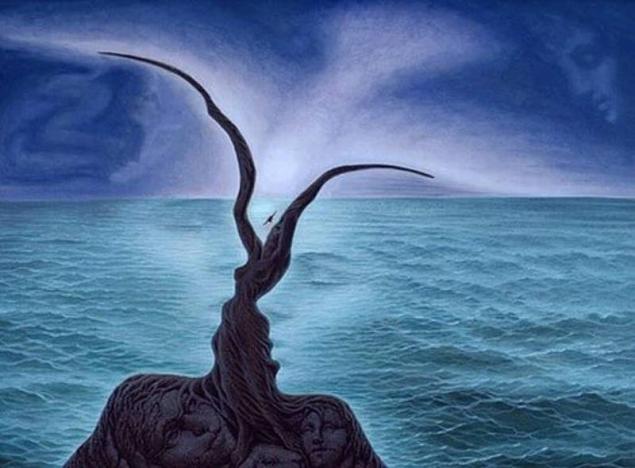 • And lived... Until one of them pierced his curious nose active canvas. Pierced and was very surprised. "The center is not real"! Moreover, I was surprised at several points at once.
First:
it is necessary, so much time, I lived with this illusion.
Second:
I wonder if the Pope Carlo yourself, then you know that life calls "home" what a hotbed is not.
Third
, and this is the more interesting it becomes: in a hole in the canvas was in sight of a door. And the door, there is always the entrance. Or exit...
• ...And the fourth she picked up my pace and intonation, — what am I supposed to do with all this?
• That he had this question! Well, what are the options? — I was in no hurry to share.
• What? If the nose is very active and curious, to look beyond the canvas, to see what's behind the door is a – joined it to my rasskazki.
I continued:
• Looked. Looked. The door is ancient, covered in cobwebs, do not use long, scary some. And who knows what's behind it. The risks, as you know. And there is no key.
• Yes, the key was not a problem. All those duremara, turtles, Karabas... There is nobody to ask.
• So, with one option "what to do" have already decided:
to call a picture a picture, and the hearth — a hearth, and sought the Key, open the Door, stepping into the Unknown. In short, to seek a way out
.
• Which can be input...
Oh, I like it. This is not depressing "I-don't-see-out" conversation.
• Well, Yes. Importantly, to deal with the concept of "home" and check with those who build and maintain. And then, maybe, everyone the for thereby. Allow?
• Allow it. And need to stop your pictures to impose, — is quite confident she said.
• I agree. To impose their images is empty.
•
But then it is important to be honest with myself... to myself: if I do not live in imposed on someone pictures, images, trends.
She pondered to herself, and she was no longer needed.
• And confess. Who's stopping you.
• No.
You just need to stop kidding ourselves.
• Who do you want? – I could not resist from a loved one question.
• Me.
• So stop to be. If you need to.
• Well, again, so simple, right? she didn't want to give up.  
Yes, this is understandable, because
"depression" live happier: complain about fate, cry all the vests, the main thing — do nothing, don't change it,
so that in any moment it was possible girlfriends for a bottle of good wine to convene. It's always iron occasion: "Girls, I have depression...". And then suddenly: the door, the exit, that simple. Like to complain about.
• Wait, but this is, if we recognize that the center is false and if you continue to want not to be deceived, to take this picture, closing the road and go forward, build-rebuild, — persistently she concluded. And if you don't want? If you don't want all this to start?
• I don't want to start?
• All of these "compare concepts", "imposed pictures", "not my values", "self-deception"... well It's all open to have something to give, something to admit to herself...
• Well, don't start.
• How, then... How can that be, because I know now that the source is fake, but this door, which it is not clear that... Scary.
• To be scared or not – there is also up to you.
• Sometimes it's easier to leave things as they are, ' she sighed.
• Also an option...  
Also interesting: I am a woman who don't need to prove anything ALL can spoil
Why all this history?
Because "fake home" can be anything. Family, relationships, health, the desire to "be in trend", career, work... it Happens – will pierce their active and curious nose, a familiar picture and suddenly realize that he lived in the illusion, but a reality – that is, behind the canvas: the unknown and unpredictable. And the question arises: to remove a false canvas to stop deceiving myself and others, or, spreading the folds, shake off the dust and hoisted into place. And continue to show everyone...
The choice is always for you.  
P. S. Whenever you choose the second hole on the canvas carefully to mend don't forget...posted  
Author: Irina Ryzhkova  
P. S. And remember, just changing your mind — together we change the world! ©
Source: irinaryzhkova.livejournal.com/4000.html