Stuffed squid (kalamari Yemisto) — one of the traditional dishes of the Mediterranean cuisine.
This recipe for squid stuffed with rice, can be attributed to the recipe for homemade Greek cuisine.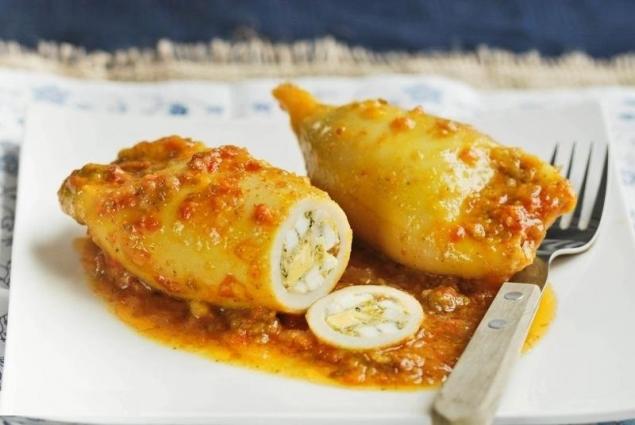 Ingredients (6 servings):
For the stuffed squid:
Squid (fillet and carcass) — 6 PCs.
Rice for risotto — 1 Cup
Buckwheat — 2 tbsp.
Green onions (chopped) — 1 Cup
Parsley (chopped leaves) — 2 tbsp.
Dill (chopped) — 2 tbsp.
Dry white wine — 2/3 Cup
Black peppercorns — 3 PCs.
Olive oil — 2 tbsp.
Salt — 1/2 tsp
 
In addition:
Wooden toothpicks — 6 PCs.
For the sauce: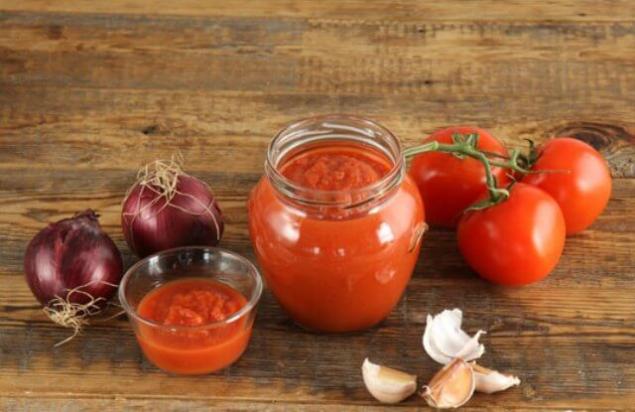 Tomatoes — 4 PCs.
Tomato paste — 1 teaspoon
Onion — 1 PC.
Garlic — 3 cloves
Dry white wine — 1/2 Cup
Unripe lemon (preferably green) — 1 PC.
Olive oil — 2 tbsp.
Black pepper peas — 5 PCs.
Salt — 1/2 tsp
Oregano, dried — 1/2 teaspoon
Sugar — 2 tsp.
Preparation products:
1.
Squid.
If whole, then to peel – to remove the head, stomach, tight spine, clean from the skin.
2. Green onions, dill and parsley wash, dry and finely chop.
3. Black pepper crush or grind.
4. Onion clean, finely chop.
5. Scald the tomatoes, peel and finely chop.
6. Garlic, peel and finely chop.
7. Wash the lemon, cut in half, squeeze the juice. Better to take a green, unripe lemon — it's Greek!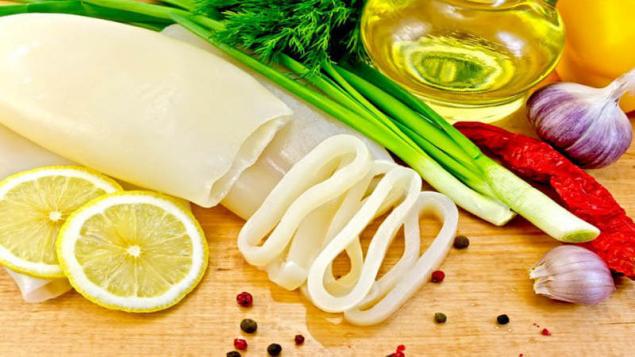 Sauce:
8. In a deep pan, heat olive oil. Add the onion and fry while stirring for 5-7 min.
9. In the fried onions add the finely chopped garlic. Fry while stirring for 1 minute.
10. Add the wine. Simmer until evaporation of the wine¾.
11. Add the tomatoes, lemon juice, allspice, black freshly ground, tomato paste, salt, sugar, oregano. Simmer 5 min with an open lid and 20 min on little heating with the lid closed.  
Stuffing:
12. In a deep thick-walled pan heat the olive oil. Add green onions, freshly ground black pepper and fry while stirring for 1-2 minutes.
13. In fried green onions add rice and buckwheat. Fry without adding water, stirring, 5 min. Then add chopped parsley and dill. Mix well. Sauté 5 min.
14. Add ½ Cup of white wine. Simmer with small heat until the wine evaporates. Then add 150 ml of sauce. Cover and simmer on a small heat 5 min Heat off. Leave to cool.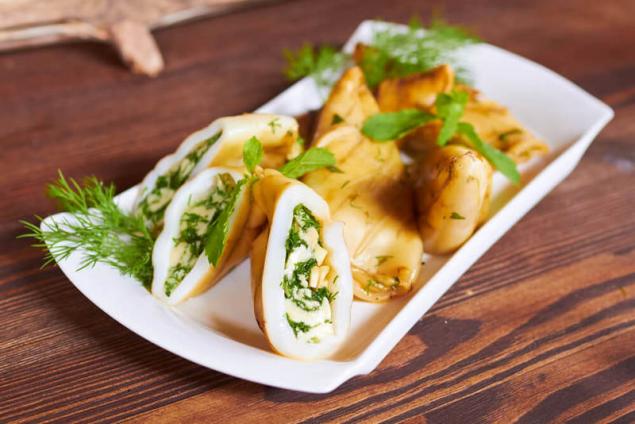 Stuffed squid:
15. In the carcass of the squid to insert the tube, fill with stuffing using a teaspoon, through the tube. Fill in the carcass, 3 cm before reaching the edge of the carcass. Edge to take a wooden toothpick.
16. Smooth the stuffing inside the squid. Lay the stuffed calamari in the capacity for baking in 1 row. Pour over the sauce. Close foil. Put in a preheated 160 degree oven. Bake the stuffed squid 50-60 min.
17. Serve squid stuffed with rice, hot.
Cook with love!  
Also delicious: the Salad with calamari and nuts The steamed fish Thai style
Source: www.russianfood.com/recipes/recipe.php?rid=127016