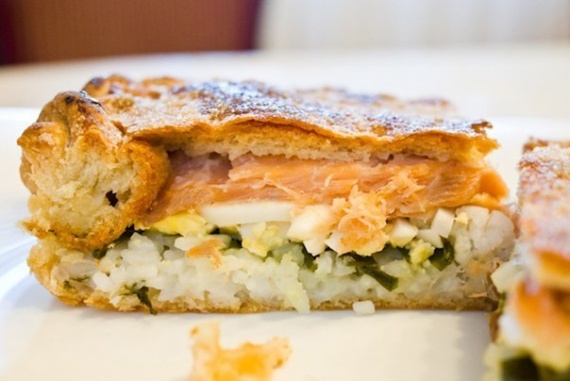 Ingredients:
Salmon or Trout salted
Yeast dough flaky
Eggs
Onions (green can)
Figure (glass)  
Preparation:
1. In the form laid paper for baking and rub butter
2. Roll out two sheets of dough. All put on one and the other, and all prihlopnem.
3. Clean the fish from the skin if it is necessary to remove it with tweezers bones.
4. shinkuem onion. Eggs boil until cool.
Figure 5. we cooked in advance and he had already cool. We spread layers: a layer of rice, then onions and eggs.
6. And finally, a layer of fish!
7. Cover with top half of the second test. Makes a beautiful tucks. Spreadable butter cake on top and sprinkle with sugar. Steam to escape, make a few holes with a knife.
8. In the oven at 180 for 40 minutes and forgotten. We get to relax and leave it for another 10 minutes.