Chicken roll
is an original dish that can afford, even those who are dieting. Of course, in which case you will need to abandon this ingredient, like bacon. Today, our editors will tell you how to prepare this savory snack at home. Roulade of chicken breast is an excellent replacement for store-bought sausage!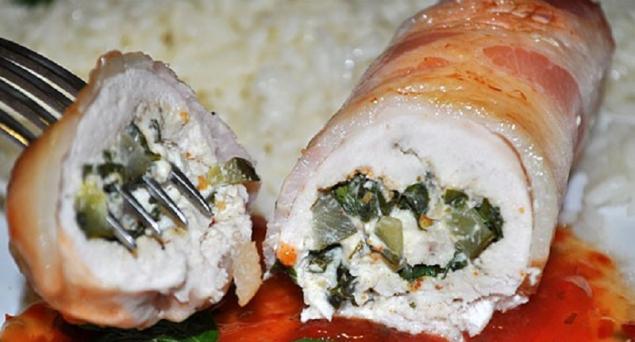 Roulade of chicken grusiinidele
200 g of cottage cheese
1 kg chicken fillet
400 g bacon
2 pickled cucumber
1 bell pepper
50 g herbs (Basil, dill, parsley)
1/4 tsp salt
1/4 tsp black pepper
100 g of vegetable oil
Cooking
Make several small incisions along the chicken breast.



Unwrap the fillet and cut it with a kitchen hammer. Use for convenience food, foam or plastic bag.




On plastic wrap laid out overlapping the bacon, then put it on a chicken breast. At this stage, salt and pepper the meat.




Grind the herbs and cheese skip through Mincer. Combine greens with cheese and put it on top of chicken.