This traditional Persian soup with beans and noodles usually served in March for Nowruz, the Persian new year and the first day of each month. It is so nourishing soup that could decorate a Western Christmas and new year's table.
Beans (common beans), chickpeas, beans and lentils cooked in broth, with vegetables, lots of fresh herbs and reshteh (noodles). Ashe Resht is a soup that can be prepared in many different ways, so experiment with beans, vegetables and herbs.
Preparation time ingredients:
10 minutes
Cooking time:
50 minutes
Total time:
1 hour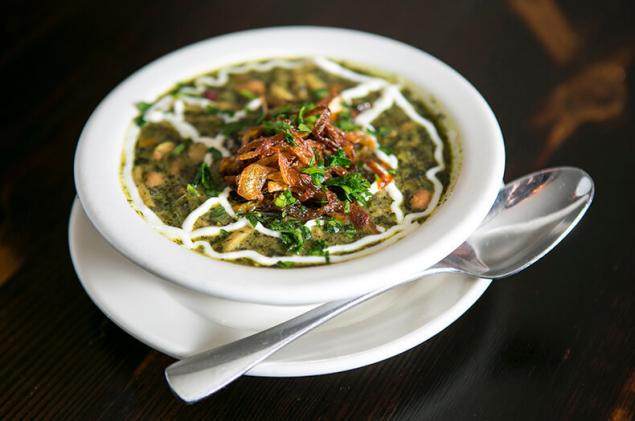 Ingredients (for 6 servings):
3 medium onions
1/3 Cup olive oil
3 large cloves of garlic
1 ½ teaspoon turmeric
1/3 Cup dry black, French or green lentils
1 tin chickpeas, rinsed and dried
1 tin of ordinary beans, rinsed and drained
2 cups cooked green beans, canned or frozen (you can substitute Lima or other beans, if they are hard to find)
2 quarts vegetable broth
½ Pound vermicelli, linguine or other thin noodles, broken in half
1 bunch spinach, washed and coarsely chopped
2 cups cilantro leaves (1 bunch)
2 cups fresh lepiev mint (1 bunch), coarsely chopped
1/3 Cup fresh chopped dill
1/3 Cup Italian parsley narzannoj
Sea salt and fresh ground pepper
Simple thick yogurt for garnish (optional)
How to prepare:
Slice one onion into slices. Heat 2 tablespoons of olive oil in a soup pot over medium heat. Add the onion and garlic and cook till DEH long until it becomes transparent and Golden, about 7 minutes.
Add turmeric, all of the above legumes and how to mix. Add the broth and a large pinch of salt and bring the soup to a boil. Reduce heat to medium and cook for 30 minutes.
While the soup is cooked, prepare the rest of the bow. Cut the onion into halves and then into thin slices. Add sliced onions and brown, stirring often, until the onions until will acquire a deep caramel color. Season onions with salt and pepper and set aside.
Goodbye grey hair! This juice restores the natural color of the hairSpices, makes us younger
Add to soup, pasta (noodles), as it should stir, and cook according to the directions on the package.
When the pasta is almost ready, add the spinach, cilantro, mint, dill and parsley. Add seasonings and cook two minutes.
Serve the soup with a garnish of fried onions and yoghurt.
Cook with love!  
Author: Jen Hoy  
Source: macrobiotica.ru/recipes/soups/395/