The recipe for this natural fruit treats should appeal especially to mothers. The fact that homemade Apple pastille consists only of apples and no added sugar. This candy can give even small children, and older kids will definitely appreciate the candy is appreciated.
Apple candy without sugar is perfectly preserved for quite a long time, so you can prepare this dessert in store for the winter. Especially if you have a great crop of apples, and you don't know where they would have to attach.
By the way, the taste and aroma of this dessert can vary. For example, add applesauce to ground cinnamon, cardamom, cloves, vanilla. Then the finished candy is not only delicious, but incredibly flavorful.
Servings:
12
Cooking time:
7 hours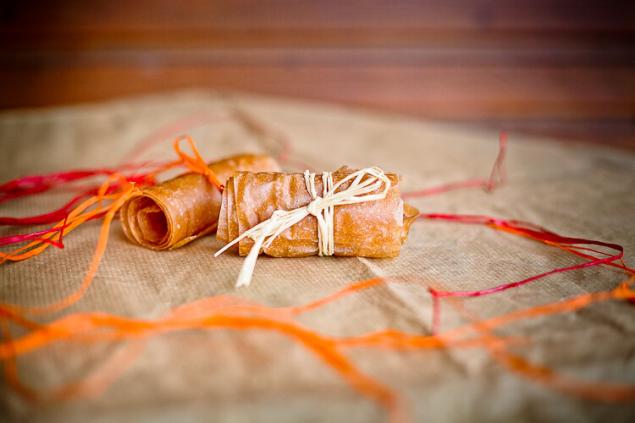 Ingredients:
How to prepare:Step 1
For making homemade Apple cider marshmallows, we will only need fresh apples. 1 kilo of apples I give in already prepared form, that is, only the flesh with the skin (without the stems and bolls). But again, you can take as many fruits as you have. This is enough for 1 standard tray for plate 60x60 cm
Step 2
So, prepare the apples. For this recipe thin Apple pastille without sugar will suit absolutely any, and grade and condition. Broken, crumpled — everything goes. Well, it is clear that we throw away the rotten and worm-eaten prune.
Step 3
Now you need to decide how we will handle apples. Since we need uniform Apple jam, you can pre-chop the fruits using the grinder (like me) or saute them until soft, and then break the immersion blender.
Step 4
Stew the apples in a thick-walled pot on the fire below average as long as they do not fall apart and the skins are soft. If the apples themselves are a little dry, add some water — she is still in the process of cooking boil. Depending on the Apple variety it can take 2 to 3 hours. Do not forget from time to time to interfere with the applesauce so it doesn't burn.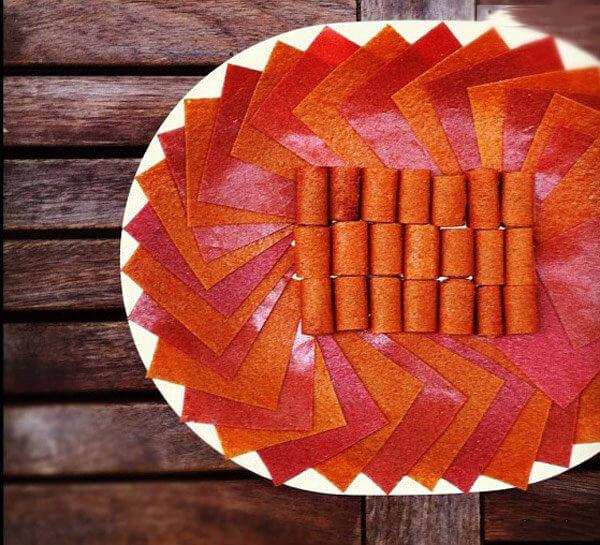 Step 5
When Apple jam will become thick, then there will be no visible fluid, it will need to dry. To do this, take a baking sheet and cover it with baking paper. If you are not confident in your paper (sometimes not very good quality), lubricate it with a thin layer of refined vegetable oil.
Spread on a paper Apple jam and level it with a spatula. The thickness of the layer should be no more than 7-8 mm, otherwise the marshmallows will be a very long time to dry, and then does not curdle. Try to make the jam was distributed the same thickness of layer, otherwise the candy may burn in thin places while the thicker are still not ready.
Step 6
Dry Apple candy in the oven on the lowest temperature (not over 100 degrees) with door ajar. Depending on the thickness of the layer of Apple of time may need different. I was drying my candy for about 4 hours. When Apple jam longer stick to the fingers, candy ready.
Step 7
Let her cool completely, and then turn the candy paper up and the paper wetted with water — let it sit for 5 minutes. Due to this manipulation the parchment well removed. Without this you'll barely be able to get at least a slice of Apple pastila — stuck tightly.
Step 8
Then with a knife cut a layer of Apple marshmallows into smaller rectangles and turn them tubes.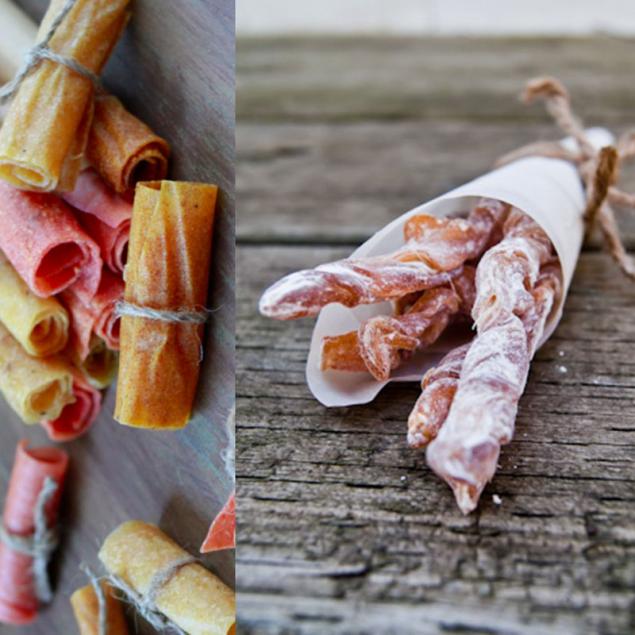 A warming fall soup: the recipe 4a Russian classic: salt-free sauerkraut
Step 9
So the candy does not spin, you can tie it by rope. Store Apple candy without sugar can be quite long, but by the time I wrote the recipe, my kids have all eaten. I'm going to do this year Apple candy a few times to the winter was enough.
Step 10
Prepare you for my kids is a delicious and truly nutritious homemade treat. Believe me, Apple candy without sugar is much better than any candy and chocolate.published  
Cook with love!  
Source: finecooking.ru/recipe/yablochnaya-pastila-bez-sahara