French — pastille, in Italian pastiglia, but in Russian — pastille. Many people love these bright sweet elastic cubes. And many confuse this treat with nougat or marshmallow.
So what is the real homemade Apple fruit leather? Why did it come in white and colorful? Is it possible to prepare candy apples in the home and whether the benefits of it? The answers to these questions we will consider next.
The history of food
Colored or white, with a sour taste or sweet, is a delicacy many people think Oriental sweets.
But it's not like Apple candy is a old Russian sweet dish.
In Russia this dessert is known since the XV century, and it is considered the birthplace of the ancient town Kolomna.
Apples sour varieties boiled or baked, rubbed through a sieve, mash the special long wooden spoons, spread out on canvas, stretched on frames, and ususually for several days in the sun or in a kiln. In the old days our grandparents for making multi-colored marshmallows to the apples added a variety of berries: raspberries, currants, blueberries, cranberries.
To impart a sweet flavor used honey, and later sugar. And that treat was a pleasant white in color, add egg white.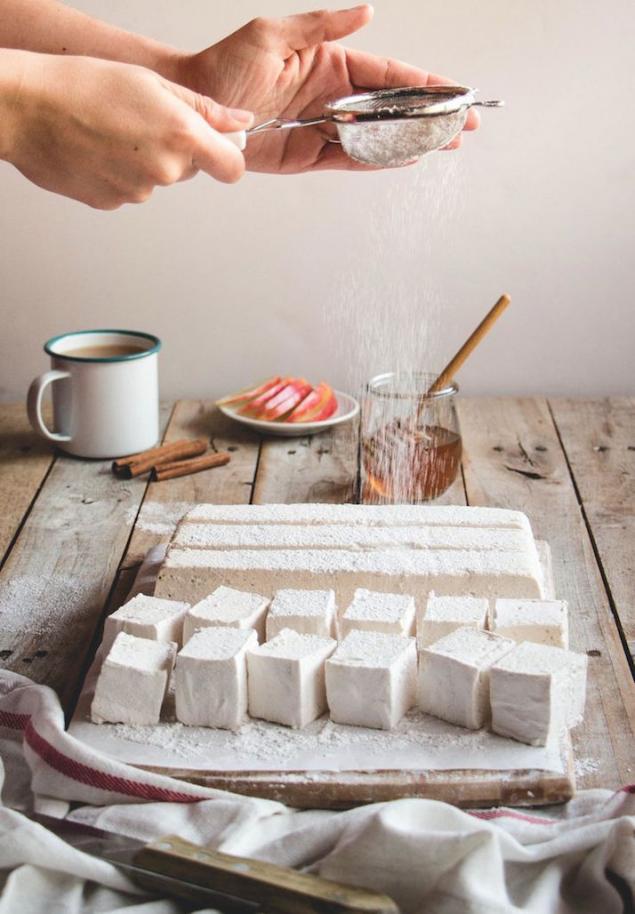 Recipes from the "Museum of vanished taste"
In the suburban town of Kolomna is the only Museum in the world Peeps. It is also called "Museum of vanished taste". There visitors may learn the history of this delicacy, show the old tools and equipment, familiar with the production process, are treated to different varieties of homemade marshmallows. And are willing to pass on to everyone old recipes for this delicious dessert.
The sweetness of apples with the addition of egg whites is called Nobel.
This recipe has more than a century and a half:
A 0.5 kg Apple puree is taken 0.2 kg of sugar and one egg white. Washed and peeled apples sour varieties baked in the oven and rubbed through a sieve. Mashed potatoes whipped with sugar until then, until it turns white. Separately whipped whites. The products are mixed, part of the mass to be put aside for future use. The Apple mixture spread on a baking sheet covered with parchment paper or foil, and put 6-7 hours in the oven, preheated to 100 . Became brown the marshmallows are cut into pieces, lubricate the delayed mass superimposed on each other and re-baked in the oven at the same temperature for 2 hours. Delicious layered dessert is ready to eat!
Interesting recipe with honey and walnuts.
For the preparation of such treats 1.5 kg of apples take 0.1 ml water, 0.1 kg of chopped walnuts and 1 tablespoon honey.:
Baked apples filled with water and boiled over a low fire for about 20 minutes. The mass is crushed and add to it, nuts and honey. The resulting mixture is boiled over low heat, stirring constantly for about 30 minutes. Boiled Apple puree spread on a baking sheet on the foil layer is not more than 5 mm, and baked in the oven at a temperature of 110 about 6-7 hours. The resulting delicate and tasty dessert is served with tea.
A delicacy for real gourmets
Modern technology significantly simplified the life of modern Housewives. And now to prepare candy apples at home is quite easy and simple. But there are some subtleties and secrets that you need to know even the experienced mistress: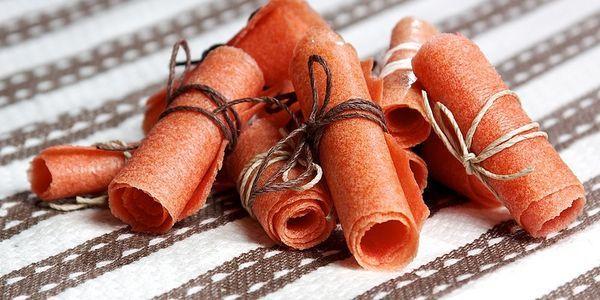 prepared fruits should be thoroughly washed and clean, avoiding rotten and damaged parts;
pastila is made from apples sour varieties, if they are sweet, the sugar should not be added;
when making Apple sauce you can't leave large pieces, the entire mixture must be homogeneous;
beat the grated mass necessary until, until it begins to turn white;
if you plan to roll the treat in the tube, the layer for drying should be no more than 5 mm, and if you cut into pieces 1.5 — 2 cm;
for uniform shrinkage temperature in the oven should be no more than 100-110, otherwise the mass will acquire a burnt flavor and uneven color;
ready homemade pasta has a dense structure, does not break and is not sticky.
What is more in this dish: benefit or harm?
Despite the fact that prolonged heat treatment destroys many vitamins, this treat contains pectin, fiber and such minerals and trace elements as iron, calcium, phosphorus, iodine, potassium, magnesium.
Thanks to them, this is the ancient Russian delicacy increases the level of hemoglobin in the blood, strengthens bone tissue.
Dietary fibers gently clean the intestines, helps remove toxins from the body, and carbohydrates for the day give a boost of energy and good mood.
The complete absence of artificial colors, preservatives and flavor enhancers makes candy a desirable dish in the diet of kids.
To cause harm homemade Apple fruit leather can, perhaps, only in one case, excessive consumption of this delicacy.
And, of course, not excluded individual allergic reaction.
To candy pleases your delicate taste, it is necessary to observe storage conditions. The finished product contains about 1.5 months. To treat haven't lost their quality, the storage place should be dry and cool and package tightly closed.
Unfortunately, in the refrigerator or a plastic bag dessert will quickly become sticky and spoiled, and outdoors — dries.
The best option for storage is a tin box or canvas bag is Amazing, but candy can be frozen, as this retains virtually all of its beneficial properties.
Try to cook this is the useful vintage dish at home, and you will understand what a real homemade Apple pastila.
Find out what in ancient times was eaten by our ancestors and that helped them to maintain health and vigor for years to come. To a dish in cooking, you can add pears and grapes. published  
P. S. And remember, only by changing their consumption - together we change the world! ©
Join us in Facebook , Vkontakte, Odnoklassniki
Source: notefood.ru/retsepty-blyud/desert/retsepty-pastily-iz-yablok-doma.html