Fashion to food cooked by molecular gastronomy is gaining momentum. More and more people are willing to pay big money for a new sensation caused by the unusual combinations of flavors and consistencies, because this pleasure is available only in five-star restaurants with famous chefs.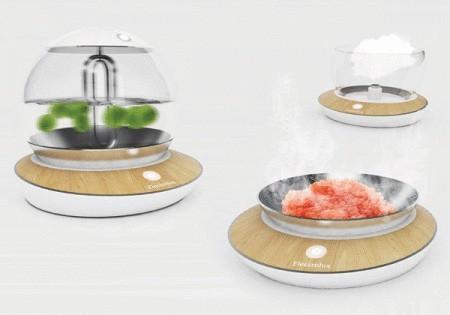 But in the near future the situation may change dramatically, so as to help fans of molecular gastronomy is Mo Sphere. This device, designed by designer Anuanom by Hernandez (Yunuén Hernández), is able to give the joy of gastronomic experiments any gourmet on it's own kitchen. Instant freezing an edible foam, cotton candy – all this will now be available to everyone.
The device consists of a bottom part and a recipient. The lower part allows to manage the liquid nitrogen designed for freezing, and is used to create ice cream balls of various sizes.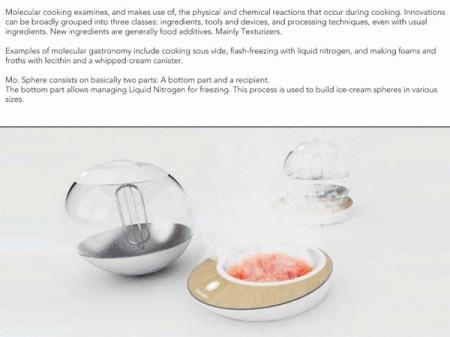 In turn, the recipient has two covers: the top and bottom. The upper lid helps in cooking dishes air type of edible foam, and also at jelatinizirovanny. Depending on what texture is needed to achieve the selected speed. Also this device can be used for cooking sugar, for which the top and bottom covers are removed.
In addition this part contains a battery that uses the free energy that allows the device to operate without electricity. The system starts with the button, which causes the magnets to move closer, so the mechanism is activated (according to Tesla).
The importance of creating this device even marked his entry to the top ten finalists of the contest "Design Lab" from Electrolux in 2012. Want to try ice cream flavored with bacon or ink Jell-o? Easy! Now you can cook it yourself, just fancy enough to satisfy your most perverted gastronomic tastes.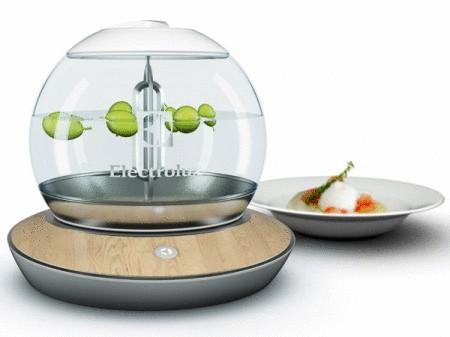 Source: /users/104