Colorless henna for hair has been widely used in cosmetics, its main task is not to dye hair and strengthening and treatment of the scalp.
From it make magic masks, with proper preparation and the use they have wonderful effects on hair: they cease to fall, easy to comb, become soft and shiny. Powder colorless henna, you can find conflicting information, for example, about its origin or effect on the hair. This article will disclose this information.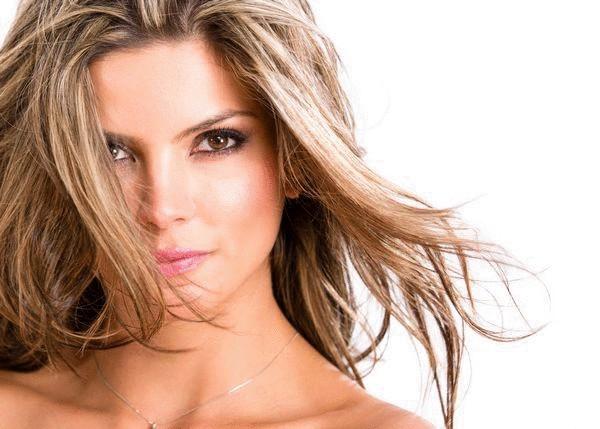 What is the secret of the magic effects colorless henna?What is a colorless henna for hair, which is not difficult? Some sources claim that this product is produced from the stems of lawsonite thornless, i.e. plants, the leaves of which produce the usual henna. Other sources say that the stems of the plants undergo a chemical treatment before to become powder. Let's dot the "I" and learn the truth. Raw materials for production of colorless henna is a completely different plant, the Cassia tupolistnaya, it belongs to the legume family, medicine it is known as a good remedy. Chemical treatment, of course, is present, but it does not exceed the permissible limits. The basis of this powder is a natural product, and its composition is dictated by its healing properties:
Emodin — gives a natural Shine to your hair;
Aloe-emodin — favors growth of hair;
Chrysophanol (chrysophanol) — gives (especially noticeable on bleached hair) yellowish hue, is a wonderful antimicrobial and antifungal substance, they can treat pustular disease of the scalp;
Carotene — good for restore brittle, damaged, split ends;
Zeaxanthin can help prevent premature hair loss;
Betaine can be called as natural moisturizer for hair. Due to its properties colorless henna is recommended for those who have thin, dry, brittle hair;
Finalen — helps getting rid of dandruff;
Rutin has on the roots of the hair is the most beneficial effect and strengthens them.
The richness of nutrients for the hair colorless henna and explains a miraculous effect: it cures the sick, restores and strengthens damaged patients hair. If the powder colorless henna used correctly, your hair will be transformed into a shining cascade of beautiful curls.
Indications for use colorless henna for velocitek, who can recommend colorless henna to use? In General about the henna you can say that it is a complex and universal in its impact means for care of hair, providing a revitalising and therapeutic effect, and suitable for all hair types. For regular use colorless henna can be recommended in the following cases:
It will give strength and vigor to lifeless hair to make the cells of the scalp and hair free of oxygen, improve blood circulation of the skin;
Dull hair will be returned to a natural Shine;
Damaged hair will be restored;
Substances are colorless henna well penetrate the hair and restore its structure, so that weak hair will be strengthened;
Split ends will stop;
Colorless henna for hair is one of the best ways to accelerate hair growth. It aktiviziruyutsya work hair follicles, allowing hair to grow more intense;
Hair will be protected from adverse weather, chemical and mechanical effects;
If you unsuccessfully have tried many anti-dandruff remedies, colorless henna, most likely, will be the discovery that to get rid of many skin problems of the head: if you regularly use — will disappear dandruff, stop itching, sebaceous glands of the head is normalized, various skin inflammation and damage to eliminated;
Colorless henna is the perfect way to give your hair a beautiful appearance. After her hair has reached the desired volume, become soft and shiny.
So, if you want to make the condition of the scalp and your hair better, it is not necessary to buy expensive tools that are full of chemicals, enough to buy just colorless henna.
Colorless henna — protivopokazanie than starting to use this tool will be very useful to know the contraindications and reviews about colorless henna for hair from people who've used it. Who should be careful in the application of this powder?
Blondes from masks with colorless henna may appear yellow or green tint, which is completely useless. It will not wash off once, so for those who have light hair, it is recommended the mask to try out on strands of hair.
If you made a medical mask with colorless henna, then in next 3 days to paint the hair paint is not recommended because the ink can fall unevenly.
Colorless henna has no contraindications, it is natural and non-allergenic medical product. To get the maximum result from the use of colorless henna for hair, you need to know the basic rules of preparation and use of tools.
Rules on the use of colorless hniw home very easily from colorless henna to make a good mask. The natural ingredients found in masks increase the or other effects of henna. Read, that it is desirable to know to prepare the masks and obtaining from it the maximum effect.
To make a mask, use good water, it is desirable to eliminate this water. Effective masks with colorless henna work-based infusions of herbs: sage, nettle, chamomile, burdock.
The mask easier to apply on damp and clean hair.
The ingredients included in the mask, must be of high quality: dairy products, eggs, preferably homemade and not store-bought, etc.
When the mask is applied, it is recommended to warm it a plastic bag and warm towel.
The mask applied to the scalp and evenly across the length of the hair to distribute.
The time after which the mask will wash off, define individually. Ie for blonde and light hair it will be enough half an hour and for dark hair, you can hold the mask up to an hour or even longer.
Do not use shampoo for washing off this mask, it is quite easy to wash off with plain water. Just make sure you rinse the hair several times to pieces of the henna in them is not stuck.
Everything is good in moderation, masks of colorless henna for hair is also applies to. Overly carried away by them is not worth it. Use henna 2 times a month, you can get a great result. Often not necessary, since you can dry up the hair, and scalp. But that was the maximum effect, they need to be done regularly.
These rules should not be neglected, and the mask of colorless henna will really be your hair miracle. Now it's time recipes, of which everyone can choose the right option for him.
Recipes masks of colorless henna for colonize are masks for all hair types. Them easy to prepare.
For any type saleslasuna mask
100 grams of colorless henna, dilute 300 ml of hot water and heat in the form applied to the skin and hair.
Kefir mask with colorless henna
Knead 100 ml of kefir 2 tablespoons tablespoons of colorless henna for hair and leave for 15 minutes.
Curd mask with colorless henna
Packaging colorless henna mixed with 2 tbsp lemon juice, 3 tablespoons cheese and 2 egg yolks.
Complex mask
Hot water pour 150 grams. colorless henna, when cool add to it 2 egg yolks, 2 tbsp of burdock oil, 1 tablespoon of olive, 2 tablespoons of Apple cider vinegar and 2 teaspoons of honey.
Henna for the hair
Mix 200 gr. colorless henna and 100 grams. dry powdered nettle. The resulting mixture take 2 tbsp And mix with two tea and pour hot water.
For slow-growing Volokitina mask
100 gr. colorless henna diluted in 300 ml of hot water and add ¼ Cup of sour yogurt and 4 drops of essential oil.
For the dropdown Valois green cosmetic clay
Two spoons of henna and the same amount of coconut oil mix together, add a spoonful of castor, 5 drops of ylang ylang and 2 tablespoons of green clay for the hair. Fill with hot water. Instead of coconut oil you can use olive oil.
For dull solosaina mask
100 gr. henna 300 ml hot water, 1 egg yolk and one spoon of jojoba oil.
Mask with Dimexidum
100 gr. colorless henna 300 ml of hot water, spoon of almond oil, a teaspoon of Dimexidum.
Tea mask
To cook separately 2 mixture. First: sachet of colorless henna pour strong black hot tea. The second mixture: beat the egg and mix with a tablespoon of olive oil. To combine the mixture and mix thoroughly.
Mask with oils
2 tablespoons of colorless henna combine with 2 tablespoons of olive oil, 1 — castor, and a teaspoon of essential. Fill with hot water.
For dry olobassitcna henna and avocado
300 ml water (hot) and 100 grams of henna. Divorced in mass, add one avocado and a spoonful of castor oil the pulp.
Hair mask fat typemask of blue cosmetic clay
In 300 ml of hot water with 100 grams of henna is colorless, add 2 tablespoons of blue clay and lemon juice, 1 teaspoon of burdock oil. Burdock is possible to take castor oil.
Colorless henna is a cosmetic product for hair care products of natural origin. It may take a worthy place in the Arsenal of those girls and women who continually make the mask, take care of themselves, are experimenting on the appearance and care about your health.
Source: lubim-zhizn.ru/