Hair mask of eggs
is a very popular tool among women of any age. From the egg must be born a living organism, and therefore the egg is the focus of many useful elements. Apply egg mask for any hair type.
Set of natural minerals and proteins helps to speed up recovery and hair growth, to give them strength and freshness. Add egg yolk included, almost every second beauty recipe.
This tool is very good for treatment and prevention, and it can be used with any frequency. In this article, you will learn recipes for homemade healing hair masks from eggs, which will help your hair look great.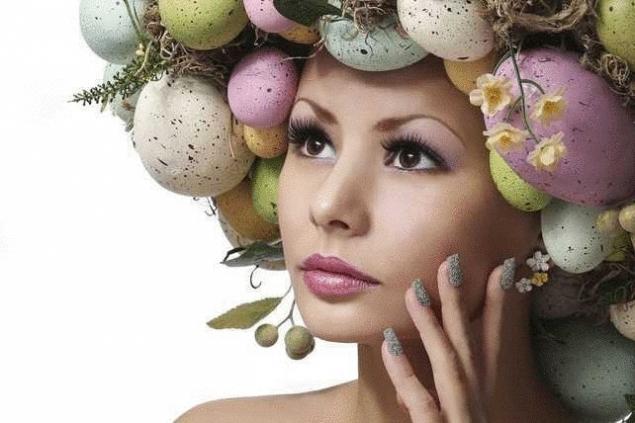 Mask, accelerating hair growth This recipe is used to improve the growth and the remaining thickness of hair. It includes the yolk of eggs, some butter and cognac. To prepare the tools you will need 1 or 2 egg yolks (calculated from length of hair), 2 large spoons of brandy and as many spoons of vegetable oil. As always masks blended into a single mass, and is applied to the hair. Under polythene to keep the mask for about an hour.
Within 2-3 months, repeat this procedure with frequency a couple of times a week. A wonderful remedy for dry or damaged hair. It is recommended to use olive oil to improve the effect, it has nourishing properties.
The mask of eggs from alopecia This tool will be suitable for aged people who want to keep the fluffiness and thickness of his curls. This recipe is almost the same as the previous one. Only then the yeast must be replaced with cabbage juice. The juice will nourish the skin and hair and prevents hair loss.
It is recommended to use at least once in three days, and every day in severe cases. I have this egg mask caution: use is not recommended in order to avoid dryness of the scalp.
Egg mask for hair this means a simple recipe. It will be enough to take one egg, and breaking it to separate from the yolk. The separated egg yolk, mix with a small spoon of castor oil and a few tablespoons of lemon juice. Oil and lemon juice contain ingredients to nourish and strengthen the hair. The mask is applied, leave for about 60 minutes and rinse.
To obtain and consolidate the results, the procedure should be run for about three months, once every three days. These same ingredients can be cooked burdock hair mask, have a similar effect.
Mask from hair loss If you are affected with the problem of hair loss, this folk remedy should be applied regularly. Of course, the problem of hair loss can be caused by many factors: age, hormonal, external. And not all can help any masks, including masks for hair from the egg. But this mask you can still try it, or apply it in order to prevent. The composition contains: egg yolk, honey, castor oil, yeast and cognac. Preparation: whisk in a bowl two yolks, add 2 tbsp castor oil and honey and a pinch of yeast. Whisk until smooth. Put on his head after a slight heating of the mixture of the mask. Keep for twenty minutes and rinse. Apply it not less than one month.
Mask for damaged hair This mask is very easy to prepare. One of the main components is aloe juice, which has a terrific, already known to many, the healing effect, and therefore where a lot of aloe is used a lot to add.
To prepare the mask will need 2 tbsp of honey, 2 egg yolks and 1 tbsp of aloe juice. All carefully to mix and slightly warm in a water bath, after which the mask is ready to use. The mask is very gentle on the hair and can long keep at least two hours. Use this mask 3 months.
The mask makes hair shiny For this mask you will need 2 beat egg yolk, add a spoonful of glycerin and vegetable oil (any). The mask is applied, for example, for a couple of hours before the event. The mixture on the hair keep half an hour and rinse with hot water. The hair will gain Shine and you will surely surprise your surroundings.
As you probably noticed, there are many recipes for natural homemade hair treatment, accelerate their growth, and so on. Based on this material you can think of and its combination of ingredients for a hair mask out of eggs.  
Source: lubim-zhizn.ru/