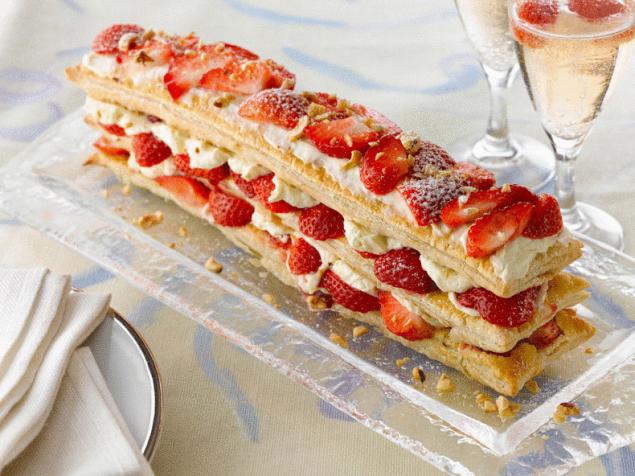 Strawberry "Mille-feuille" — layered cake-cake, French and Italian version of the famous "Napoleon". "Millefeuille" is a layered dessert of puff pastry, cream cheese and berries, mostly strawberry, BlackBerry and raspberry, the top of the cake is covered in powdered sugar or sugar glaze.
Ingredients
400 g fresh strawberries
250 g ready puff pastry
150 g Mascarpone cheese
240 g cream grated cheese (such as children)
1 sachet of vanilla sugar
4-6 tablespoons sugar
2 teaspoons powdered sugar
Wheat flour for work
Nutrients
10 g protein
13 grams of fat
56 g of carbohydrates
372 calories in 1 portion
Instructions
1. Preheat the oven to 240 ° C. Roll out the puff pastry in a thin layer on a lightly floured work surface. Cut 3 rectangle 12 cm wide and 24 cm long. Place them on a baking sheet lined with parchment paper. Make several punctures with a fork all over the surface of the dough. Bake for 10 minutes, then give the cakes to cool on the baking sheet.
2. Quickly wash the strawberries, dry them with paper towels, and then remove the herbs. Berries cut into slices 1 cm thick and sprinkle 1-2 teaspoons of vanilla sugar. In a bowl, mix the Mascarpone with the grated knowim curds, and the remaining sachet of vanilla sugar, add the powdered sugar.
3. Cut each large rectangle of puff pastry into 4 rectangles with a width of 6 cm Cream and berries divide into 8 equal parts. Each portioned piece to collect three parts of a layer cake passed two parts cream and two parts of the sliced strawberries laid on top of the cream. Serve immediately, sprinkle top of cake with powdered sugar.
Servings: 4
Total prep time: 40 minutes
источник:dgficc.com
Source: /users/1077