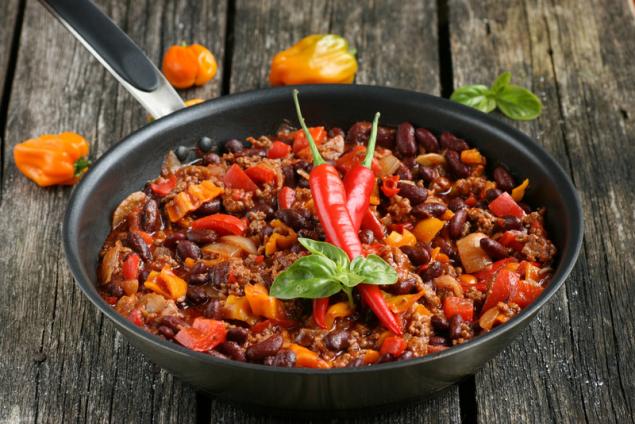 Recipes meatless dishes of beans into the time of lent will be a pleasant variety to your Lenten menu. Beans contains many nutrients and beneficial properties that allows it to replace the usual foods during lent.
1. Lobio of red beans. Lenten recipe of Georgian cuisine
You will need:
Beans 400 gr
Garlic 4 cloves
Onion 4 PCs
Vegetable oil
Coriander 1 bunch
Ground black pepper, ground coriander, salt, red pepper powder
Preparation:
1. Beans wash thoroughly, leave for 5-6 hours in cold water.2. Swollen beans pour into a saucepan, fill with water and boil until tender.3. Onions cut into half rings and fry in vegetable oil until Golden brown.4. Finely chop cilantro and combine with pressed garlic.5. Prepared beans and greens with garlic back to the pan to the onions. 6. Add to the mix to taste and leave to stew under the lid for 3-4 minutes Is a bright and tasty dish of bean variety to your Lenten menu and add it up.
2. Lenten borscht with beans
You will need:
dry white beans 300 gr
potatoes 3 PCs
cabbage 300 g
onion 1 piece
carrots 2 PCs
beets 4 PCs
tomatoes 1 piece
tomato paste - 3 tbsp
vinegar 2 tablespoons
sugar 2 teaspoons
vegetable oil 4 tbsp
adjika acute — 2 tsp
black pepper, salt, herbs
Bay leaf
Preparation:
1. Beans rinse and leave in water overnight (minimum 6 hours). Change the water and boil it until soft. 2. Potatoes peel and cut into cubes. Toss in pan to beans. 3. After 5 minutes add shredded cabbage and cook together for another 15 minutes. For flavor, toss in a Bay leaf. 4. Beets, onions and carrots to clean. Beets with carrots and onions to chop. Tomato finely cut into cubes. Vegetables send to the skillet and sauté in vegetable oil. After a few minutes add the vinegar, sugar and tomato paste. Stew on low heat for 5 minutes. 5. Zazharku add to the pot. To taste add salt and pepper. 6. Bring the soup to a boil and cook for 10 minutes. 7. Serve with greens. Delicious vegetable soup with beans is ready!
3. Salad with beans and apples
You will need:
Beans 200 g
Apples 2pcs
Beets boiled 1 piece.
Vegetable oil 3 tbsp
Wine vinegar
ground black pepper, salt
Preparation:
1. Cook beans until tender 2. Wash apples; peel and cut into small cubes. 3. Beets peel and also cut into cubes. 4. Mix all ingredients, season with vegetable oil and wine vinegar. Add spices to taste. 5. When serving, decorate with greens. Bon appetit! published
Source: www.uaua.info/