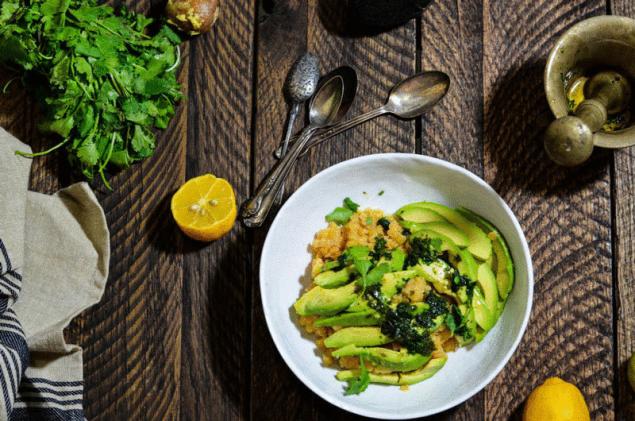 Many people watching their health, the maximum limit meat consumption or even refuse it. Recipes vegetarian salads allow to diversify the menu, provide valuable nutrients.
This bean salad A vegetarian salads without mayonnaise are composed of beans. For this dish take a radish, carrot, onion (1 PCs.). You will also need 250g ready to eat beans. For the dressing, use vegetable oil and pepper.
Fry onions on vegetable oil, season with salt. Purified turnip grate, combine with onions. Raw carrots RUB on a grater for Korean salad, salt, season with pepper. Beans pre-boil. All connect, and season with vegetable oil.
Salad with pineapple This delicious salad perfectly nourishes. You will need 100 grams of rice, 200 grams of mushrooms and pineapple, onion and herbs. Also use 20 ml of vegetable oil and a little soy mayonnaise.
Boil rice (don't forget salt), rinse with cold water, allow the liquid to drain. Drain the pineapples from the syrup, cut into cubes, greens finely chop. Clean onion, chop and fry in vegetable oil. Mushrooms clean, slice, put to the onions and cook until the liquid is evaporated. Spice up, salt. On dish put a layer of rice, oil soy mayonnaise. The next layer – mushrooms, pineapple, mayonnaise, parsley. The salad should infuse for 20 minutes, after which it can apply.
"Coat" with nori Vegetarian salads on the festive table: recipes what are most in demand? The unambiguous answer to give difficult, but many people really like vegetarian "coat". This salad is prepared on the basis of seaweed – nori. For cooking take 800 g of vegetables (potatoes, beets, carrots), 300 g of Adyghe cheese and nori (seaweed). Also, take a few walnuts. For the filling, use a soy mayonnaise, and sour cream. Set of spices: cinnamon, coriander, nutmeg, pepper.
The vegetables cook, cool, clean, grate in a separate container, each add sour cream, salt and spices. To the beet mixture, add crushed kernels. Crush the cheese using a fine grater. Algae wash, cut. Start to lay out the layers (half the number), smearing each soy mayonnaise (potatoes/nori/cheese/carrots/beets). Place the remaining number of products of alternating layers in the same sequence.
Salad with avocado, This dish gives an interesting combination of flavors – you'll need beetroot (1 PC.) and avocados. Also, take 30 grams of cheese, olive oil, spices and salt.
Refined beet and released from the bone avocados cut into thin slices. Place them on a dish, alternating between each. Prepare a seasoning of oil, salt, pepper, pour over the salad, sprinkle with grated cheese.
Olivier to cook a vegetarian variation on the salad, take 2 pieces of carrot, avocado and potato, peas. You will also need eggs (4 PCs), pickles (3 PCs.). For dressing, use soy mayonnaise. Clean all the vegetables, avocado release from the bone. Eggs brush. Dice vegetables, eggs, cucumbers. All connect, add chopped greens and peas, season with, salt.
Salad with mushrooms to prepare this simple salad, take 3 beet, 200 g of champignons, onions. For the dressing, use a mixture of salt, a pinch of powdered sugar, olive oil and Apple cider vinegar (3 tbsp/1 tbsp).
Bake the beets in foil, and mushrooms (sliced and mixed with oil) pan on a baking sheet. The cooking time of the beets for 30-50 minutes, and mushrooms – 15-20 minutes. The temperature of the oven – 180 degrees. Chop the onions, scald with boiling water. Chop the beets, combine with plates of mushrooms and onions. Season and leave for 30 minutes.
Vegetarian salads are tasty and healthy. Don't be afraid to experiment by altering the recipe to your taste – this dish will benefit.published
Source: updiet.info/