Berlin is the first city that will transform an entire bus line to the eco route with electric buses, as well as systems of wireless charging and compact battery system PRIMOVE. Beginning in the summer of 2015, passengers of the Central city bus lines 204 will be able to enjoy a quiet tour of Berlin, with zero emissions.
Federal Ministry of transport and digital infrastructure (BMVI) supports the project within the "International program of the presentation of the electromobility Berlin Brandenburg".
On the occasion of the induction charging pad on the first charging station in Berlin, the project partners Berliner Verkehrsbetriebe (BVG; urban transport authority of Berlin), Technical University (TU) Berlin and Bombardier Transportation invited representatives of the BMVI, the city administration and the media to inform them about the technical details of wireless charging technology, the current state of the project and its further stages.
At the presentation, guests had the rare opportunity to see the charging plate to be installed under the ground for several days and, according to statements of developers, will be an absolute invisible to passers-by. Team charging plate weighs seven tons, has a length of 4.8 m, width 1.9 m and thickness 10 cm.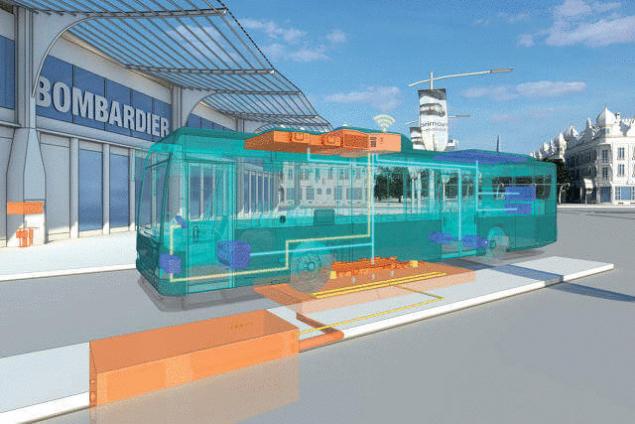 Innovative system Bombardier PRIMOVE bus charges batteries with a capacity of 200 kW, just a few minutes at the bus stops at terminal stations. This enables the electric buses to drive the route a few miles there and back with no extra stops or replace them throughout the day. Charging occurs without the cable connection. As soon as elektroavtomat is located above the underground charging plate, a charging coil installed in the bottom of the bus is lowered. Starts the inductive transfer of energy that generates an electromagnetic field.
This process poses no danger to drivers, passengers and pedestrians — or even for people with pacemakers. By optimising the frequency of transmission and the advanced protection system, the charging system has the characteristics of electromagnetic radiation below a very stringent European limit values.
Each charge actually recovers only 20% of battery because that's all it takes to travel a length of 19.3 km, according to Joanna Strunk (Strunk Johanna), the representative of Bombardier, which is developing this system. The bus has a length of 12 metres and can carry 70 people, as well as conventional diesel buses in the German capital.
For the production of electric buses is the company Solaris. Delivery of the first of 12 ordered buses equipped with PRIMOVE charging system and battery installation, is planned for may of this year.
The new fleet of electric buses will help Berlin to reduce CO2 emissions by about 260 tons annually. To achieve this effect, about 250 private cars in Berlin, under standard driving style have to change to electric cars. published
P. S. And remember, only by changing their consumption — together we change the world! ©  
Source: www.ekopower.ru/?p=3457