Every woman knows the taste preferences of all family members. And to each she'll find a approach. For children — tasty pastries for tea, but for my husband, there always has to be something spicy.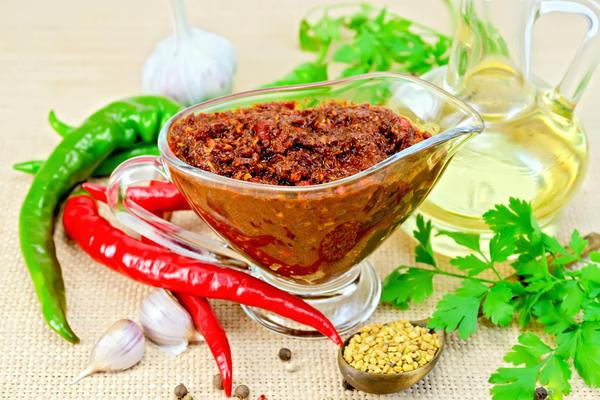 To diversify the menu of tapas, we offer you the recipes adzhika a variety of fruits, vegetables and even berries — apples, plums, tomatoes, eggplant, black chokeberry and, of course, pepper.  
1. Sauce from plums
You will need:
200 g of sugar
4 spicy red pepper
2 tbsp tomato paste
2 tbsp. salt
Preparation:
Plum wash, remove seeds. Hot pepper wash. Garlic clean. To scroll through a meat grinder prunes, garlic and hot pepper. Add sugar, tomato paste and salt. Mix well and put on fire. Cook for 20 minutes, stirring constantly. Ready adjika lay in sterilized jars, tighten, turn and leave until cool. Store in a cool place.
2. Homemade adjika
You will need:
5 kg of tomatoes
1 kg of red apples
1 kg of sweet pepper
1 kg of carrots
1 pod of pepper of Chile
0.5 ml of vegetable oil
3 heads of garlic
7 tbsp of salt
Preparation:
All the vegetables are well washed and clean. All scroll through Mincer. Put into a saucepan, add salt, oil and cook for 30 min. Hot adjika spread out on the sterilized banks, to spin, to turn over to cool.
3. Chicken with apples and walnuts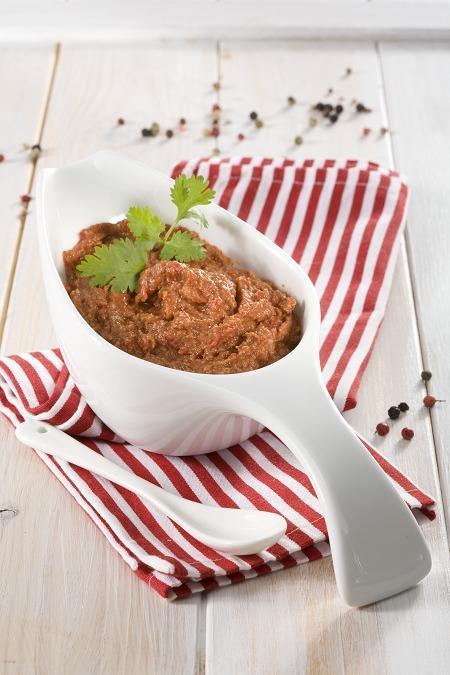 You will need:
1 kg of sweet pepper
300 g of garlic
200 g of bitter pepper
2 sour Apple
1 Cup walnuts
1 kg tomato paste
1 table. teaspoon salt
200 ml of vinegar (6%)
1 bunch fresh cilantro
1 bunch parsley
Preparation:
Peppers cut in half, remove core with seeds, wash and finely chop. Wash apples and cut into wedges, removing the core. Garlic clean. Pepper, garlic, walnuts and apples, mince or chop in a blender. Greens wash, dry and finely chop. Mix with the rest mass. Add the tomato paste, salt, vinegar, all mix thoroughly and leave at room temperature for 12 h and Then decomposed into prepared jars. Store in the refrigerator.
4. Adjika of chokeberry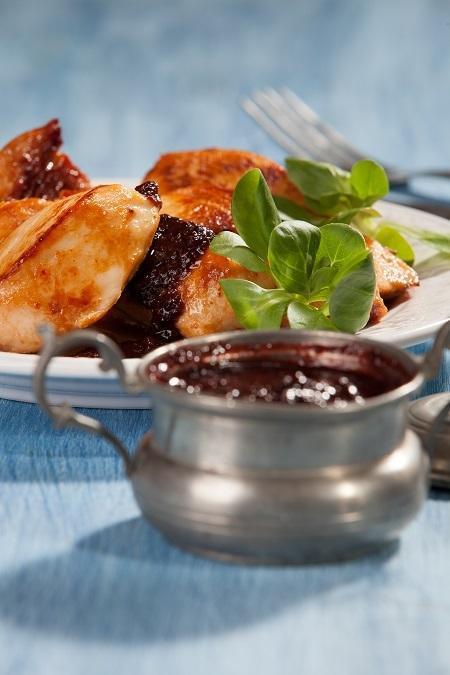 You will need:
2 kg of black chokeberry
5 peas of black and fragrant pepper
2 tsp spicy red pepper
2-3 heads of garlic
120 ml Apple cider vinegar
250 g of sugar
1 tbsp Khmeli-suneli
4 tbsp. salt
1 tsp cinnamon
Preparation:
Garlic clean. Chokeberry wash, dry, scroll through a meat grinder together with garlic, add spices, sugar, Apple cider vinegar, mix well. Seasoning transfer to a glass dish and leave at room temperature for 3 days. Then put into sterilized jars and roll up. 5. Green ajika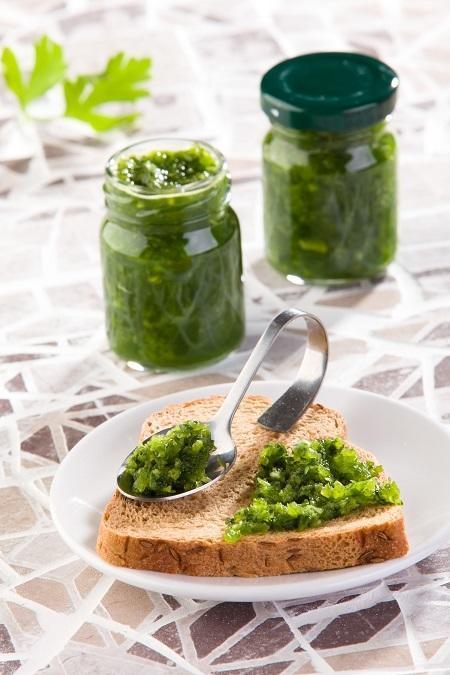 You will need:
3 kg of hot pepper (dark green)
200 g of garlic
30 ml vinegar
1 teaspoon ground coriander
2 bunches of cilantro
2 bunches of parsley
1 bunch of dill
salt to taste
Preparation:
Peppers wash, dry, remove seeds and stems. Garlic peel and separate cloves. Cilantro, parsley, dill wash in cold water and dry. Finely chopped herbs. Peppers together with garlic to mince or pass through a food processor. Mix with the coriander and scroll again. Mix with salt, vinegar, gradually add the coarsely chopped greens in a meat grinder and scroll 2 more times. Ready adjika can be shifted in smaller jars (sterilized). 6. Sauce with aubergines and peppers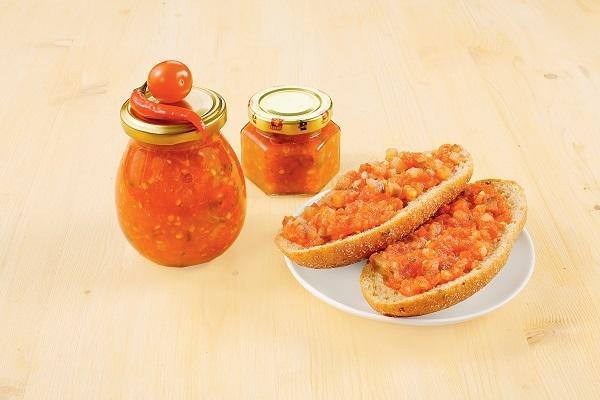 You will need:
2 kg of eggplants
1 kg sweet red pepper
1 kg of onions
1 hot pepper
3 kg green tomatoes
3 kg red tomatoes
200 g of garlic
2 bunches of parsley
0.5 l of vegetable oil
1 Cup 6 % vinegar
150 g sugar
salt to taste
Preparation:
Eggplant wash, cut into small cubes. Onions and garlic are clear. Chop onions. Half of the garlic, finely chop, the second part leave whole slices. Ripe red tomatoes, wash, slice, put in pan, cook until boiling. RUB through a sieve to make sauce. Parsley washed, chopped. Sweet pepper to clear of seeds, cut into small cubes. Green tomatoes wash, skip through Mincer together with a bitter pepper. In a pan or bowl for boiling pour tomato sauce, vegetable oil, vinegar, salt, sugar, bring to a boil. Put chopped garlic, eggplant and cook for 10 minutes, stirring occasionally. Add sweet pepper, onion, whole garlic, and cook for 8 minutes Then add green tomatoes with a bitter pepper, chopped parsley. Stir well the whole mass. Cook for 3 min. Hot sauce to put up in sterilized liter jars, roll up covers, flip. Do not wrap! Allow to cool and Store in a cool place.
published  
P. S. And remember, only by changing their consumption — together we change the world! ©  
Join us in Facebook and in Vkontakte, and we're Classmates
Source: www.7dach.ru