The traits of Caucasian cuisine? Many will say — the barbecue, wine, mountains, harsh customs and longevity. A lot of opinions. And ask: what in cooking?
And most of the answer is the sharpness! Not going to argue and prove. Caucasian cuisine is quite sharp, although Mexican food is still far. The most common condiment — adjika. How about in Mexico is guacamole.
Adjika is a hot pepper, garlic, herbs, wine vinegar and salt.
Again, the sauce, not the slightly spicy jam made from tomatoes, peppers, carrots and apples, which tons harvested in the winter of our Housewives. Of course, it's the sauce, tasty and popular. But not pizza, not even similar.
Rarely, very rarely, is found close to the actually recipe. Remember: this is not a tomato sauce with apples. This hot pepper, garlic, herbs, wine vinegar and salt.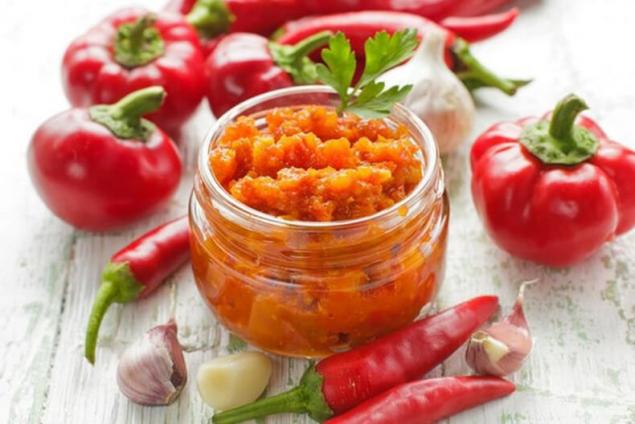 Yield:
1 jar
Training:
3 days
Preparation:
1 hour
Ready in:
few days 
Ingredients:
Red hot chilli pepper - 1kg
Garlic - 2 heads
Coriander seeds - 2 tbsp
Rock salt - 100 gr
Khmeli-suneli, fenugreek, imeretinskiy saffron - to taste
Wine vinegar - to taste
Walnuts (kernel) - optional
How to cook:
1. Red hot chilli pepper, wash and put in the shade for 3 days, you need to pepper a little podelilsya.
2. Pepper to clear of roots and seeds. Highly grind the pepper and garlic. Thus, often pepper seeds are not removed, which further gives the sauce a very strong sharpness.
3. Add the pounded in a mortar, dried coriander seeds, and taste hops-suneli, crushed: fenugreek, saffron, or so-called Imereti saffron (Tagetes), seeds of dill and fennel.
4. Seasoning well with salt large stone of salt. Mix everything carefully and add to 0.5 cups of vinegar, or freshly squeezed juice of the grant is to dilute sauce to desired consistency.
5. Get pasta (thick or slightly liquid) with a very spicy taste, very fragrant. It is a base for cooking sauces and less acute options adzhika.
6. To improve the taste, add shredded into dust walnuts or green herbs – cilantro, dill, parsley, leaf celery. Instead of hops suneli and fenugreek you can use a mixture of spices, utsho-suneli, which contains all the necessary components, including coriander and fenugreek. To mitigate add the crushed red peppers.  
10 healthy meals you can prepare in 10 minutesFish dishes from Jamie Oliver: 5 recipes
7. The sauce can be prepared not only from the red pepper. The green sauce is also quite popular. Adjika is usually specific to the location and called the name of this area: adjika Georgian, Abkhaz, etc. Has the right to life and ajika with tomatoes, although the tomatoes in a classic recipe not included. By the way – the vast majority of store adzhika is made with tomatoes and fruit and vegetable purees.
8. The sauce is better to cook with bare hands, because then the hand will have to wash all day. Seasoning is easily stored in the cold. Just spread along the banks and close tightly.
Bon appetit! Cook with love!    
Source: www.djurenko.com/cooking/adzhika.html