The recipe is incredibly delicious eateries pickled tomatoes.Be sure to try to cook.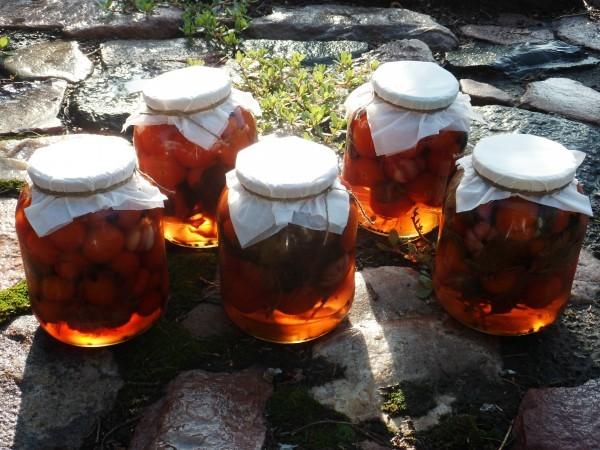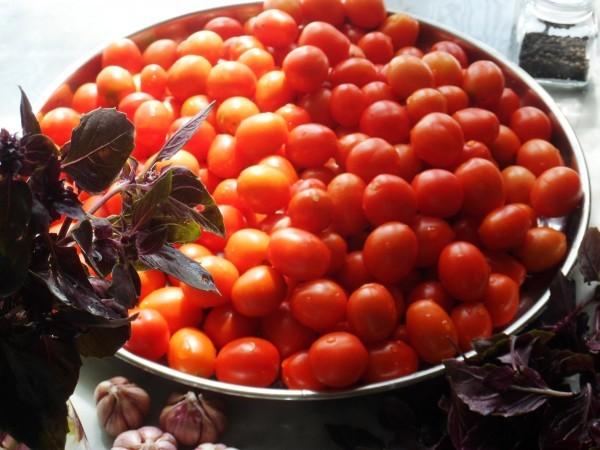 Sterilize jars.
It is VERY IMPORTANT TO BANKS AT the TIME of laying the TOMATOES were STILL WARM after sterilization, OTHERWISE the BANKS MAY CRACK AT the MOMENT WHEN THEY WILL JOIN the BOILING water.
On the bottom of cans to put ½ of the Basil for 1 banks next, lay the tomatoes, the remaining Basil, black pepper and garlic.
The marinade should by this time sluggish to boil.
By this time you need to prepare boiling water in amounts far exceeding the amount of marinade. (for example, 2 jars with a capacity of 1,3 - 1,5 l you need to prepare the marinade 2 to 2.5 liters of boiling water – about 5 liters).  
To fill cans with boiling water and covered with special lids for the subsequent draining of the boiling water (a kind of cap with holes — perforated), if there is no caps — this manipulation can be done using a small metal sieve. To withstand 4 minutes, drain the boiling water and re-fill jars with vegetables boiling water for 3-4 minutes, drain, (again, fill–drain, but the authors of the post, for many years, produces this procedure 2 times).
Pour the marinade and either hermetically sealed tin can lids, or screw caps (screw-in) or plastic (in this case, to keep banks either in the cellar or in the fridge). These tomatoes should be stored in a cool place, although the authors they feel great and at room temperature, if closed hermetically.
Marinade: 1 volume of vinegar 6% — 1 volume of sugar – 1 volume of water (ie, for example 1стакан vinegar + 1 Cup sugar + 1 Cup water).
Vinegar better to take the Apple, and wine, preferably white, in any case, the vinegar needs to be natural fruit! In any case, don't even try to replace acetic acid!!
Basil in each jar, 1.5 litre :
red Basil – 1-2 bunch (about 100g of green mass);
garlic – 2 heads, clean only from the top layers of scales and you can't understand the share – the garlic should be whole heads;
black peppercorns – 1 h spoon;
salt – 2 liters of ready-made marinade to take 1 tablespoon of salt.
Any other herbs and spices!
Tomatoes it is better to use small size, like Cheri (as in this case) or tomato — cream. published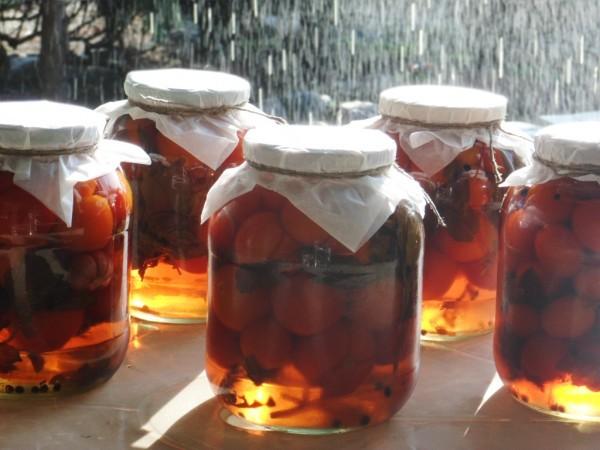 P. S. And remember, only by changing their consumption — together we change the world! © Join us at Facebook , Vkontakte, Odnoklassniki  
Source: bufetum.livejournal.com/41807.html