It turns out that everyone's favorite, well known to us the pumpkin – an American! This vine has 5 thousand years ago grew up in the tropics of Mexico and Texas, delighting the natives of delicious juicy fruits. She then became a European resident, and only in the 16th century came the Russian land. Here she came to the court, like its simplicity, great taste and healing properties. Since ancient times, has accumulated a lot of recipes for pumpkin dishes: salted, boiled, fried, etc.
Nowadays, there are over 10 types of pumpkins, including perennial, decorative, there are even unfit to eat. Ordinary pumpkin, about which speech will go today, also has nearly a hundred relatives, all of them used for decorative purposes or for food. Including many varieties of pumpkins make a very useful and tasty juice.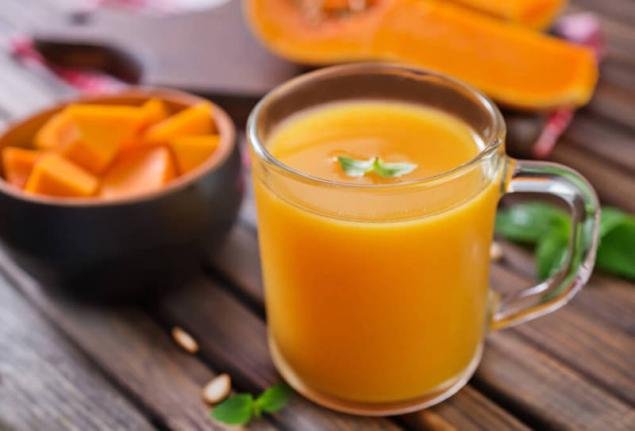 The composition of pumpkin juice
Many people know that vegetable juices are a structured liquid, which adjusts the body's cells on a harmonious existence. Now, pumpkin is 90% of this structured water, and therefore can bring great benefits to our body. The juice of pumpkin are also a lot of carotene and vitamins a, K, and E, is ascorbic acid. There are zinc salt, mineral salts, proteins and fats. A particularly unique component of pumpkin juice is vitamin K, which is not almost any other vegetables. It normalizes blood clotting.
However, the most valuable thing in the pumpkin juice is pectin. This substance plays a very important role in metabolism, and it means a lot. Thus, the pectin helps reduce cholesterol in the blood, improve peripheral circulation and normalization of intestinal motility. He cleans the living organisms from many harmful substances, including radioactive elements, toxins and pesticides.
The use of pumpkin juice
Pumpkin juice is very useful for people with cardiovascular disease, it helps men's organism to preserve a young strength and energy, and successfully fights cold. Vitamins A and e, known for fighting aging and wrinkles, vitamins To help stress and maintain healthy hair and nails. Liver diseases need to drink pumpkin juice, as it cleans the liver. Even insomnia can be saved with the help of pumpkin juice.
Children from a very young age to give pumpkin juice, because it is a very valuable dietary product. A dietitian or gastroenterologist will tell you about the necessary daily rate of the juice, and the average child should drink 1 to 3 glasses of pumpkin juice a day.
The norm of drinking pumpkin juice
Healthy people for prevention is enough to take half a Cup of fresh juice of pumpkin in the morning for 30 minutes before eating. To improve the taste of juice you can add lemon juice, also very good it is combined with Apple and carrot juice. This cocktail of juices is a rich complex of all necessary minerals, which is able to significantly improve the human body and nourish it with vitamins and minerals.
In diseases of recommended to increase the intake of pumpkin juice to two or three times a day, depending on tastes and personal acceptability of the juice, the course is not less than 10 days, single dose – at least half of the glass.
If any problems will help pumpkin juice
for insomnia drink a glass of pumpkin juice with honey at night. Pumpkin the body adjusts to a normal job, so it is usually felt when the juice is no longer needed, and the person falls asleep easily.
Urolithiasis – a half a Cup of pumpkin juice 3 times a day for 10 days. If necessary, it is better to consult a doctor and the course is repeated after two weeks.
When obesity is useful to arrange fasting days on pumpkin juice. For more visible results such days, preferably performed regularly, 2-3 times per week, while significantly expanding the diet by fresh vegetables and fruits and giving up eating after 18 PM.
Diabetes can introduce in the diet of pumpkin juice, and after his regular admission to study blood sugar.
Men with prostate diseases, traditional medicine recommends a quarterly basis to the course "pumpkin therapy", drinking a daily steganotaenia of juice per day. The course is three weeks.
For getting rid of burns, pimples, acne and eczema pumpkin juice is applied externally.
Pumpkin juice in cosmeticsNourishing mask from the juice of the pumpkin:
3 tbsp juice of a pumpkin
one egg yolk
1 tsp. honey mix
apply on face for 10 — 15 minutes, then rinse with cool water.
Toner for all skin types:
juice pumpkin to impregnate multilayer gauze or thin layer of cotton wool, apply on face for 15-20 minutes, then rinse with cool water. Repeat 2-3 times a week to do 15-20 procedures. You can alternate the juice with pulp pumpkin.
How to cook pumpkin juice
to Prepare 500 g of purified pumpkin, 100 g of sugar and 1 lemon. Pumpkin RUB on a small grater. Sugar boil with 1 liter of water, add the pumpkin, bring to a boil and cooled. Squeeze the juice from the lemon, add it to the pumpkin. In the end all beat any of the available methods – mixer, blender, whisk. Keep the juice better in the refrigerator for one day.
Freshly squeezed pumpkin juice
Juice is better to take a young pumpkin that has not lost moisture. Clean, cut, sent to the juice – pumpkin juice ready. If there is not a juicer – it is possible to RUB on a fine grater and squeeze through cheesecloth. The cake can be used for face masks.
The juice is better prepared immediately before admission, as it is already after one hour of storage, it begins to lose the beneficial properties.
Both kinds of juice are good to take in the morning 30 minutes before meals two third or half of Cup.
Contraindications pumpkin juice
pumpkin Juice is not recommended for people with low acidity of the stomach, acute disorders of the gastrointestinal tract, a tendency to diarrhoea, as it is a very strong cleanser that can cause irritation in the digestive tract and exacerbation of the above diseases.published
Author: Natalia Antanova  
P. S. And remember, only by changing their consumption — together we change the world! © Join us at Facebook , Vkontakte, Odnoklassniki
Source: www.inmoment.ru/beauty/health-body/pumpkin-juice.html