Recipe of cabbage soup
To prepare the cabbage soup which burns fat, you will need the following ingredients:
cauliflower – half head;
onion – 1 piece;
pepper sweet – 1 piece;
cabbage – half of head;
tomatoes – 5 pieces ( can be 4, depends on their sizes);
carrots – 3 pieces;
lemon juice – 50 ml;
celery stalks – 7 pieces;
chili pepper – a pinch;
garlic, coriander and herbs to taste.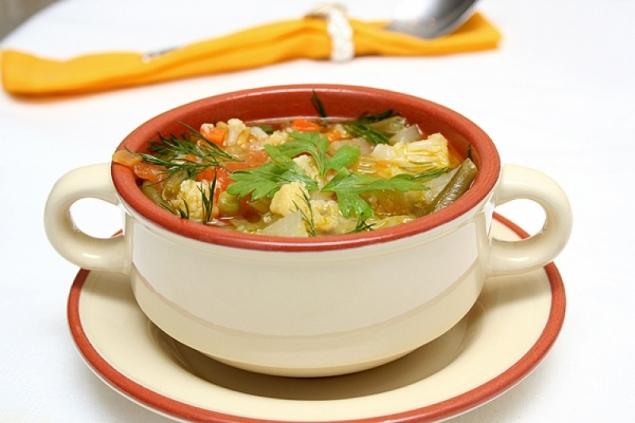 Two kinds of cabbage, peppers and carrots need finely chop and boil in the prepared chicken broth so that the vegetables were almost ready. When the vegetables are cooked, you need to make sure that they were completely covered with water. If this condition is not, be sure to add water. 5 minutes until cooked add all the remaining ingredients, before cutting onions, tomatoes, garlic and celery.
The soup can be eaten in small portions somewhere 5-6 times a day. You can add fresh vegetables, but sweet exotic fruit is better to exclude.
Recipe tomato soup
So, another kind of soup for dieters who seek to lose all the accumulated weight, is fat burning tomato soup.
To prepare it, you can use all the same products included in the previous recipes. But there are small changes:
the tomatoes ripe but firm – 3 pieces;
cabbage – 500 g;
onions – 1 head;
carrots – 1 piece;
celery root – 30 g;
garlic – 2 cloves;
salt, spices – ones that you prefer;
greens – to taste.
The technological process starts with slicing the cabbage and celery. Now can these vegetables put in a saucepan, cover with water and cook in salted water. At this time, finely chop the carrots and onions and saute in olive oil. This sauté add the tomatoes, pre-shredded and cleaned from the skin, and seasoning with a rubbed garlic. Then everything is added to our soup. The already prepared dish and throw the greens. It is important that for this recipe, we use vegetable broth, not chicken. Now you can try!
Onion soup recipe
Onion soup will help to remove accumulated dirt in the body and gives a great mood and cheerfulness! Under strict observance of a diet these soups can be gotten rid of from 7-8 kilos, in one week! Intriguing? Then, dear ladies, write down the recipe!
Composite almost do not change, in this recipe they are as follows:
cabbage – half of head;
6 bulbs;
2 tomato (either fresh or canned);
2 green sweet peppers;
1 bunch of celery;
seasoning to taste;
greens (any);
salt.
The preparation of this miraculous soup is a little different from cooking recipes above. As usual, chopped cabbage and celery root sent the stew, the broth immediately sprinkle with salt. Celery leaves from you should not cook, it is better to add them with the rest of the greens at the end. The onion and pepper finely shred and fry slightly in a frying pan. To them beat in pureed, peeled tomatoes and your favorite condiments. Should stir zazharku in the broth, and after 2 minutes in the pan to roll the greens.published  
P. S. And remember, only by changing their consumption — together we change the world! ©
Join us in Facebook , Vkontakte, Odnoklassniki
Source: vk.com/recipes40kg?w=wall-35113021_284726