Do I need a woman friend — a topic that I have been asked to cover.
And I had a lot of questions on this topic:
— What kind of woman can be called a friend?
— Whether a married woman friend and for what?
— How often should a married woman with friends to meet?
— Can a husband replace a friend?
— Should friend to be married?
— When a relationship is faltering? And what if the friendship ended?
I have always had a lot of girlfriends, and now I'm friendly and absolutely love them. With someone we've been friends for a long time, and someone went our separate ways, but in any case, I retained only fond memories.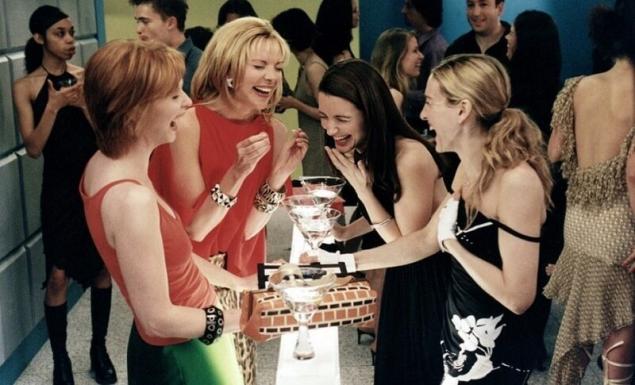 Good friend to meet is how to find a husband: the man has come, you have to match, and if you're lucky enough to find a girlfriend, these relations should be cherished.
I love friends, I love to be their guest, and never with her friends don't meet in cafes, only at home. I think this is a good indicator. If you met with someone back home but you are not invited, and meetings are held in cafes and on neutral territory, the more likely is the friend and familiar.
Even if I do not call your friends I feel that we still think about each other, we have a very subtle connection and understanding without words. They feel me, and I them.
For me the important sincerity and trust. If not, it's hard for me to be in a relationship. For me it is essential that the people were without a "double bottom" to the feelings, thoughts, words and actions coincided.
Communication with the girlfriend doesn't want you to weigh, if there are unpleasant sensations, discomfort, it means that something goes wrong.
Very often friendships are built on parent-child model.Someone to "mother" someone "baby." One saves, teaches, supports, the other accepts and enjoys. For example, one woman writes of his relationship with his girlfriend:
"I guess I'm leading in the relationship, because I'm a little authoritarian and "system" and she looks like a muddle-headed child."
Often the one who is the "child" behaves really like a child: listens to you and acts on its own, and eventually "grows up" and moves away from the "mother". And "mom" gets hurt: why it was so many listened to so much of the unseen past, the tears, were so necessary to each other, and now...
"I have a friend when she was really bad, I tried to support her, and then she has problems on the personal front was resolved, and it seems like more than not, so sad".
Often in such relationships there is jealousy and a lot of suppressed resentment. They are very difficult to explain from the point of view of logic. How do these feelings?
If you're the mother, you patronize and support you. Your relationship in fact and built on this, and they do not imply that the other may be something more to achieve or get ahead, no such permit she was not allowed.
"I am, if anything, for her mount, but it seems that with these new activities and positions she doesn't need me, she has no time for me, and, as we know, if you really need something, find time though out of nowhere. And I not only envy, but resentment is swollen".
You need to remove from the relations doctrine, salvation, parent support and forgiveness.
I at some point have revised their relationship and removed the teachings and unsolicited advice and put emphasis on the fact that we are both interested.
Today I'm just listening, even if it seems to me that the friend does, in my opinion, wrong. Before, I was very mad at his friends if they did it my way: how so, you ask advice, we so long talked about this...Let every has a right to their path, their experience and their mistakes.
Friendship is a relationship of equals. Must be a common reality.
There is a maiden's friendship is when a friend practically live together, all discuss, all together worried and inseparable. And I have experienced a friendship with different girls. And it was very very cool and still it brings a smile and fond memories.
But the girls ' friendship comes to an end, someone of my friends is getting married.
And we need to remember this.  
"How so! We were friends for years and were necessary to each other, before his appearance!, and there was a pain that it is impossible to combine... and sorrow, and loneliness... and hope. And suddenly, you can still remain friends, if there is a way out."
Girlish friendship ends. Sometimes it grows into something more, but most people disagree, because the commonality of interests with the marriage of one of her friends disappears. Someone is hurt. Especially that which is as it were left alone.
And friends should be aware that there will come a time when they will no longer spend so much time together and that family will take up most of their lives.
"One of my very close friend when I started Dating my future husband, make love to me... as if to say, gradually "abandoned" me... I understood that our friendship has changed, my focus in the beginning of the relationship has shifted to my man, and all the time I spent with him. Understood her resentment, but there was nothing I could do about it. Life went on and I couldn't different."
Possible close friendship in childhood and adolescence. But childhood must end on time. If you have decided to get married, and girlfriends something prevents to do it, then of course, you will have a misunderstanding. You already sound at different frequencies.
Once on my consultation, there were two unmarried girlfriends — do not spill water. I forbade them to discuss the details of their personal life even a little bit. Why? One was already married and she had the opportunity to build a relationship, and the other was not. After all, one that free, unconscious will pull the other to stay with her in friendship and alone. Therefore, such talk is dangerous, though, I admit, they have a lot of interesting and exciting things.
Any relationship is sensitive to insincerity and distrust.
And if time does not notice that crack, the resulting gap will destroy even the closest relationships. If you feel that the relationship you are not satisfied with something, we urgently need to talk about it. If the right moment you do not, you will distance yourself energetically and emotionally, and learn to live without each other, and your relationship will lose its meaning.  
No relationship can work in "automatic mode", only manual fine tuning: to discuss, clarify, negotiate, hold nothing in his bosom.
I have standards of communication, and I can honestly say about them, if I'm not satisfied with something. If there is dishonesty, and the other side is not willing to change anything, I cease communication. For me it's a matter of principle.
If you are married, it is better to meet with friends in a separate time. They do not need to combine with my husband, no need to mix it up. Friend separately, men separately. And it's not even that it can threaten. But just when the husband came, then you should do a husband and not a friend. And if you come a friend, to devote time to her. If a woman pays more attention to her friends, not her husband, not a good sign.
Can a husband replace a friend?
No. First, you need someone to talk to about female, to share it with the feminine energy. And the talk about recipes, sewing, shoes and handbags unlikely husband interesting.
A friend, meeting with them — for me it is a special pleasure, and in marriage it may not be frequent. For me this event, I need to prepare and plan.
My meetings with friends is a ritual: we prepare something prepare, meet, candle light. Can something difficult to talk, but only in a constructive way.  
We are not discussing married life, or rather, men. Only personal life, something that concerns each of us personally. And I never discuss problems with your friends because it is not productive. They help me can't, and to boot negative it can be very hard.
Issues your woman should discuss with her husband or with a professional.
You can't build emotional relationships to problems.
If you save, you will always feel that you have used. So, sincerity and trust will disappear. In confirmation of the words of a Female student of the School:
"There are few such girls, right now they have me on the front. I even have a personal life they do not know, somehow talking about something else, about travel, fashion, cooking... They consciously or a good family habit, do not expose their personal life, and only now realize that it is right! Talk to them like honey drunk :)))"
Each of us has problems but girlfriend not to "pour their waste", and above all to "honey water":)))
For me friend is a source of joy and inspiration. Something warm, beautiful, home. And I cherish each of them! published
Author: Tatiana dzuceva P. S. And remember, only by changing their consumption — together we change the world! © Join us at Facebook , Vkontakte, Odnoklassniki
Source: womancosmo.ru/happy-habbits/nuzhny-li-zhenshhine-podrugi.html