The perfect ten-minute vegan burgers on ground green buckwheat with eggplant and walnuts: easy, tasty, hearty, and many would say, very useful.
However, the combination of ingredients and no refined vegetable and animal products, in addition to excellent taste, practicality and quick to prepare, this recipe can easily become a leader in many kitchens, where are looking for simple hearty substitutes for meat recipes from the past.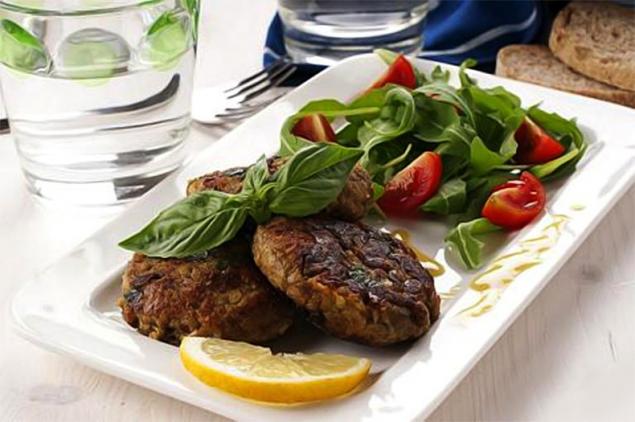 You will need
(for one large portion or two mediocre):
Eggplant – 1 medium
Green buckwheat or buckwheat flour is ready – about two-thirds of the glass can be a
A handful of walnuts
A small bunch of parsley
Optional: small bran
Optional: polgardi sundried tomato
natural soy sauce
Paprika, spice mixture "for chicken", dry adjika (optional)
A couple tablespoons of olive oil in the dough
Oil for frying (such as refined corn)
First grind in a mill or a food processor a handful of walnuts to crumbs, then to spin together with grated eggplant (if weak processor, otherwise I'd throw the eggplant and pieces), buckwheat flour and crushed garlic (to push the blade and then finely chop – it turns out faster and is juicy), parsley, salt and pepper to taste.
optional – add polgardi sun-dried tomato, pour one to two tablespoons of olive oil – a little for juiciness (also optional).
Continue to taste spices – for example, a mixture of chicken, peppers and a mixture of "dry adjika" — so do the trays of spices at the market.
For more brightness you can splash a bit of natural soy sauce.
Knead the mass with a minute in the bowl, to understand the consistency (should be quite thick, so in the hands of sculptured cakes).
Fry on low heat for literally three minutes on each side until crisp, she appears super-fast.
We should put out the burgers for a minute on a paper towel to blot excess oil.
Can serve with sour cream, vegan sour cream, tofu, raw sour sauce cashew or homemade mayonnaise quarter of raw egg yolk (preferably homemade chicken) with vegetable oil and mustard or any other sauce. published  
P. S. And remember, only by changing their consumption — together we change the world! ©
Join us in Facebook , Vkontakte, Odnoklassniki
Source: ecoways.ru/ru/recepti/zdorovoe_pitanie/Veganskie_kotleti_na_grechke_s_baklajanom.html